Top seed Serena Williams overcame a week fighting jet-lag to beat fellow American Coco Vandeweghe 7-5, 6-3 to retain the Stanford Classic title on Sunday.
Just eight days after winning her fifth Wimbledon single title, Williams fought off a set point in the first set before overcoming big-serving Vandeweghe, who had reached her first WTA final.
The 30-year-old Williams used her experience and know-how to race past the 20-year-old, nailing 21 winners. Vandeweghe struck 20 winners but also committed 25 unforced errors.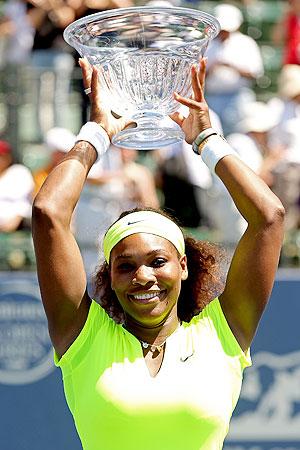 Williams, who had been contending with jet lag much of the week after travelling from London to California, was satisfied with the title run.
"I played well enough to win, but I can do a lot better and play stronger," she said. "But there are a lot of positives and I was fighting and I didn't quit.
"I survived and didn't play my greatest, but mentally I was there and that really helped me a lot."
Vandeweghe served for the first set at 5-4 but could not convert her only set point when Williams ripped a cross court backhand return off a second serve.
It took Williams six break points to break back to 5-5, but the 20 year-old Vandeweghe finally handed it to her when she double faulted.
"I been serving well all week and I still feel like I served pretty well against Serena, but she's a great player and she going to take advantage of opportunities, especially on second serves on set point," Vandeweghe said.
Williams took a 3-1 lead in the second set when Vandeweghe again double faulted and while she pushed Williams with her huge serve and heavy ground strokes, she could not get a break point on the Williams serve in the set and Williams sealed the title with a forehand winner down the line.
Williams won her 43rd career title, tying her with her older sister Venus for the most titles among active players on the WTA tour. The World No 4 has now also won 28 of her last 29 matches.
She will now take a couple of days off, play an exhibition match and then head to London to prepare for the Olympics where she will defend her doubles title with Venus and attempt to win the singles gold.
"A gold medal will mean a lot to me, but I can't lay all my hopes and dreams on that," she said.
Photograph: Matthew Stockman / Getty Images