Born in the same year that Red Bull sold their first can of energy drink, Sebastian Vettel has always seemed a marketing match made in heaven for the newly crowned Formula One constructors' champions.
On Sunday, the 23-year-old German can make the partnership even more perfect by becoming the sport's youngest ever champion.
Irreverent, with a penchant for British humour and the Beatles, there has never been any doubt that Vettel is Austrian-owned Red Bull's blue-eyed boy.
The youngest driver to take part in a practice session, youngest to secure pole position, youngest to win a Grand Prix -- Vettel has set records ever since he started out with the Red Bull junior team.
He may also be saving the best to last: This season he has taken nine pole positions and won four races and yet remains the only one of the four title contenders who has yet to lead the championship.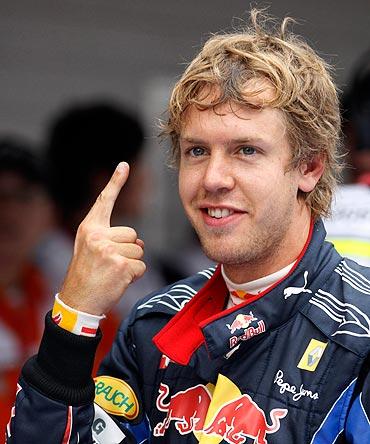 If he is to win the biggest prize of all he will have to dash the dreams of Australian team-mate Mark Webber but that is unlikely to prey on his mind too much after a season of skirmishing between the two.
Vettel cannot win the title if Ferrari's Fernando Alonso is in third place, however, meaning that he may instead gift victory to Webber so that the title at least goes to a Red Bull driver.
Whether he will is the object of much conjecture and Vettel, who plays the cheeky schoolboy like a natural, is happily keeping everyone guessing.
TITLE TEASER
"I never liked it when my parents teased me for something and didn't answer my question," he said after winning in Brazil to leave himself 15 points behind Alonso and seven adrift of Webber with one race left.
"So now I'm in a good position to tease."
Dubbed 'Baby Schumi', a tag he has long disliked and rejected, by the German media early in his precocious rise through the sport's feeder series, Vettel is far from the stereotypical German.
An avid fan of British television comedy from Monty Python to Little Britain, the carpenter's son from Heppenheim masks his deadly serious intent with a playful spirit.
He has given all his cars female names, this season progressing from 'Luscious Liz' to 'Randy Mandy' after previously racing 'Julie', 'Kate' and taking 'Kate's Dirty Sister' to overall second place last year.
In Abu Dhabi last year, he teased world champion Jenson Button after winning the season-ending race by questioning the startled Briton about his marriage plans, despite repeated denials.
Replacing David Coulthard at Red Bull in 2009 after taking his first win with sister team Toro Rosso, he was asked how many interviews the Scot had sat through during his 15 year Formula One career.
"My guess is that it is probably three times the amount of women he had, something around 30,000?," he hazarded mischievously.
Vettel's boyhood heroes, he told the official formula1.com website earlier this year, were always the 'Three Michaels' -- Michael Schumacher, Michael Jordan and Michael Jackson.
"I wanted to become Michael Jackson when I was young," added the blond racing driver. "It was painful to realise that I didn't have the voice."