The Olympic medal drought looks likely to continue for India until a player arrives at the stage who is not spoilt by politics and ego and also has the game to challenge the best in the world.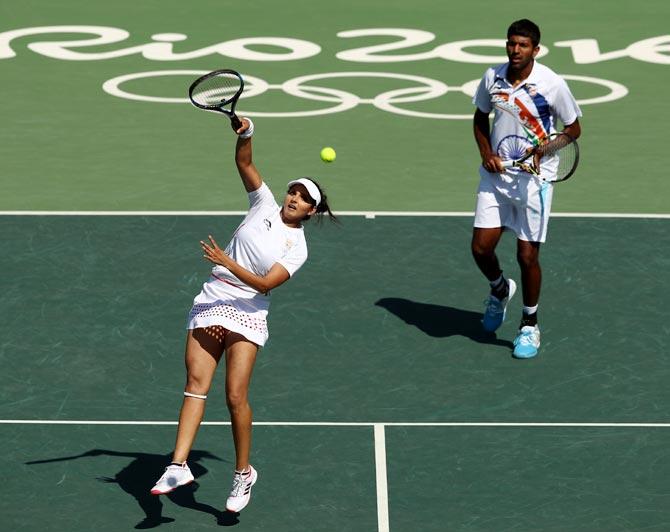 IMAGE: Rohan Bopanna and Sania Mirza in action during the mixed doubles bronze medal play-off match against Radek Stepanek and Lucie Hradecka of the Czech Republic at the Rio Olympics. Photograph: Julian Finney/Getty Images
India's Olympic aspirations failed to blossom in the face of personal egos of star tennis players even as the legend of Sania Mirza continued to grow and an ageless Leander Paes basked in personal glory in 2016.

Sania came close to a historic Olympic medal in company of Rohan Bopanna, the eternal under-achiever of Indian tennis, but the Indian combination snatched defeat from a winning position in the semi-finals of the mixed doubles in Rio.

They were in complete control of the match against Americans Venus Williams and Rajeev Ram before some inexplicable errors turned around the script.
They got another chance in the bronze medal play-off, but they again failed to rise to the occasion as they suffered a 1-6, 6-7 humiliation at the hands of the Czech Republic team of Radek Stepanek and Lucie Hradceka.

Sania always wanted to play with Bopanna in Rio but they never combined on the Tour and thus lacked enough practice together for the big stage.

The fear of failure prevented them from testing the waters since lack of success would have raised questions over their ability as a pair. The fear stemmed from Leander Paes' claims that he was the best person to represent India in mixed doubles at the Rio Games.

Playing a few IPTL matches together for the Indian Aces was the only preparation for Sania and Bopanna. They had been there for years slugging it out on the Tour but perhaps not handling tough situations in big matches as a team proved to be their bane.

The challenge of Paes and Bopanna in Rio also fell flat in the first round itself against the Polish pair of Martin Matkowski and Lukasz Kubot. Bopanna never wanted to team up with Paes and had infact conveyed to the All India Tennis Association that he wanted to play with Saketh Myneni but the Federation could not leave out a legend like Paes, who was gunning for a historic seventh appearance in the Olympics.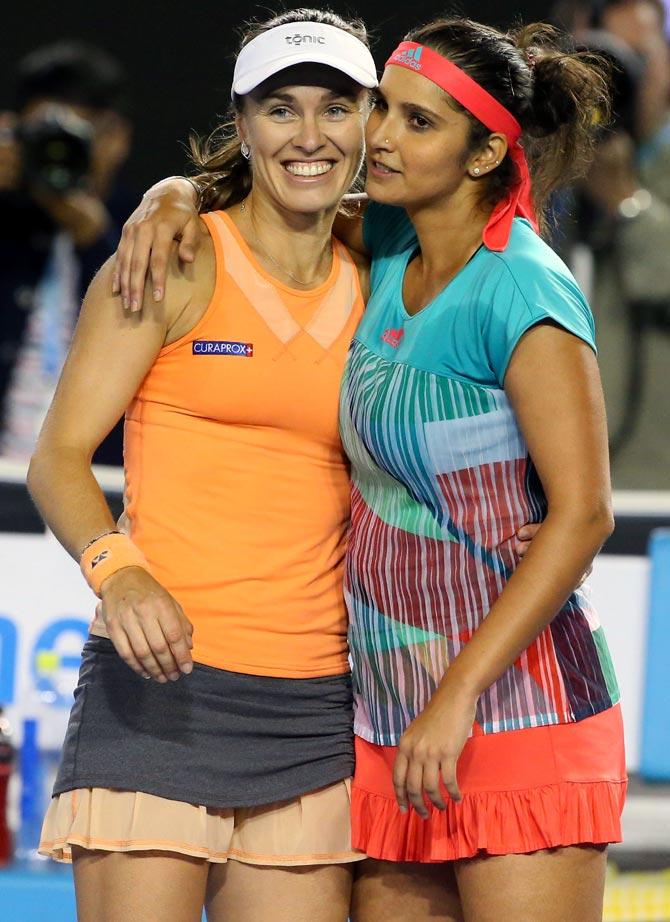 IMAGE: Sania Mirza and Martina Hingis celebrate after winning the 2016 Australian Open. Photograph: Scott Barbour/Getty Images
Paes' ranking was not enough to make a direct entry and if he was not to be paired with Bopanna, his dream of playing in his seventh Olympics would have stayed a dream.

In the end, two players who did not see eye to eye, were tasked with the job of winning an Olympic medal that has been achieved only once in India's entire Olympic Tennis history.

And the result was there to be seen, an expected first round defeat. Paes and Bopanna too did not practice together except for a Davis Cup tie against a weak Korean team. Paes was busy playing World Team Tennis and landed in Rio just a day before the competition began.

He created history by competing in his seventh Olympics, which no other tennis player has done, but it did not turn out to be a memorable appearance.

If AITA had control over the players and a proper planning in place, coupled with players' intense desire to win a medal for themselves and the country, the story could well have turned out to be different.

Bopanna is immensely talented but that has never transformed into success on the big stage. He always had to live under the shadows of Paes and Mahesh Bhupathi and it was his golden chance to grab a slice of history for himself.

It was also the last chance for this trio of Sania, Rohan and Paes to win an Olympic medal as these players are unlikely to be around for the Tokyo Games in 2020.

AITA's lack of control over the players can be attributed to the negligible role it has played in helping their careers, which the players made almost entirely on their own. Instead of the Association, it's the players who call the shots and they can't be blamed.

In the end, the medal drought looks likely to continue for India until a player arrives at the stage who is not spoilt by politics and ego and also has the game to challenge the best in the world.

Individually, it was a great year for both Sania, who has an uncompromising training regime, and Paes, who still at the age of 43 is the fittest men's players that India has.

Sania ended the year as world number one in women's doubles and won eight titles, including a Grand Slam, even as her successful partnership with Swiss great Martina Hingis ended surprisingly in August.

They won a couple of WTA titles before winning the Australian Open too but once their 41-match winning streak was broken in Qatar, things took a different, rather dramatic turn.

A few more defeats and by August the partnership, that took the tennis world by storm in 2015, was over. Sania had immediate success with new team mate Barbora Strycova, winning two titles in Cincinnati and Tokyo, and thereby kept a tight hold over the top ranking.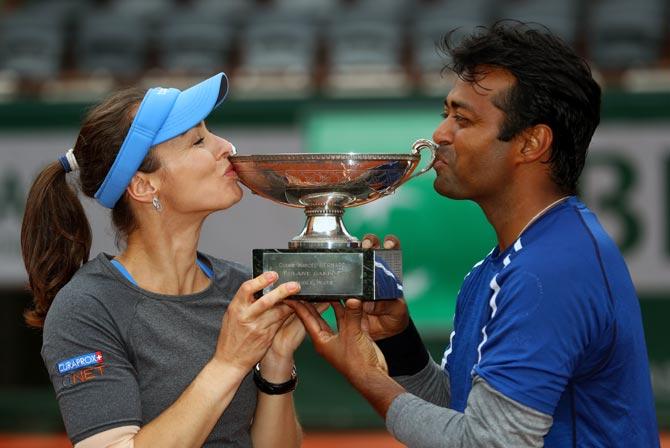 IMAGE: Leander Paes and Martina Hingis celebrate after winning the 2016 French Open. Photograph: Julian Finney/Getty Images
On the men's side, Paes completed a career Slam in the mixed doubles with Hingis when they triumphed at the French Open. The title win came against Sania and Ivan Dodig.

While his younger colleagues are struggling to stay fit, Paes still is the fittest Indian player. Such are his training methods that he has never suffered a major injury in his career. This is something the younger lot needs to learn from the legend.

It was a forgettable year for Yuki Bhambri since he began as a top-100 player but a tennis elbow injury kept him out of action for six months, taking away the chance to build on the brilliant 2015.

He is one player, on whom a lot of Indian hopes hinge but for that he needs to remain injury-free.

Myneni has come up nicely and had success at the US Open where he made the main draw through the qualifiers but fitness is one area where he too needs to work hard, or perhaps, differently.

Sumit Nagal has shown a lot of promise and has it in him to be India's next big thing if he continues to work hard and smart. It's time that Ramkumar Ramanathan takes a step forward and accelerate his transformation.

Bopanna could not win a single title this year but ended runner-up at two events -- Madrid Open and Apia International -- with Florin Mergea.

Not much changed in the women's tennis with Ankita Raina striving hard to get to the next level.

It was a bitter year-end for Anand Amritraj, who has been handed a farewell Davis Cup tie.

The AITA, which installed Mahesh Bhupathi in his place, says it wants to give a chance to new people but the truth is that Amritraj paid the price for voicing his opinion that did not match with the Association's.
In the Davis Cup, India outclassed South Korea 4-1 in the Davis Cup Asia-Oceania Group I tie, in Chandigarh, in July. However, a couple of months later they were whitewashed 5-0 by a powerful Spanish team featuring the likes of Rafael Nadal, David Ferrer and Feliciano Lopez in the Davis Cup World Group play-off tie.