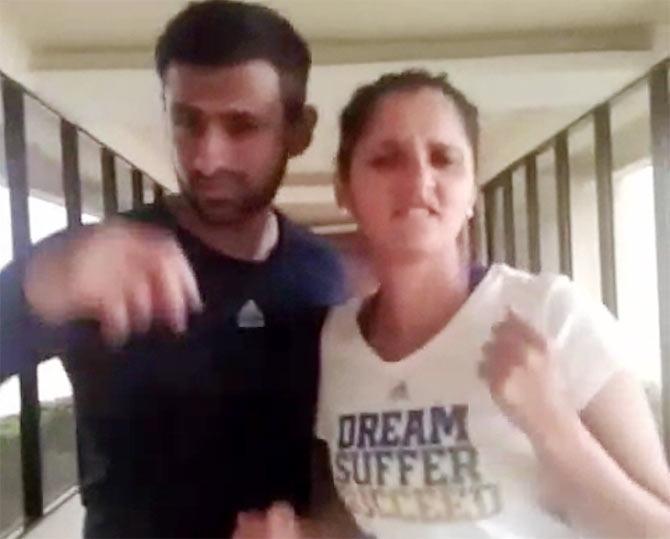 Sania Mirza and her Pakistani cricketer husband Shoaib Malik seem to have finally got the time to celebrate their respective recent victories.
The pair posted their Dubsmash video featuring Bollywood party song, Abhi to party shuru hui hai.
The Indian tennis ace took to Twitter to post a Dubsmash clip showing her and Malik, with his teammates Mohammad Irfan, Ehsan Adil, Babar Azam, Bilal Asif and Mukhtar Ahmed dancing energetically, although they looked like they had two left feet.
Shoaib posted the same video on his Twitter handle and posted: "When bae comes to watch you play....Abhi Toh Party Shuru Hoi Hai With lots of love from @MirzaSania & I from Colombo."
After watching the video, the couple received a lot of retweets and favourites but the comment that stood out was that of Team India discard, cricketer Yuvraj Singh.
"@realshoaibmalik @MirzaSania such outstanding players ! But terrible dancers," he tweeted his thoughts about the video.
The cricketer also posted a picture of him and a few teammates.
"All of us ready and looking good for the dinner with the Pak Ambassador to the beautiful country of Sri Lanka".
The Pakistan cricket team, which Malik is part of, decisively beat Sri Lanka in Colombo on Sunday while Sania had recently won 2015 Wimbledon doubles championship.