- 'I don't think playing singles is possible for me any more. Physically tennis is a very demanding sport.'
- 'On paper, Leander and I would be the best to team to pair up for the Rio Olympics.'
- 'IPTL is going to help tennis grow in India.'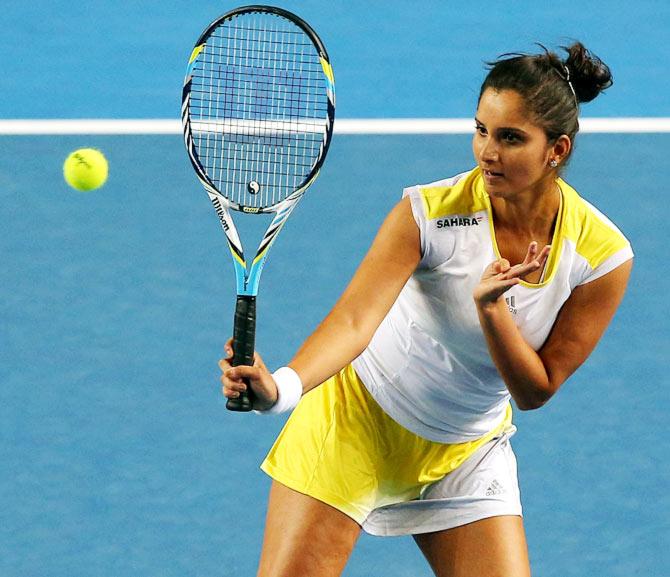 Sania Mirza plays a forehand. Photograph: Chris Hyde/Getty Images
After a successful 2014, in which she won the US Open mixed doubles and WTA doubles finals, Sania Mirza is now targeting the world No 1 ranking in women's doubles.
The 28-year-old Hyderabad ace triumphed at the US Open, partnering Bruno Soares of Brazil, before capping off her season in grand style by winning the year-end finale with Cara Black of Zimbabwe.
Currently preparing for the inaugural International Premier Tennis League, she is excited to be part of the Delhi franchise, which also includes Swiss legend Roger Federer, whom she considers the 'James Bond of the tennis world'.
In an exclusive conversation with Rediff.com's Sonil Dedhia in Mumbai, Sania reveals what made her give up on singles, and why she is unsure about competing in the Rio Olympics. She also tries to reason why India's young girls are not following in her footsteps and trying to make a mark in tennis.
2014 has been an amazing year for you; you won two big titles. You must be feeling very confident at the moment...
Yes, it feels great. Winning a Grand Slam (US Open) and the WTA Finals doesn't happen often, so I am trying to work hard. The last few years have been really good for me. Thankfully, I have been injury-free because of which I have been able to give my best to the game. Before I stop playing tennis I would like to become No. 1 [in doubles] whether it is next year or whenever. I am No. 6 in the world now and hope to reach the No. 1 rank before I retire.
Does ranking matter to you?
Of course! Who doesn't want to be No. 1 in what they do. I guess everyone wants to reach the top.
Is there any other goal that you would like to achieve?
I am looking to win the women's doubles Grand Slam. My current partner, Cara Black, and I have been playing some good tennis. We had a great year and I am looking forward to a new relationship to be built on that and hopefully have a great year. I am definitely looking forward to a women's doubles Grand Slam; hopefully that happens before I stop playing.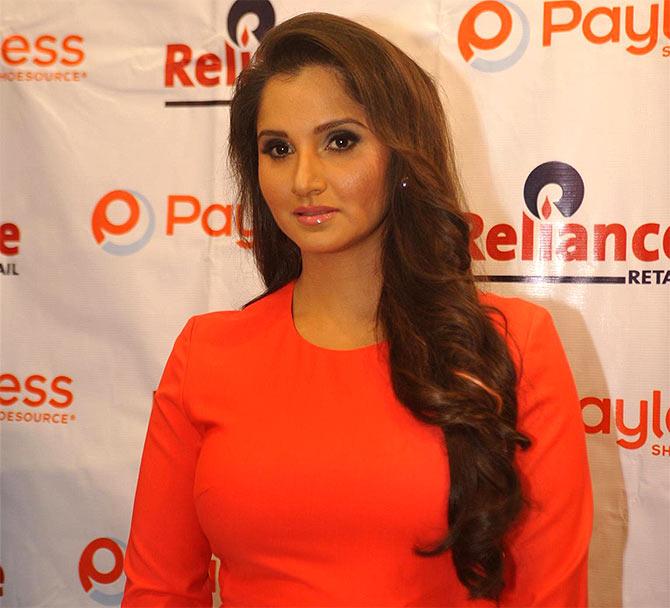 Sania Mirza during a promotional event in Mumbai. Photograph: Pradeep Bandekar

Since you are doing so well in doubles, is there a chance of you competing in singles too?
No. I don't think playing singles is possible for me any more. Physically, tennis is a very demanding sport. I was fortunate to have a very successful singles career and play for eight years. I am also aware that our genes are not as strong as the people in the west; we are not able to match them in terms of the strength and agility. Also, we don't have proper facilities and get the right training, which makes a huge difference.
You are part of the International Premier Tennis League (IPTL). How will it help the sport grow in India?
I think IPTL is going to help tennis grow in India. There are so many legends like Roger Federer, Pete Sampras, Serena Williams and so many other top players in the world coming and playing in the country. Normally we see them playing on television, but this time we will get a chance to see them playing live.
Do you think leagues are a way forward for Indian tennis?
I think with men it looks a little better, but when it comes to women we need a little bit more happening. But, having said that, the situation is improving. We won a medal for the first time at the Asian Games in the women's doubles. Also, we should accept that we are not a sporting nation; we're a cricketing nation! Tennis is not a game which is played by the masses and this is why a league like the IPTL will surely help create awareness about the sport and motivate and inspire people to take it up.
The leagues are becoming popular now. The Kabbadi League was so popular and the ongoing football league (Indian Super League) is being loved by everyone. I hope we get the same response for the IPTL.
But do you feel these leagues will take its toll on players' fitness, considering the busy tennis calendar round the year?
As tennis players, our schedule is always packed. Out of the 52 weeks in a year we play for 30 weeks so. As tennis players we do play a lot. But the IPTL format isn't that tiring and demanding. I don't think its going to take a toll on our health. This is the first year, so we'll have to see how things work.
I am really excited to play in the same team as Roger Federer. I started practicing two days back and I am looking forward to the tournament.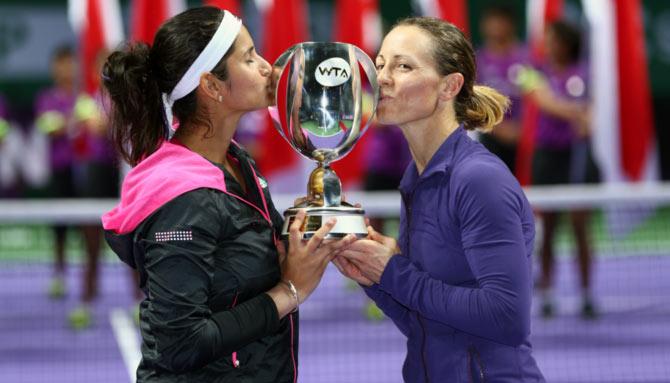 Sania Mirza (left) and Cara Black celebrate after winning the WTA Finals doubles title in Singapore. Photograph: Clive Brunskill/Getty Images
Leander Paes has already hinted at participating in the 2016 Rio Olympics. Any plans to partner him? It will only increase the chances of India winning a medal.
It depends on whether I am playing the 2016 Olympics in Rio. A year-and-a-half in the tennis calendar is pretty long. Leander is an amazing player and he always has long-term planning. He played the Beijing Olympics and then also played at the London Olympics. He is already looking to play at the Rio Olympics. I don't function like him. I take one year at a time and hope I am successful next year too.
This year has been good for me, but Leander hasn't been that successful. But, having said that, he is a great tennis player. On paper, Leander and I would be the best to team to pair up for the Rio Olympics.
We have seen a lot of young boys, like Somdev Devvarman, Yuki Bhambri, Sanam Singh, Saket Myneni, making a mark, but that hasn't been the case with the Indian girls. Where do you think are the girls lacking?
I think girls want results quickly. They feel that working for two years will get them in the top 30, which is not the case. They don't realise that there is a lot that goes into becoming successful. I guess there has to be support from the family too. Sports is still not looked as a viable career option in our country. Also, for a girl to run around in shorts or short skirts is looked down upon. I have faced this issue myself.
You recently signed up as brand ambassador with Sony Pix to promote the James Bond franchise.
Yes, I loved the concept of the campaign and it came at time when I was able to do it because my season was over and I had time to give to other things. James Bond is cult and it was privilege to promote an iconic figure. I have grown up watching James Bond films. It was a really unique experience acting in front of the camera.
Are there any plans to become an actor?
(Laughs) No, not really. I love looking nice, but acting doesn't come naturally to me. I think I should only play tennis.
Who do you think is the James Bond of the tennis circuit?
It has to be Roger Federer. When you think of James Bond, you think of class; and when you think of class and tennis, you think of Federer. He's a very classy person... and he's a great human being too.