Mountaineer Samina Baig has become the first Pakistani woman to scale Mount Everest, the world's highest mountain peak at 8,848 metres.
According to details, Baig completed the climb to the summit at around 7:30am local time with her brother Mirza Ali, who becomes the third and youngest Pakistani male to scale the mountain.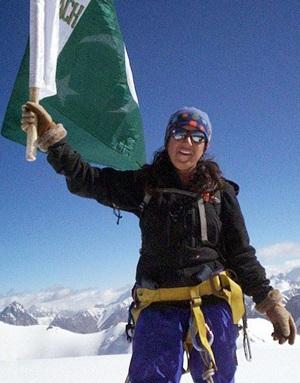 Nepal Mountaineering Department official Tilak Padney said that 35 foreigners accompanied by 29 Nepalese Sherpa guides reached the peak after climbing all night from the highest camp on South Col -- the pass between Everest and a neighbouring mountain.
Ali (29) and Baig (21) are natives of Shimshal village in Hunza valley, Pakistan. Ali has been climbing since age 15, and he was Baig's mentor, guide and support.
In his personal blog, Ali described the climb as the first Pakistani gender equality at Mount Everest.
He said both he and his sister and other climbers were in good health and fit physically and mentally.
Indian twin sisters, Tashi and Nugshi, were also at the top of the Everest with Baig and Ali. By hoisting Pakistani and Indian flags side by side, the four South-Asians hoped to spread the message of Indo-Pak peace and friendship.
Photograph: Courtesy Facebook