'I haven't advocated Pakistani players should be allowed to play in India'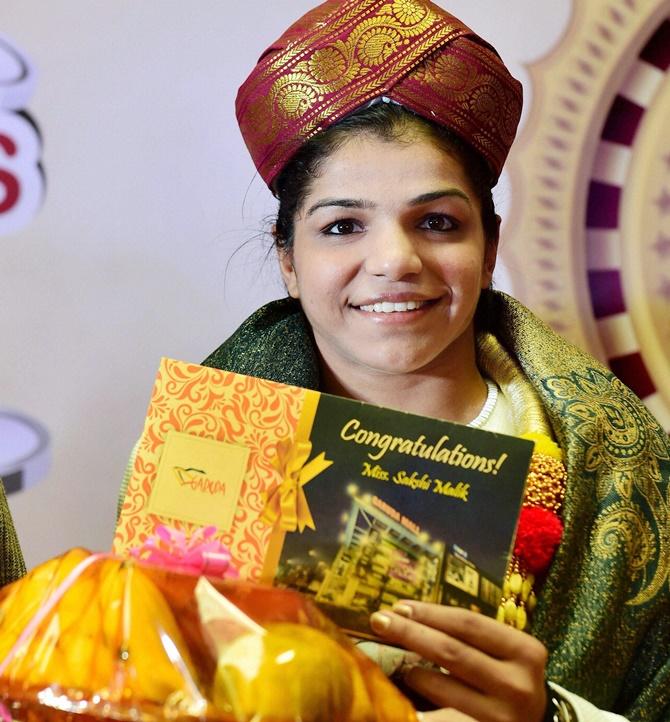 IMAGE: Rio Olympic bronze medallist wrestler Sakshi Malik is felicitated during a programme, in Bengaluru, on Friday. Photograph: PTI.
She sought to steer clear of the raging debate over allowing Pakistani players in India amid heightened diplomatic tensions but Olympic bronze-medallist Sakshi Malik, on Friday, said athletes have the right to compete against fellow rivals anywhere in the world.
"Media has been, since morning, wrongly highlighting that I want Pakistani players should be invited to participate in various international sports events. I haven't said anything like that," Sakshi told reporters in Bengaluru.
Sakshi was reacting to a query on Pakistani players being barred from participating in any kind of event in India in the aftermath of Uri attacks and Surgical Attacks carried out by the Indian government.
Clarifying further, Sakshi said she had only said that the players have the rights to play against any other player in the world, and not more than that.
What I told was - players have all the rights - like we participate in the Games (Olympics) and we happen to play against other players, belonging to different countries ... I haven't advocated Pakistani players should be allowed to play in India," she said.
Asked if she would toe the line of Yuvraj Singh and Saina Nehwal to invest money in startups or any business, Sakshi said she loves wrestling and would like to help kids who do not have the wherewithal to extend their careers.
Sakshi further said money and winning a medal does not make a success story of an individual, but doing good things for the country does.
Sakshi has been flooded with a lot of rewards, which include Rs 2.5 crore awarded to her by Haryana Chief Minister Manohar Lal Khattar.
She said her life has changed a lot after winning bronze medal in Rio.