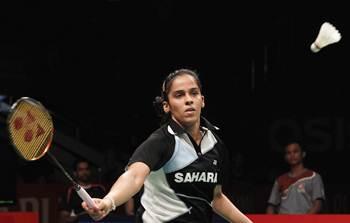 Saina Nehwal scored her first victory in three matches at the Superseries Finals, beating Korea's Bae Yeon Ju in Kuala Lumpur on Friday.
The 23-year-old Indian ace , who lost to Japan's Minatsu Mitani and Olympic champion Li Xuerui of China in her first two matches, had another tough outing but prevailed 21-11, 17-21, 21-13 in 60 minutes.
The victory, though, was unable to see her make the semi-finals.
Saina needed to beat Bae in straight games to make the cut, and despite Xuerui beating Mitani 21-11, 21-14 in a later match and a three-way arising among the Indian, Bae and Mitani for the second place in the group, she was down on the difference of games won-lost and bowed out.
At the end of the group stage, Xuerui's games' record was 6-0, Bae's 3-4, Saina's 3-5 and Mitani's 2-5.
Against Bae, after the scores ran neck and neck till 6-6, Saina registered six straight points to hold a healthy lead. The six-point run was broken when Saina hit long.
The Indian, however, held sway and led 15-7. A series of unforced errors saw Bae trim the lead to 10-15.
Saina then engaged her opponent in an aggressive rally before finishing it with good net play. The left-handed Bae found it difficult to negotiate Saina's better net play and allowed the Indian to extend her lead to 18-10. Though Bae save a game point, the Hyderabadi proceeded to take the opening game at 11.
The second game was tight as Saina had to dig deep into her reserves to keep her nose ahead. Both shuttlers played out of their skins but it was Bae who enjoyed a narrow 11-10 lead at the break.
Saina was more aggressive after the interval even as Bae scored repeatedly.
Bae soon reached 15-12 but Saina cut the lead to 16-17.
The Korean stepped up the pace and did not allow the Indian a point as she raced to 20-16. Though Saina saved a game point it couldn't prevent Bae from levelling the match scores 1-1.
In the decider, Saina raced to a 6-1 lead before Bae reduced it to 4-8. Crossing over with a six-point advantage, she did not look back and clinched the issue at 13.
Image: Saina Nehwal