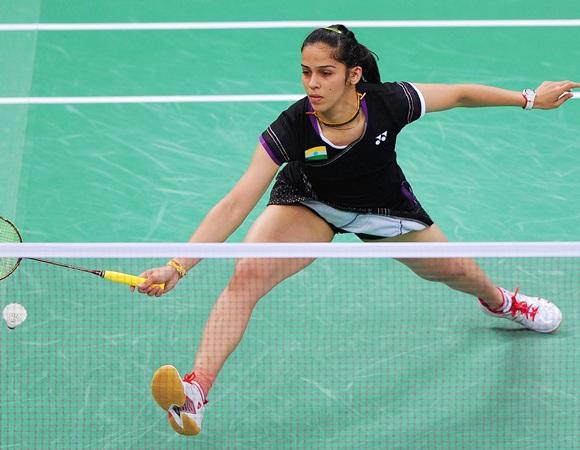 Ace shuttler Saina Nehwal, who has been on a comeback trail after undergoing a surgery on her right knee, said that she was not fully fit in her last two tournaments but played in them as she wanted to test herself against top players in that physical condition.
Former world number one Saina lost in the quarterfinals in Hong Kong Open Super Series and Macau Open Grand Prix Gold tournaments after her surgery.
"I am recovering well, I played two tournaments and reached quarterfinals and that was just the starting. I would say after the rehabilitation, I just played for 2-3 weeks and I just wanted to test myself how good I am at that stage and although I knew I was not 100 per cent fit, I wanted to come back and play with highest level players," Saina told PTI.
She said her coach Vimal Kumar advised her not to play in Hong Kong and Macau so soon after the surgery but she insisted on taking part in them.
"That's what he was telling me. He was little bit more careful and he was telling me not to play these tournaments. He was like just take your time and recover, come back stronger.
"But I wanted to play because it was a while since I did not play any tournament and I was getting little bored. I just wanted to see how I am playing. I knew somewhere in my heart I(was) not going to win the tournaments, but I wanted to try my best. These were the year-ending tournaments, last two and I thought I would just play, because the next tournament is only in March and there could be a gap," she added.
Saina, who is the brand ambassador of Honor Smartphones, powered by Huawei, graced the Sports for All 2016 Girls Day on Sunday at the D Y Patil Stadium.
She said the next season should be good as she would attain full fitness by then.
"I was very happy with my performance after coming back from such surgery and playing two quarterfinals with such little fitness. I am happy to beat a couple of world class players in both the tournaments.
"I need some more time to be fully fit and I am sure the next season will be good, when I come back with full fitness. I am sure with the kind of fitness, I will get back again and performances will start getting better," she added.
"Rehab was really good, I would like to thank Dinshaw Pardiwala who did my surgery really well and would like to thank Heath Matthews who is my physio right now, who is helping me so much with rehab. He is working behind me, giving me fantastic programmes. Because of that I could come back so early, otherwise people can't (even) imagine to come back within 5-6 months after such kind of surgery."
She said the 11-point games which will be played in Premier Badminton League would be an innovative idea.
"PBL is a league, we can't compare it with Super Series and big level tournaments. So, the competition will be good, 11 points, it is a different thing, which we have not played.
"It's an innovative idea and I am looking forward to play in it and you will not even know when the game will finish, it's so quick. It is something different and it is always good to try something different. It will be a fun tournament, because it is team event. We are used to playing individual events, so there will be lot of support from the team. It's not going to be easy and it's a different platform. We have some of the best players and I am sure we will do well," she added.