The Olympics in London next year is Indian shuttler Saina Nehwal's best chance for Olympic glory. But, for that to happen, Indonesian badminton legend Rudy Hartono says, she needs to improve her physical fitness considerably.
The eight-time former All-England men's singles champion, who is in India after four decades, said Saina is a very good stroke player, but that alone cannot fetch her an Olympic gold or World championship title.
"I have seen Saina Nehwal play. She is a good stroke player but that alone is not enough to become a world champion. She needs to work hard on her fitness. It's no good only to impress with your stroke-play, but you need to finish off points," said Hartono at the National Sports Club of India in Mumbai on Monday.
NSCI, which is building a modern indoor stadium at its premises in Worli, felicitated the shuttler who revolutionized the way the game with his all-out aggression in the 1960s.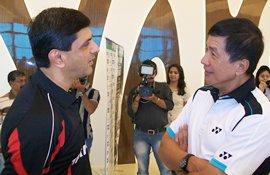 The felicitation function was jointly-organised by the Maharashtra Badminton Association and Yonex Sunrise.
Hartono, who won seven straight All-England titles between 1968 and 1974, which was then considered the unofficial World Championship, went on to win the official World crown too in 1980, aged 31.
"Saina has this year and the next, which is the year of the Olympics, for the big one. A badminton player is at his or her peak between the ages of 20 and 26. She needs to prepare herself very well by training hard for the big events," said the 61-year-old badminton great.
Hartono, who, along with Indian legend Prakash Padukone, was presented a silver plaque for lifetime achievement, said Saina has shown she has the ability to beat the Chinese.
"She has proven her ability and is a good stroke player. But she needs to improve her accuracy even when she is out of position on the court. She has talent and only needs to work harder. Next year is the Olympic Games and if she misses the bus then, by the time the next one comes, she would be 27," he pointed out.
He recalled the way he used to train, a fact endorsed by Prakash, who was sitting beside him on the dais. He said he would run daily for 10 kms and use the skipping rope for an hour at least.
Declaring Hartono as the best-ever player in the history of the shuttle game, Prakash said it was an eye-opener when he got the opportunity to play against the Indonesian great in 1970, when he was still a junior.
"I got the opportunity to play against Rudy in 1970 as a junior national champion at the Bombay Gymkhana's invitation tournament. I was beaten 5 and 3, but it was an eye-opener as, till that time, I was a defensive player. I realised then that I needed to not only be more aggressive but far more fit too," said Prakash.
"I then got a chance to see him train before the Central India final immediately afterwards. He used the skipping rope for one hour non-stop and would have done more if he was not to play the final later."
The Indian great said the six-week training stint in the Sanayan complex in Jakarta that he had along with the late Syed Modi and the Indonesian national team in 1976 showed him how to train for a competition.
"Rudy is the greatest badminton player the world has produced. I learnt a lot by watching him play and by playing against him.
"In 1976, I and Syed Modi had the opportunity to train for six weeks with the Indonesian national team at the Senayan complex in Jakarta. I knew I had to train but did not know how and that stint made a big difference," said Prakash.
Hartono said that three qualities make one a champion -- discipline, focus and perseverance.
"Discipline means, for example, getting up at the same time, like 5 am, and going for a run. I started doing it at the age of 8, when my father motivated me to become a world champion," he said.
Hartono said even in training it was important to practice as if one was playing in a competitive match.
"It's no use to take the training lightly. You have to practice as if you are playing in a match. Otherwise you cannot become No. 1. For a major tournament you need to prepare three months in advance. Preparing for one or two months is not enough," he said.
Hartono was happy that the game's point scoring has changed as in his time with only the server winning points, a game could stretch to 45 minutes.
"And if it went to best-of-three the match would go on for more than one-and-a-half hours. It was too long. And now with matches being telecast 'live', it's important to keep it short. Now a days matches last not more than an hour at the most.. which is good," he said.
Photograph: Bikash Mohapatra