Players made my job easy, says Europe skipper Bjorn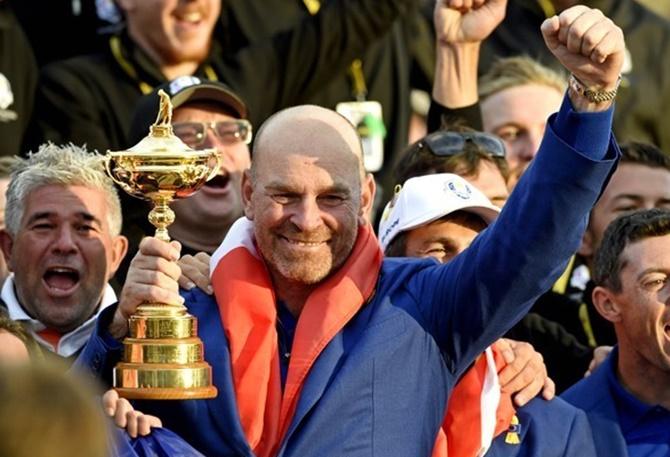 Triumphant European Ryder Cup captain Thomas Bjorn said his 12 players had made his job an "easy one" during a weekend in which they comprehensively outplayed the United States in France.
While Francesco Molinari and rookie Tommy Fleetwood were Bjorn's top dogs, winning four points as a pair, every member of the side contributed to the tally as Europe regained the trophy they lost at Hazeltine in 2016 with a 17.5-10.5 win on Sunday.
His four picks -- Sergio Garcia, Henrik Stenson, Ian Poulter and Paul Casey earned 9.5 points.
As the celebrations began in earnest, however, Bjorn said the key to victory had been about the collective rather than any individuals -- especially against an American side laden with current and former world number ones and multiple major winners.
"I felt all along that this was a good group of guys," Bjorn, who in 1997 became the first Dane to play in the Ryder Cup, told reporters with his team by his side.
"This turned out pretty exciting because the way that the 12 of them joined up together as a team and the way they looked after each other throughout the week made captaincy pretty easy."
"The hardest thing about the captaincy I think this week was that there's so many guys playing well, and being in such good frame of mind that I wanted to get everybody on the golf course, but you can't. This is the best team room I've ever been in."
Europe had trailed 3-1 after Friday's fourballs but they swept the afternoon foursomes with Bjorn using all 12 of his players, including five rookies, on day one.
By Saturday evening they were 10-6 ahead and firm favourites to complete a seventh win in the last nine Ryder Cups.
Jim Furyk's U.S. side did not throw in the towel, though, and when Europe's heavyweights Rory McIlroy and Justin Rose lost in early singles matches there were anxious moments.
"There was a little moment in the middle of it all where I was getting a little bit worried, but then everybody stood up and did their bit," Bjorn said.
"I can't describe how I feel about these 12. They have been amazing from day one, and I'm just so proud of them."
"We got it right this week. We worked as a team and we knew we were up against very strong opponents, but we went out on the golf course and believed in ourselves and what we stand for."
The first Ryder Cup held in France also proved a huge success, with thousands of fans flocking to the spectacular course in the south Paris countryside.
Throughout the three days the noise generated by the European fans in particular was often deafening -- more in keeping with a football stadium than a golf course.
Bjorn said they had been like an extra player.
"We'll wrap them up and take them to America for the next one I think," Bjorn said.
Captain Furyk takes blame for American Ryder Cup loss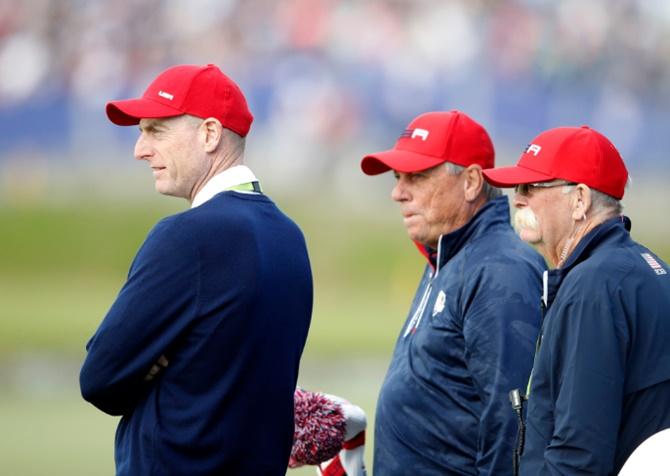 United States captain Jim Furyk proverbially fell on his own sword on Sunday, accepting blame for his team's heavy loss to Europe at the Ryder Cup.
U.S. hopes were high after their victory on home soil two years ago, but it turned into the same old story for the visitors as they succumbed amid a series of errant drives and missed putts.
In the process, Furyk became the sixth consecutive American leader to preside over a losing team in Europe.
"Thomas (Bjorn) was a better captain, and their team out-played us," Furyk said, surrounded by the 12 players on his team at a glum news conference.
"He did a good job. When a team is successful, as they were and as well as they played, that shows to me they had great leadership."
"I know everyone on this table wishes they had played better, and I wish I probably would have done some things differently, as well, but at the end of the day we did the best we could and we all worked hard."
Tough questions about what Furyk, and his players, could have done differently will be asked, including whether it was negligent that half his team arrived at quirky Le Golf National without having stepped foot on the course.
Furyk cited logistics as a reason, though it is worth noting that Justin Thomas, the only American team member who played the French Open on the course this year, was the star of the losing team, winning four of his five matches.
Furyk will also be second-guessed for playing the notoriously inaccurate Phil Mickelson in the unforgiving alternate-shot foursomes, rather than fourball (best ball).
The latter format, in which both players hit their own ball and take the best score on each hole, generally rewards attacking golf and birdies, which is more Mickelson's style of play.
Mickelson lost his Friday foursomes and was benched until the singles.
"You know we're going to get second-guessed and we're going to get questioned," Furyk said.
"I realise as a leader of this team and as a captain, the brunt of it is going to be on my plate and I accepted that when I took this role."
"I'll work with the PGA of America and I'll work with our Ryder Cup committee and I think we'll keep improving."
Furyk was also asked whether losing was traumatic.
"It's just golf. Golf isn't traumatic," he said.
"Obviously, there's a sour taste in our mouth to come over here now for 27 years and not be able to win on foreign soil."
"We want to grow and we want to get better, but we want to do it here in Europe. That will be the goal four years from now."