'Sad day for Russian athletes. The people in charge should be punished, they created the culture of dope'
'I will not be quiet, I will take steps. I will go to the human rights court'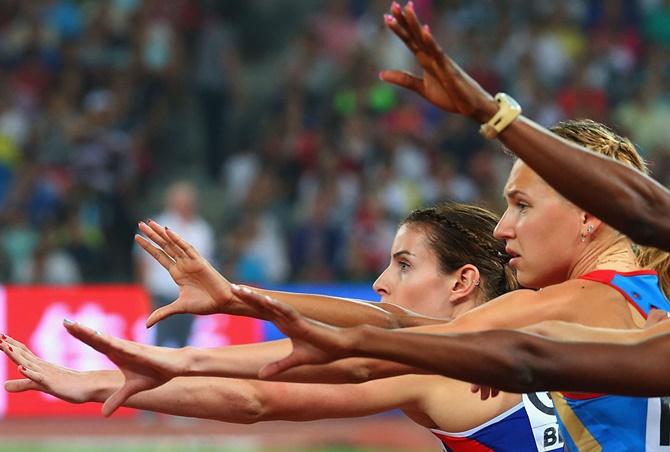 IMAGE: Kseniya Aksyonova of Russia wait for the change over in the women's 4x400 Relay. Photograph: Alexander Hassenstein/Getty Images for IAAF
Russia claimed the IAAF's decision to continue its ban of Russian athletics on Friday was unfair and threatened legal action, while the rest of the world welcomed the move and urged the IOC not to go against it.
"We are extremely disappointed by the IAAF's decision, creating the unprecedented situation of a whole nation's track and field athletes being banned from the Olympics," said the Russian ministry of sport.
"Clean athletes' dreams are being destroyed because of the reprehensible behaviour of other athletes and officials.
"We now appeal to the members of the International Olympic Committee to not only consider the impact that our athletes' exclusion will have on their dreams and the people of Russia, but also that the Olympics themselves will be diminished by their absence."
The IAAF voted unanimously to uphold its ban on Russia for systematic doping, saying the country had not made enough progress on reforms to dispel concerns of state-sponsored drug abuse.
The Russian athletics federation blamed the media, saying: "The pressure which we experienced in the last few days ahead of the council meeting, when every day we had some kind of interview or publications, which as a rule had negative connotations, doubtlessly influenced the decision."
Yelena Isinbayeva, who had hoped to seek a third Olympic pole vault gold in Rio and who is one of Russia's most prominent athletes, described it as a violation of human rights.
"I will not be quiet, I will take steps. I will go to the human rights court. I will prove to the IAAF and WADA that they made the wrong decision," she said, referring to the World Anti-Doping Agency.
A Kremlin spokesman, speaking hours before the ban was extended, said: "Everything possible needed to defend the rights of our athletes and the Olympic team is being done and will be done at a legal level."
The IOC merely "took note" of the decision but said it would discuss the situation in a telephone conference on Saturday.
The United States Olympic Committee described it as a step in the right direction.
"It gives a measure of hope to clean athletes that there are consequences not only for athletes who dope, but for countries which do not engage seriously in the fight against doping," it said.
Stephanie Hightower, president of US Track and Field and an IAAF Council member, said it was "the only proper course of action given the compelling and powerful evidence presented to Council.
"We do not believe that every Russian athlete cheated, and it is unfortunate and regrettable that some may pay a penalty for the serious transgressions of their federation."
There was some sympathy elsewhere too for innocent Russian athletes, with American Olympic decathlon silver medallist Trey Hardee saying: "Sad day for Russian athletes. The people in charge should be punished, they created the culture of dope".
A statement from European Athletics President Svein Arne Hansen said it would be "unfair to allow the impression that doping is a problem confined to Russia or to athletics.
"I must emphasise that this is a challenge to all sports in every country," he said.
Individual athletes, however, were quick to take to social media to give their support for the ban.
"I am sick of Russians whining about shattered dreams, opportunities lost etc. Russians have been stealing clean athletes' dreams for years," said British marathon runner Mara Yamauchi.
British middle distance runner Lynsey Sharp, who has been previously cheated out of medals by subsequently banned dopers, agreed, saying in reply to the statement from the Russian athletics federation: "And your country has destroyed 'clean athletes' dreams' for decades. Not a nice feeling is it?"
Others took the opportunity to press the IOC to support the decision and not find a way to invite Russian athletes to Rio.
"We applaud the IAAF actions today. We implore the IOC to do their part and protect clean sport," said Athletics Canada.
Former British heptathlete Kelly Sotherton said: "The IOC must be as strong in the clean sport stance as IAAF. They should back clean athletes not a doping culture with an easy let-in clause."
There was some confusion about exactly what was involved in the IAAF's announcement that Russian athletes who trained and were tested outside their own country might be able to be allowed to compete, especially since only a tiny handful would qualify under that criteria.
"The IAAF must ensure the conditions for them to qualify are stringent enough so that absolutely no cheats slip through the net," said UK Athletics.
"We would wish to know much more about these conditions before being able to welcome individual athlete invitations."
WADA issued a statement welcoming the ban and also revealed that "preliminary findings" of an ongoing probe into Russian doping, which were shared with the IAAF Task Force, showed that there is: "Sufficient corroborated evidence to confirm...a mandatory state-directed manipulation of laboratory analytical results operating within the Moscow-accredited laboratory from at least 2011 forward including the period of the IAAF World Championships in 2013."
WADA also "wholeheartedly supported" the IAAF's recommendation to allow Russian whistle-blower Yuliya Stepanova to potentially compete in the Olympics as an independent athlete.