Portugal captain Cristano Ronaldo became the country's record goal-scorer during their 5-1 win against Cameroon in an international friendly on Wednesday.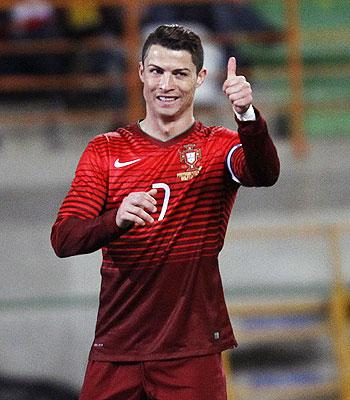 It was also a memorable night for Ronaldo, who bettered former striker Pauleta's record (47 goals in 88 games) to go top of Portugal's all-time goal chart.
The Ballon d'Or winner scored his 48th and 49th goals (in the 21st and 83rd minutes) for his country, while Raul Meireles, Fabio Coentrao and Edinho added to the scoresheet as Portugal thumped a hapless Cameroon.
"I knew it would come eventually," Ronaldo said on breaking the record.
"It's special because I've been in the national team for 10 years now. It's all down to hard work," he added.
Image: Cristiano Ronaldo celebrates after breaking the all-time goal-scoring record for Portugal against Cameroon on Wednesday
Photograph: Hugo Correia/Reuters