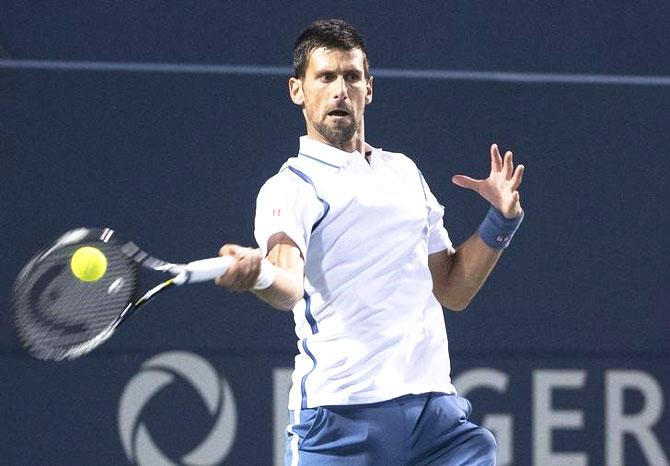 IMAGE: Novak Djokovic returns a ball during his semi-final against Gael Monfils at the Rogers Cup tennis tournament at Aviva Centre in Toronto on Saturday. Photograph: Nick Turchiaro-USA TODAY Sports via Reuters
Novak Djokovic maintained his unbeaten record against Frenchman Gael Monfils with a 6-3, 6-2 win in the semi-finals of the Rogers Cup in Toronto on Saturday, while Japan's Kei Nishikori also reached the final after beating Swiss second seed Stan Wawrinka.
World No 1 Djokovic, now 12-0 against Monfils, has the opportunity to become the tournament's first four-time winner when he meets Nishikori in Sunday's final.
Nishikori came from 2-5 down in the opening set to stun Wawrinka 7-6(6), 6-1 in the first semi-final at the Aviva Centre.
Monfils came into the semi-finals having won nine straight matches, including the Citi Open title in Washington, DC last Sunday.
Djokovic overcame a service break in the third game and was dialled in the rest of the way in the 74-minute match. The Serb evaluated his play as his best of the week.
"It came at the right time," Djokovic said in a courtside interview.
"You never know what is going to come the other way from a guy who has been in top form in the last couple of weeks.
"He won in Washington last week and came in here and won comfortably in most of his matches. I had to stay committed from the beginning and I'm very, very pleased with the way I played."
Djokovic is 9-2 against Nishikori and has won their last eight meetings, including the hard-court final in Miami earlier this year.
"Playing against Kei is never easy," Djokovic said.
"He's been around. He's an established top-five, top-10 player. He's one of the quickest on tour and I'm going to have some fun."
Nishikori is seeking his first ATP Masters 1000 title after reaching the third final of his career in the elite events.
"I knew I would have to step it up a little bit in the second set the first couple of games," Nishikori said after beating Wawrinka for just the second time in five meetings.
"And after that, I tried to be more aggressive and really concentrate because he was a little bit down and I knew if I had to let him, he's going to come back."
Wawrinka, a two-times grand slam champion who has won 14 ATP World Tour titles, became increasingly dispirited as he lost 11 of the last 13 games after squandering four set points in that opening set.
Nishikori, serving at 40-0, sealed victory on the first of his three match points when an overhead smash prompted an unforced error from his opponent, ending an encounter that lasted just under an hour-and-a-half.
Halep upsets Kerber, will face Keys in final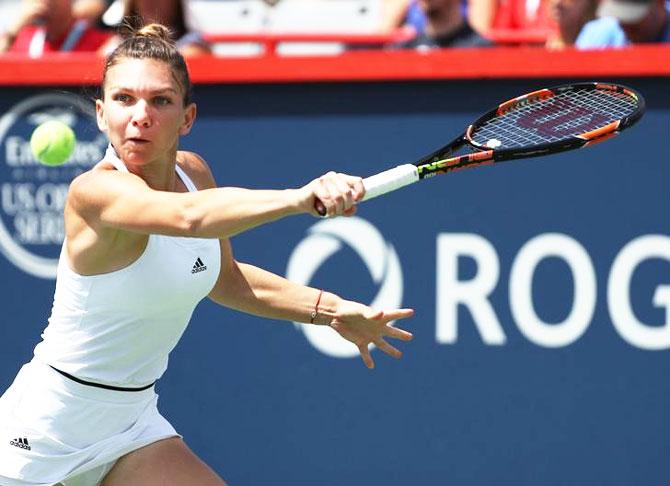 IMAGE: Romania's Simona Halep hits a shot against Germany's Angelique Kerber on day six of the Rogers Cup tennis tournament at Uniprix Stadium in Montreal on Saturday. Photograph: Jean-Yves Ahern-USA TODAY Sports via Reuters
Fifth-seeded Romanian Simona Halep overcame a crisis of confidence in the second set to reach the final of the Rogers Cup with a 6-0, 3-6, 6-2 upset victory over second seed Angelique Kerber of Germany in Montreal on Saturday.
Halep had been a set and a break up before Kerber reeled off six straight games to lead 2-0 in the third before the Romanian regained control, sealing the win after a topsy-turvy encounter that lasted one hour 38 minutes in Montreal.
The 24-year-old, who was beaten by Kerber in the last eight at Wimbledon on July 5, will take on 10th-seeded American Madison Keys in Sunday's final at the hardcourt event.
Keys swept past unseeded qualifier Kristina Kucova of Slovakia 6-2 6-1 in Saturday's other semi-final, serving up nine aces as she wrapped up victory in just 51 minutes.
"I knew that it was going to be a tough one, always when I play against her it was a tough match," Halep told ESPN in a courtside interview after improving her career record against Kerber to 4-2.
"Mentally I am pretty strong and I am a little bit disappointed in the second set I gave up at 3-2. But this is me.
"I have to improve more in this way and I am just trying to enjoy more and more and to give everything I have to win."
A frustrated Halep smashed her racket on the ground during the seventh game of the second set after squandering her 3-2 lead and her coach, Darren Cahill, gave her quiet words of advice during the changeover.
"Take a deep breath ... control your emotions, keep a cool head and make good decisions," Cahill said.
Though Halep was also broken in the next game before Kerber levelled the match at a set all and then raced 2-0 up in the third, the Romanian heeded Cahill's advice and wrested back the initiative with a more positive approach from the baseline.
Halep won the last six games of the match, wrapping up victory on her fourth match point when a net cord by the left-handed Kerber bounced just wide.
"I just tried to be more aggressive, to hit the ball because I started to push it (in the second set) and she could take the initiative of the game and she could dominate," said Halep, who had lost her two previous matches against Kerber.
"And then I just wanted to finish the points and to go over her ... I am happy that I could finish it."