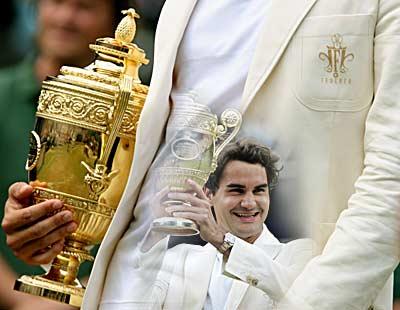 One always thought white coats were the stuff of
Alice in Wonderland
. Remember the White Rabbit and his sparkling white number?
But what is it with four-time Wimbledon champion Roger Federer and his newly-discovered affinity for a particular cream-coloured coat?
The Swiss tennis star has worn the coat over his tennis shorts to every match at Wimbledon this year, looking quite zany.
No sooner had he demolished an opponent -- he only dropped a set in the final against Rafel Nadal on Sunday -- Roger would don the jacket and march off court.
The garment has his personal emblem -- a jumble of symbols consisting of the Leo zodiac symbol (Roger is a Leo, born August 8, 1981), intertwined tennis racquets, bunches of grass (to indicate his three Wimbledon titles before Sunday; he plans to add one more before he arrives at the All England tennis courts next year), the letter F and Switzerland's cross embroidered on its left panel.
Bud Collins, The Boston Globe's witty tennis columnist has an interesting take (registration required) on it.
He feels the style-conscious Swiss star wanted to adopt a 'retro-look' to fit in with the current retro-wave at the British Grand Slam event. The 'edgy' single-breasted coat is tailored from cream flannel.
Notes Collins: 'No sweat suit for this emperor. If such empresses as Maria Sharapova and Venus Williams could wow the folks with stunning garments, so could he. Why should the women have all the sartorial fun?'
Photographs: Phil Cole and Clive Brunskill/Getty Images