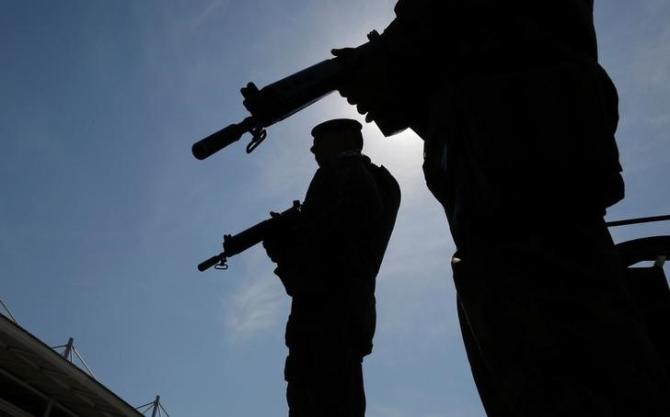 IMAGE: Brazilian Army soldiers attend a street patrolling exercise on the Transolimpica expressway that will connect the Recreio dos Bandeirantes and the Deodoro neighborhoods in the West Zone, linking the two main venues of the 2016 Rio Olympics in Rio de Janeiro, Brazil, July 9, 2016. Photograph: Bruno Kelly/Reuters.
Officers who form part of the security force for the upcoming Olympics in Rio de Janeiro are complaining about delayed salaries and unfurnished accommodations, where many are forced to sleep on the floor.
"Morale is rock bottom," said one member of the National Force, which is formed by police and fire services from states across Brazil to provide security for major events and emergencies.
National Force officers already in Rio - part of an overall security deployment of 85,000 police, soldiers and other personnel - form a relatively small part of the overall effort, with about 5,000 members.
The officer, who asked not be named to avoid punishment by superiors, said dozens of colleagues have decided to return to their home states because of delayed pay and sparse conditions in newly built public housing, some of it still lacking furniture and other accommodations.
Their complaints add to security concerns ahead of the games. On top of rising street violence and petty crime in Rio, a transcript was made public in France on Wednesday in which a French intelligence official said a Brazilian Islamist had been plotting to attack the French Olympic delegation.
The Justice Ministry, which is responsible for the National Force, said in a statement that pay and board for security forces were guaranteed. It also said another 4,500 retired or on-leave police officers could be called on if needed.
The National Force contingent is smaller than the 9,600 officers originally expected.
The shortfall, a result of states not releasing more officers from their local duties because of budget and security concerns at a time when Brazil is struggling with recession, was filled by the armed forces and a private security company.
Video footage broadcast on the Globo network showed members of the National Force carrying mattresses and driving refrigerators to their unfurnished lodgings.
"I'm having to sleep on the floor, our food arrives late and I still haven't been paid," said the officer, explaining that his first pay should have come earlier this month after 15 days of service. "We're not being treated like professionals."