Hosts Brazil won their first gold of the Rio 2016 Summer Games after Rafaela Silva won the women's-57kg judo event on Monday.
Another country to open their 'gold account' was Croatia, thanks to trap shooter Josip Glasnovic's superb effort in the shoot-out.
China wins Olympic gold in men's 10 metre synchronized diving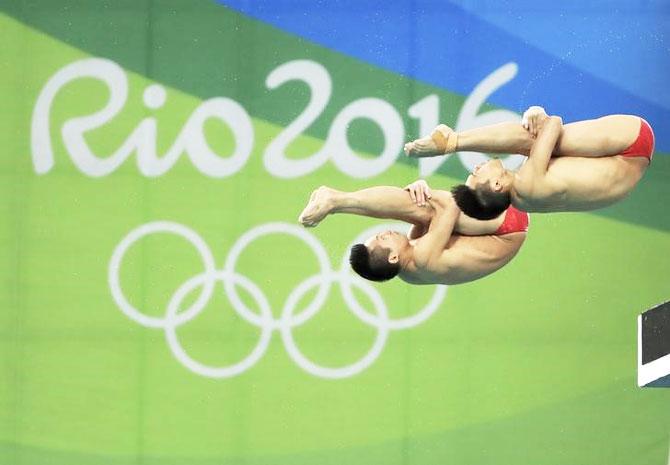 IMAGE: China's Chen Aisen and Lin Yue compete in the final of the men's Synchronised 10m Platform at the Maria Lenk Aquatics Centre in Rio de Janeiro on Monday. Photograph: Dominic Ebenbichler/Reuters
China's Chen Aisen and Lin Yue as expected won gold in the men's 10 metre synchronized diving at the Rio Games on Monday, keeping alive the country's goal of a clean sweep in all eight events.
Teams from the United States and Britain won the silver and bronze medals.
With near perfect execution and synchronization scores over six dives, the world champions won by a wide margin. They were diving together for the first time at an Olympic Games.
It was China's fourth consecutive Olympic gold medal in the event.
Judoka Silva wins first gold for hosts Brazil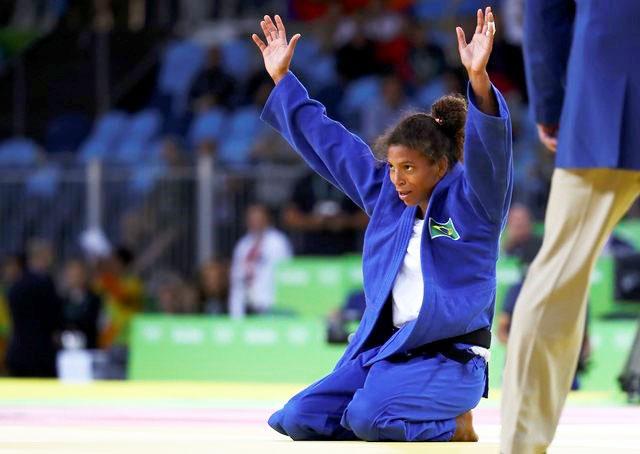 IMAGE: Brazil's Rafaela Silva celebrates after her gold medal win in the 57 kg Judo final on Monday. Photograph: Kai Pfaffenbach/Reuters
Brazil's Rafaela Silva overcame top seed Sumiya Dorjsuren of Mongolia to win gold in the women's -57kg judo on Monday, sending the crowd into joyous celebration of their first Olympic gold as host country.
Silva raised her arms to the crowd in triumph as she beat Dorjsuren on a waza-ari, following a pulsating semi-finals victory that went into extra time against Romania's Corina Caprioriu.
Gold for Silva marks a fairytale rise to the Olympic podium from a childhood in Rio's notorious "City of God" favela, and provides redemption for a disappointing London 2012 when she was disqualified in the early rounds for a rule violation.
Portugal's Telma Monteiro and Japan's Kaori Matsumoto won bronze.
Australia clinch inaugural women's Rugby sevens gold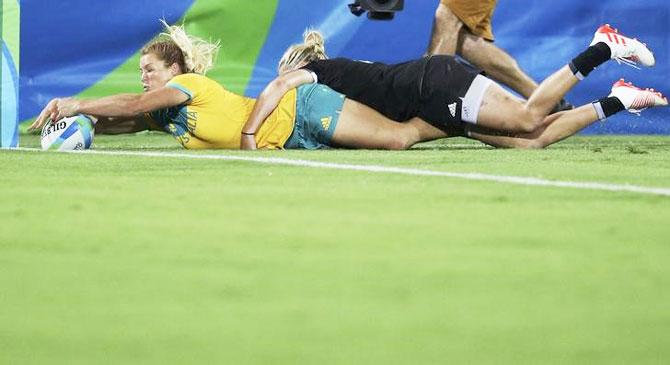 IMAGE: Australia's Emma Tonegato scores a try during the Rugby sevens gold medal match against New Zealand on Monday. Photograph: Phil Noble/Reuters
Australia became the first Olympic champions in women's rugby sevens when they ran out convincing 24-17 winners over trans-Tasman neighbours New Zealand in the gold medal final at the Deodoro Stadium in Rio on Monday.
The world series champions went behind early in the match but unanswered tries from Emma Tonegato, Evania Pelite, Ellia Green and Charlotte Caslick gave them a lead New Zealand were unable to overcome.
New Zealand, who had two tries from the outstanding Kayla McAlister and one at the death from Portia Woodman, performed a tearful haka in front of the crowd at the end of the match, their dreams of gold shattered.
New Zealand won silver, while Canada earlier took the bronze with a 33-10 victory over Britain.
Fencing: Russians top sabre podium, disappointment for US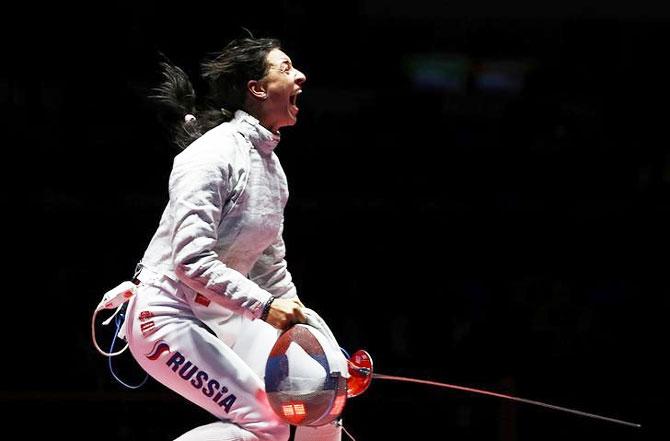 IMAGE: Russia's Yana Egorian celebrates winning her women's sabre fencing individual gold medal bout at Carioca Arena 3 on Monday. Photograph: Lucy Nicholson/Reuters
Russian fencer Yana Egorian beat top-ranked team mate Sofya Velikaya in a close-fought sabre final at the Rio Olympics on Monday, with London 2012 bronze medalist Olga Kharlan of Ukraine again on the third step of the podium.
Egorian scored her fourth win in a year over Velikaya to pick up the gold medal in a final so tense and quiet that a baby could be heard crying in the stands.
"It was the most difficult fight because Sofya has as much right to this medal as I do," said Egorian, who shared a long hug with her smiling compatriot just moments after their bout.
It was the first all-Russian Olympic fencing final in 20 years.
Uchimura helps Japan win team gold as China's reign ends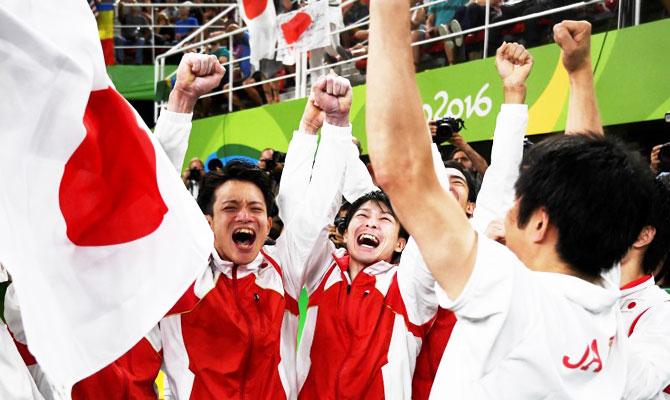 IMAGE: Japan gymnasts celebrate winning the men's team Artistic Gymnastics final on Monday. Photograph: Dylan Martinez/Reuters
Japan's Kohei Uchimura fulfilled his number one goal at the Rio Games by helping his team mates claim the men's gymnastics title on Monday to end the eight-year Olympic reign of rivals China.
Japan's hopes of winning the title they last claimed in 2004, during the pre-Uchimura era, got off to a wobbly start when Koi Yamamuro lost his grip on the pommel horse and rolled off the block of wood.
That score of 13.900 was their only blip on Monday as they put in a command performance on the remaining five pieces of apparatus to win the gold with a total of 274.094.
China, top in qualifying, were in danger of missing out on the medals when stumbles and falls on the vault, rings and floor exercise left them trailing fifth with two rotations to go.
But they surged back with a strong showing in the parallel bars to claim bronze with a total of 271.122.
Russia's Rio participation was in the balance until the last minute due to the doping scandal surrounding their country's sportspeople but the distraction did not stop them getting a surprise silver as they finished 2.641 points being Japan.
Thai Sukanya wins women's 58kg weightlifting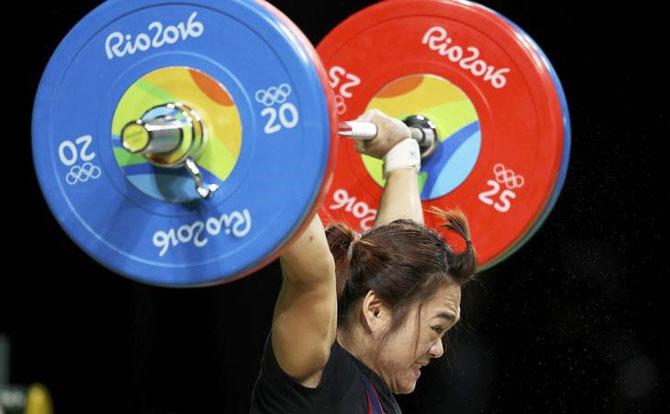 IMAGE: Thailand's Sukanya Srisurat competes in the Women's 58kg wWeightlifting final on Monday. Photograph: Stoyan Nenov/Reuters
Thailand's Sukanya Srisurat, edged compatriot Pimsiri Sirikaew to gold in the women's 58kg weightlifting competition at the Rio Olympics on Monday.
Sukanya lifted an Olympic record 110kg in the snatch and 130kg in the clean and jerk for a total of 240kg, beating the silver medallist by 8kg.
Srisurat had previously served a two-year ban for doping (May 2011 to May 2013), after testing positive as a 16-year-old for the prohibited substance methandienone, an anabolic steroid.
Judoka Ono ends gold medal drought for Japan's men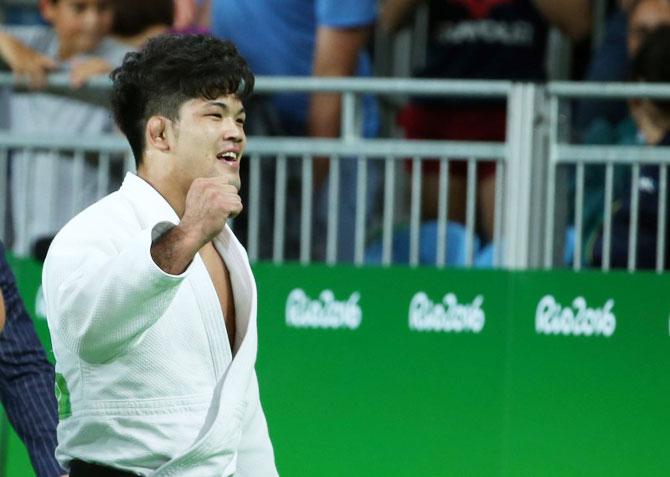 IMAGE: Japan's Shohei Ono celebrates after taking gold in the Judo Men's 73kg Final at Carioca Arena 2 on Monday. Photograph: Toru Hanai/Reuters
Japan's Shohei Ono won gold in the men's -73kg judo at the Rio Games on Monday, ending an anxious wait for a Japanese men's team that had not claimed Olympic gold since 2008 in Beijing.
Ono had been on a surge all day and emphatically capped his campaign with an ippon -- judo's equivalent of a knockout -- to defeat Rustam Orujov of Azerbaijan.
Belgium's Dirk Van Tichelt and Georgia's Lasha Shavdatuashvili took bronze.
Ono's victory ended Japan's sequence of five judo bronze medals in Rio.
Earlier, in the women's competition on Monday, compatriot Kaori Matsumoto, who had been seen as a favourite for gold, was stunned in the semi-finals and went on to take bronze.
Japan won just one gold medal in judo at the London Games, considered an embarrassment for the birthplace of the sport, and is eager to atone in Rio.
Italy's Campriani takes gold in 10m air rifle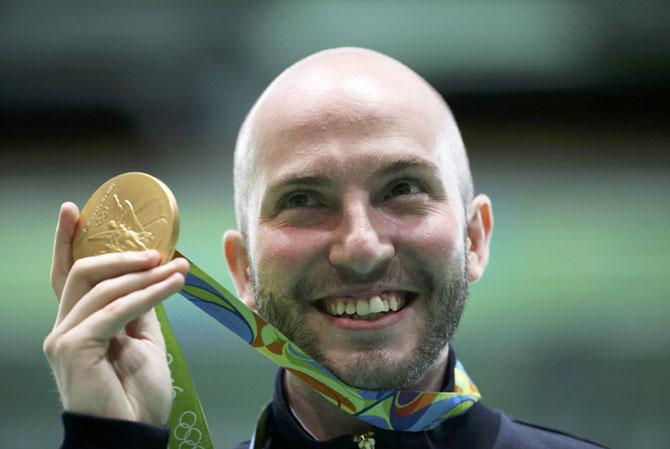 IMAGE: Niccolo Campriani of Italy poses with his gold medal after winning the Men's 10m Air Rifle event at the Olympic Shooting Centre on Monday. Photograph: Edgard Garrido/Reuters
Italy's Niccolo Campriani won gold in the Olympic men's 10-metre air rifle on Monday with a score of 206.1 after Serihy Kulish of Ukraine made his final shot poorly, widening what had been a razor-thin gap between the two.
Campriani, a 28-year-old, three-time Olympian and 2012 silver medalist, established an Olympic record of 630.2 in the qualifying round and his competition score also now qualifies as an Olympic record. There had not been a comparable previous record due to a rule change.
Kulish, 23, shot a 204.6 in the final round of his second Olympic appearance and took silver.
Russia's Vladimir Maslennikov, 21, took bronze on his Olympic debut with a score of 184.2.
India's Abhinav Bindra, 33-year-old who in 2008 became the only individual athlete from the country to win gold, took fourth with 163.8 after losing a shoot-off with Kulish after the pair exited the seventh round tied.
Croatia's Glasnovic wins trap gold in shoot-off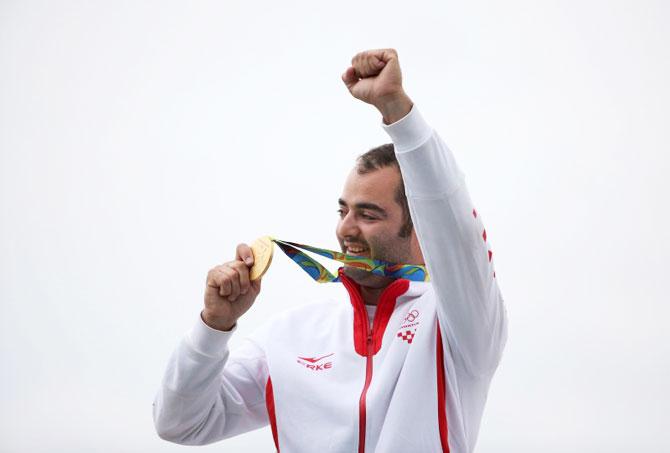 IMAGE: Josip Glasnovic of Croatia celebrates after taking gold in the Men's Trap shooting event at the Olympic Shooting Centre. Photograph: Edgard Garrido/Reuters
Josip Glasnovic won Croatia's first gold of the Olympics in the trap-shooting, beating Italy's Giovanni Pellielo in a four-shot shootoff.
Glasnovic, a 33-year-old who also competed in Beijing in 2008, hit a perfect 15 of 15 in the semi-final but missed two in the final. He then fired four of four in the shootoff.
Italy's Giovanni Pellielo, 46, earned his third silver medal in his seventh Olympic appearance.
Edward Ling, a 33-year-old Briton, took the bronze medal from David Kostelecky of the CzechRepublic, in a 13-9 round.