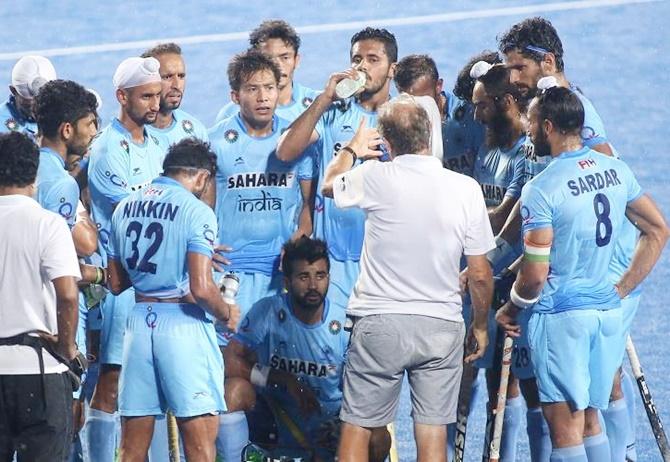 IMAGE: The Indian hockey team gets a pep talk from chief coach Roelant Oltmans (Image used for representational purposes). Photograph: Hockey India
The Indian hockey team will miss the opening ceremony of the Rio Olympics amid speculation that the kit did not fit some of the players ahead of the parade to take place at the Maracana Stadium.
The official reason given was that the players wanted to take to rest before their opener against Ireland on Saturday, but a source said that their absence was also related to 'kit' issue.
However, the women's team will participate in the ceremony.
"We have a match tomorrow, so we don't want to drain the players since the ceremony will go on for long," Hockey India President Narinder Batra told PTI.
But sources in the team said the side has decided to skip the ceremony due to the lack of official kit for the ceremony.
"The kit that was handed to the players has not fit most of them. The players didn't have the time to check the fittings since they reached Rio quite late and were given the kit on the day they started their trip," a source said.
Chef de Mission Rakesh Gupta said there was an issue with some of the kits but it has been sorted out now.
"Most athletes are taking part in the opening ceremony. Athletes who have matches tomorrow, we have allowed them rest. As far as hockey team is concerned, the issue of kits has been sorted out. Anyway it was a minor issue," said Gupta.
The men's hockey team, which last won an Olympic medal in the 1980 Games (gold), is aiming to end the medal drought riding on a good build-up to the Games.