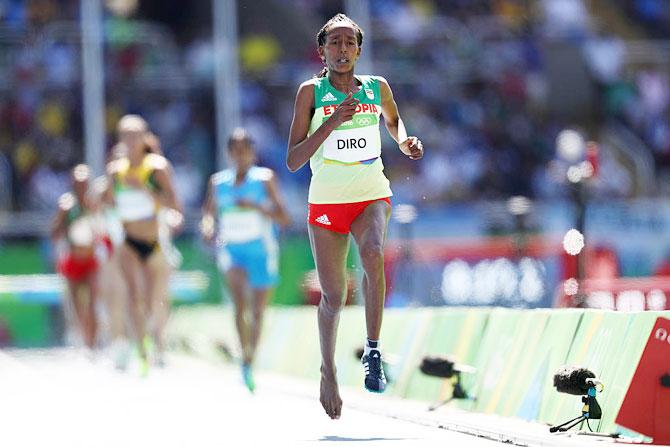 IMAGE: Etenesh Diro of Ethiopia competes with a missing a running shoe in the Women's 3000m Steeplechase Round 1 heats on Day 8 of the Rio 2016 Olympic Games at the Olympic Stadium in Rio de Janeiro on Saturday. Photograph: Paul Gilham/Getty Images
Ethiopia's Etenesh Diro got tangled up with two other runners in Saturday's 3,000m women's Olympic steeplechase and stopped to tear off her damaged right shoe and sock, but she kept on running to finish seventh.
Diro, a 25-year-old who placed fifth in the event at the 2012 London Games, broke down in tears after finishing in 9 minutes 34.7 seconds, more than 20 seconds off her personal best.
But it did not mark the end of her Rio Olympics after officials granted her a spot in Monday's final.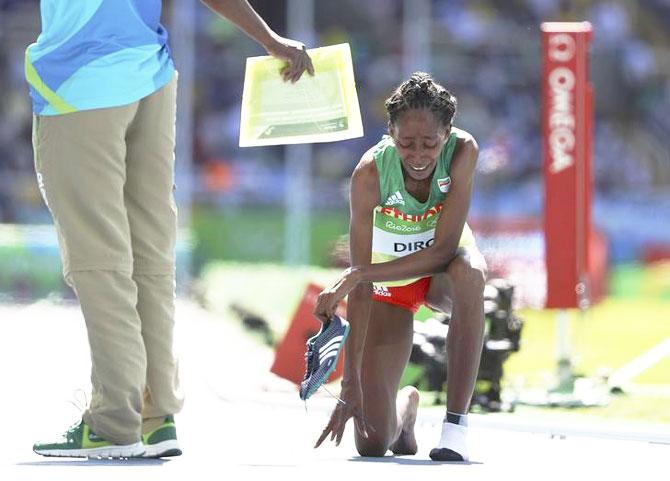 IMAGE: Ethiopia's Etenesh Diro reacts after she competed most of the 3000m Steeplechase race without one shoe. Photograph: Lucy Nicholson/Reuters
The International Association of Athletics Federations also cleared Ireland's Sara Louise Treacy and Jamaica's Aisha Praught to run in the final after reviewing video replays of the race following protests by their teams.
Australia's Genevieve Lacaze, who finished second with a time of 9:26.5 to qualify for the next round, complained that the mishap had obstructed the track.
"She was like a road block," the 27-year-old said.
"Someone ripped out her heel and, instead of getting out of the way -- I guess you don't think about others too much when you're in the Olympics -- she just stopped and was a roadblock for about four girls."