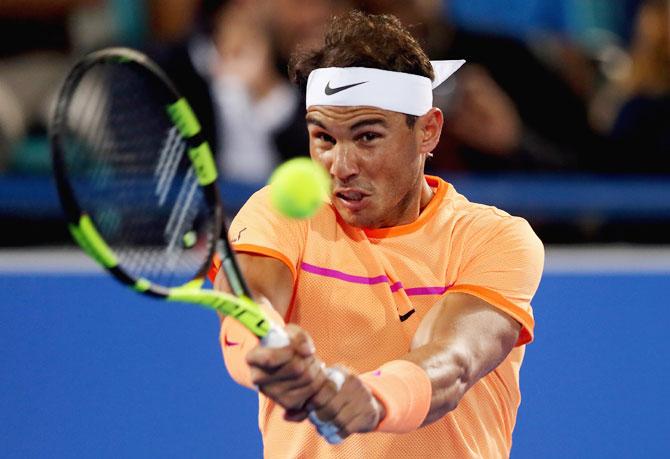 IMAGE: Spain's Rafael Nadal in action during his match against the Czech Republic's Tomas Berdych on Day 1 of the Mubadala World Tennis Championship at Zayed Sport City in Abu Dhabi on Thursday. Photograph: Francois Nel/Getty Images
With fire in their bellies, former Grand Slam champs Rafael Nadal and Roger Federer are targetting a fresh return to the tennis courts in 2017.
Fourteen-time Grand Slam champion Nadal believes he can still be a strong contender at the majors for the next three years despite experiencing another injury-plagued season, while his arch-rival Federer has echoed similar sentiments stating he hopes to play for at least another three or four years and that his "mind-set is for the long-term" in assessing his tennis future.
Nadal won the last of his 14 grand slam titles in 2014 when he claimed his ninth French Open title, but has suffered a string of injuries since that high point.
The world number nine also struggled this year, knocking out in the first round of the Australian Open and fourth round at the US Open.He was also forced to withdraw early from the French Open and was ruled of the Wimbledon due to the wrist injury earlier this year.
However, the Spaniard has now insisted that he is fit again and is all set to challenge a Grand Slam title.
"My idea is to stay here for a few more years and I feel enough motivation to be here. I believe that I can compete for important things in the next three years," Sport24 quoted Nadal as saying.
Nadal will kick off his 2017 season in Australia for the first time when he takes on field at the Brisbane International, a major lead-up tournament to the Australian Open.
Excited to make his first appearance at the Brisbane International, the 30-year-old said he is completely healthy and working hard to put up a competitive performance in the tournament.
"I'm ready to play in Brisbane -- I hope to be 100 percent ready to play at a good level," Nadal said after beating Tomas Berdych of the CzechRepublic 6-0, 6-4 at the Mubadala World Tennis Championship exhibition tournament in Abu Dhabi.
"I feel I'm healthy enough, and I'm very excited to be coming to Brisbane for the first time in my life. I'm working hard enough to be competitive. That's my main thing, to be competitive," he added.
Nadal will be the fifth seed in Brisbane, behind world number three and defending champion Milos Raonic of Canada, Switzerland's Stan Wawrinka, Japan tennis star Kei Nishikori and Australia's Dominic Thiem.
The Brisbane International is slated to be held from January 1 to January 8.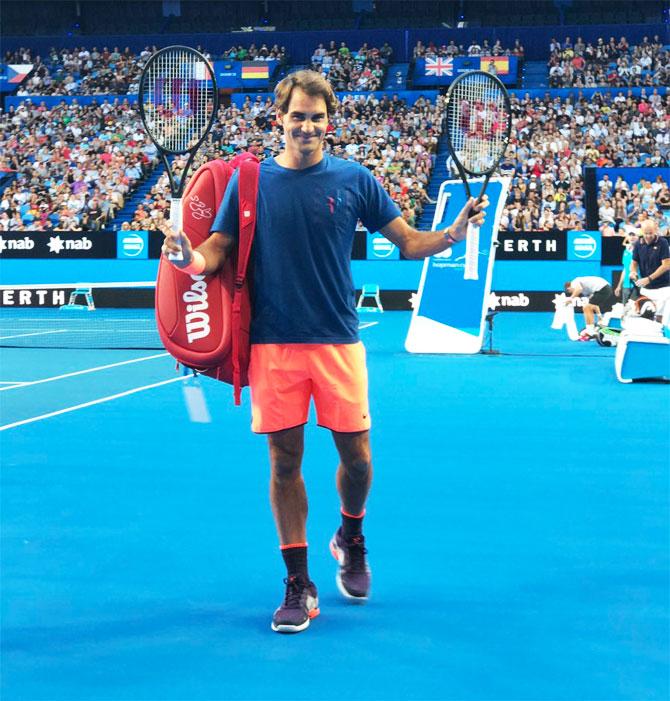 IMAGE: Roger Federer acknowledges the crowd after a practice session in Perth on Thursday. Photograph: Roger Federer/Twitter
Meanwhile, the 17-time Grand Slam champion Federer, who has not played since re-injuring his surgically repaired left knee at Wimbledon in July, will make his tournament return in the Jan. 1-7 Hopman Cup team event at Perth, representing Switzerland with Belinda Bencic.
According to AFP, The 35-year-old Federer said on Friday he's not sure of the form he'll produce upon his return, but that retirement isn't part of his thought process.
"Only when I get asked do I think of things like this," Federer said.
"I don't see it like this, that this could be my last Australian trip, even though it might very well be," he added.
"I'm really positive. I took these six months off so I would be playing for hopefully another two to three years, not just another six months or so. So my mindset is for the long-term." Federer hasn't won a Grand Slam singles title since Wimbledon in 2012, and with his injury, has slipped to No. 16 in the world rankings.
"Winning titles is a beautiful feeling, rankings at the moments ... completely secondary," Federer added.
"As long as I'm healthy and injury free I think I can really do some damage."
Federer and Bencic begin play against Britain, represented by Heather Wilson and Dan Evans, on Monday night at Perth Arena.
Defending champions Australia, represented by Daria Gavrilova and Nick Kyrgios, begin play Sunday night against Spain.
Americans Coco Vandeweghe and Jack Sock take on CzechRepublic's Lucie Hradecka and Adam Pavlasek earlier Sunday in the men's singles, women's singles and mixed doubles format.