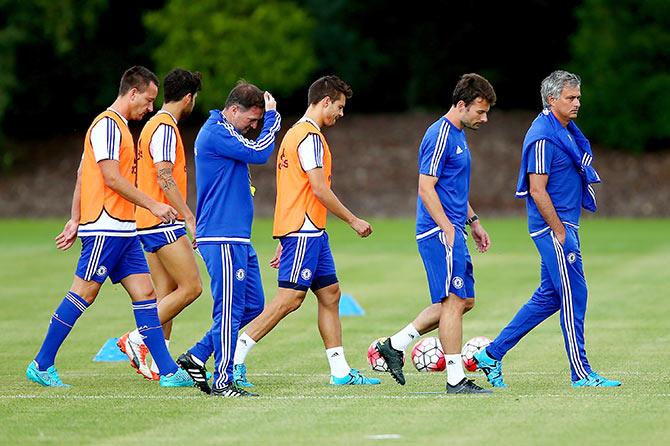 Jose Mourinho leads the team out during a training session at Chelsea Training Ground in Cobham. Photograph: Jordan Mansfield/Getty Images
Chelsea manager Jose Mourinho feels it will be more difficult for his side to retain the Premier League title with the other contenders having made strong additions to their squads.
Chelsea won the title at a canter last season, finishing on 87 points, eight ahead of second-placed Manchester City.
"A year ago we got immediately Costa and Fabregas which was a quick reaction to the fact that we didn't win the title," Mourinho told Sky Sports.
"This year you can see from the reaction of Liverpool, Arsenal, Manchester City and Manchester United.
"They've bought strong, and they've bought well. They are trying to make an impact because they couldn't get the title."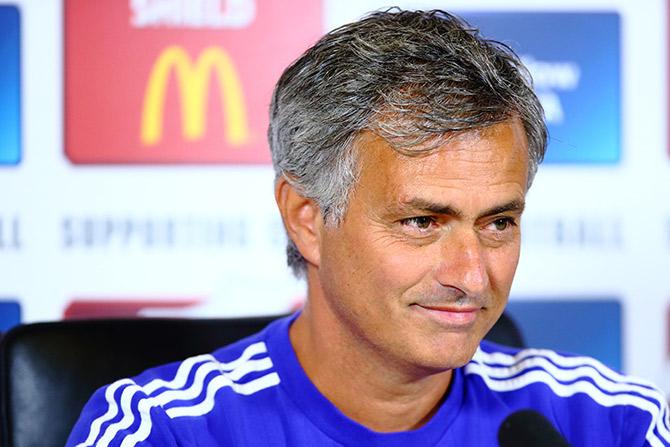 Jose Mourinho talks during a press conference at Chelsea Training Ground in Cobham. Photograph: Jordan Mansfield/Getty Images
The 52-year-old Mourinho expects a close title race and low scoring season with smaller teams also attracting strong players.
"Maybe I am wrong but I have the idea that less points will win the title this season," the Portuguese added. "Other teams are investing very well and this is not normal."
"Smaller teams are getting some of the best players from some countries. Those players usually only leave their counties for the best clubs but now they go to the promoted teams.
"Now it is their competitive nature and their quality that top teams have to play against. It is more difficult."
Mourinho, currently in his second stint as manager with Chelsea, has won three Premier League titles, two League Cups, one FA Cup and one Community Shield with the London-based club.