Peeved at being ignored for the prestigious Arjuna Award, woman weightlifter Renubala Chanu has decided to return the gold medal she won at last year's Commonwealth Games to the sports minister.
Renubala, who won a gold in the 58kg category at the Delhi Games, said she was hurt at not being named for the Arjuna award after 11 years at the top and winning medals at the international level.
"This is a big letdown for me after being at the top level for 11 years. I have been snubbed and cold-shouldered. It has hurt me and I have no motivation left whatsoever to continue in the sport. So I am returning the gold medal I won in the Commonwealth Games," she told reporters on Monday, while displaying the Commonwealth Games' gold medal.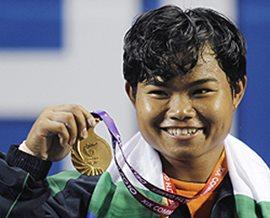 K Ravi Kumar, who also won gold in the men's 69kg in the Commonwealth Games, is the lone weightlifter named among the Arjuna awardees and Renubala said she is more deserving than him for the award.
"Ravi Kumar deserves to win the award, but I am more deserving than him," said the 24-year-old Renubala, who is now posted at the Guwahati Headquarters of the North Eastern Frontier Railways.
Renubala, who also won gold at the 2006 Melbourne Commonwealth Games, she said her brother is coming from her home state of Manipur to hand over the other medals to the sports minister.
"I have won two Commonwealth Gold medals and a bronze in the Asian Championships. My brother is coming from home to return the other medals," she said.
She went on to add that if the Sports Minister Ajay Maken does not assure him that she would get the Arjuna award next year, she will altogether quit weightlifting.
"How long I will wait? I may get injured and go out of competition and I may nor be considered again for the award any more. I want an assurance from the sports minister that I would get the Arjuna award next year. If I don't get the assurance I will quit weightlifting," she said.
She said she has informed about her decision to return the medals to the Indian Weightlifting Federation.
"I have informed of my decision to the IWF but I am not expecting any help from them," concluded Renubala.