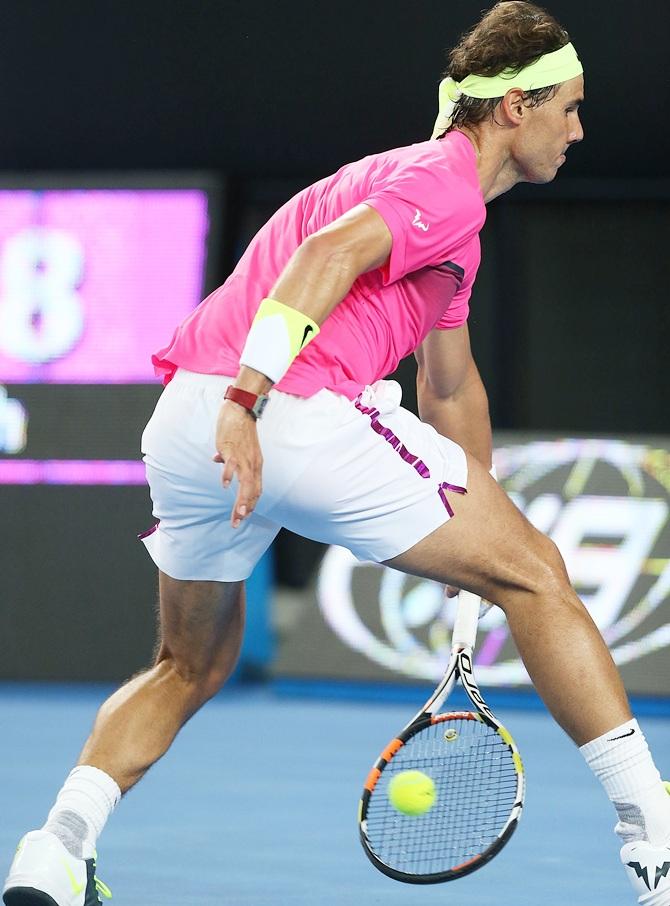 Rafael Nadal of Spain hits the ball between his legs in his match against Fernando Verdasco of Spain. Photograph: Michael Dodge/Getty Images
King of Clay Rafael Nadal was reportedly happy to be on the dance floor, not on an actual one but on a tennis court, as the recovering Spaniard played in a new format called Fast4, which has been dubbed as disco tennis by some.
Nadal played on the inauguration of the newly renovated Margaret Court Arena that would give the Australian Open, which starts on Monday, its third stadium with a retractable roof.
About 7,500 fans crammed into the arena on Wednesday for a benefit night for the 'Rafa Nadal Foundation', which assists socially disadvantaged youth.
Nadal clearly enjoyed the new Australian-developed format, which features major rule variations to speed up the game for players and fans, as he joked with the spectators on numerous occasions and once playfully hit a ball into the crowd when someone interrupted him during a serve.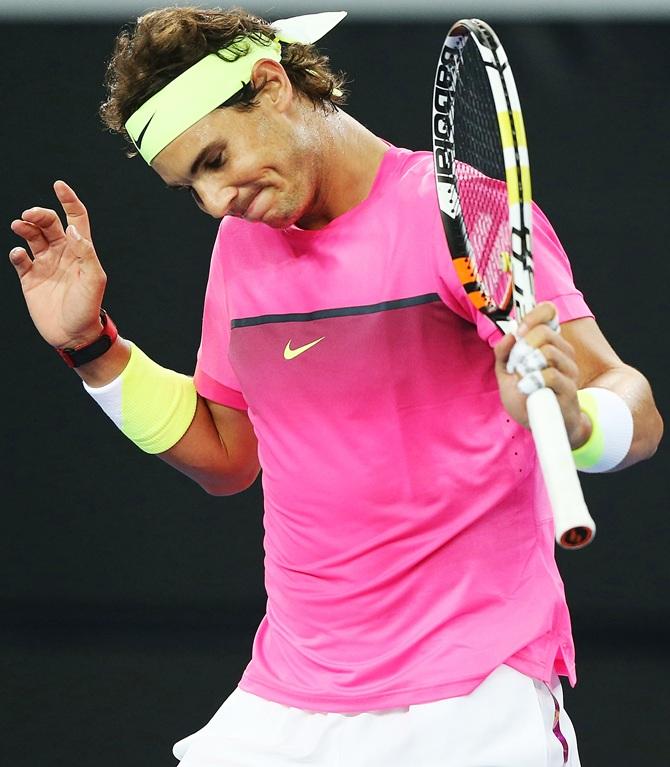 Rafael Nadal of Spain reacts. Photograph: Michael Dodge/Getty Images
Earlier, Nadal trained at Melbourne Park, indicating that he might be overcoming health and injury issues after being sidelined for three months with a right wrist injury after Wimbledon.
Nadal had briefly returned in Beijing in late September, advancing to the quarterfinals and then had appendix surgery in early November, which he is still recovering from, saying last week in Qatar that he was far from 100 percent.
Nadal said that this is the third comeback of his career after injury, so they would see how it goes.
During his Fast4 round on Wednesday, Nadal beat former Australian player Mark Philippoussis in 15 minutes and won 3-2 against Fernando Verdasco.