'They're trying to make out like Algieri is the next Rocky. But this isn't a movie'
'My time is not over yet. I'm not predicting a knockout, but I'm looking for a good fight and looking to prove I can still fight'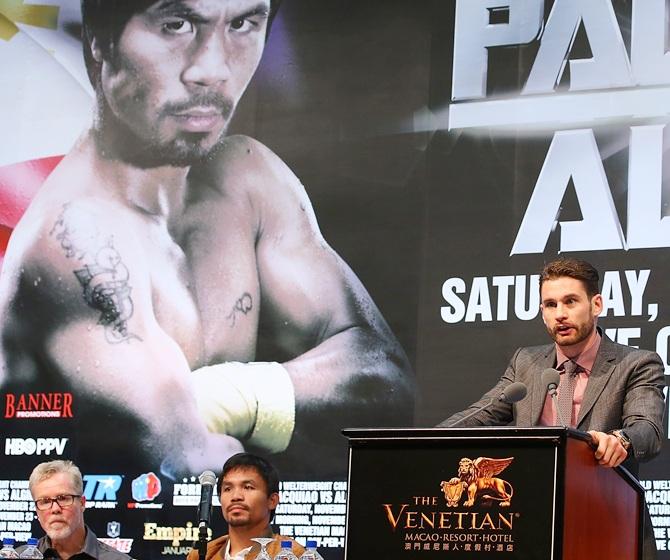 Chris Algieri speaks to media about the upcoming fight against Manny Pacquiao. Photograph: Chris Hyde/Getty Images
Nine months ago, American Chris Algieri was fighting in a venue holding less than 2,000 spectators, but on Sunday he enters the big time when he challenges eight-division world champion Manny Pacquiao for the WBO welterweight title at the Venetian Macao.
The 30-year-old Algieri, has been billed by promoters as the 'real-life Rocky' because of his rapid and improbable ascension to world title challenger, is not overawed by his situation.
"Yeah, it's cool, but it doesn't faze me," he told reporters in Macau this week ahead of his clash with Pacquiao in the 15,000 seat arena in the former Portuguese colony.
"I've literally seen this in my mind for a long time. And now it's here, it isn't I made it; it's, this is where I'm supposed to be."
Algieri earned his title shot the hard way.
Nine months ago, his bout with Emanuel Taylor was headlining at a 1,555-seat venue in his hometown of Huntington, New York.
That unanimous points decision victory gave him an opportunity against Russia's WBO light welterweight champion Ruslan Provodnikov in June.
Despite suffering two first-round knockdowns and having to fight with a swollen right eye, Algieri (20-0, 8 KOs) prevailed via a 12-round decision to set up the Pacquiao clash.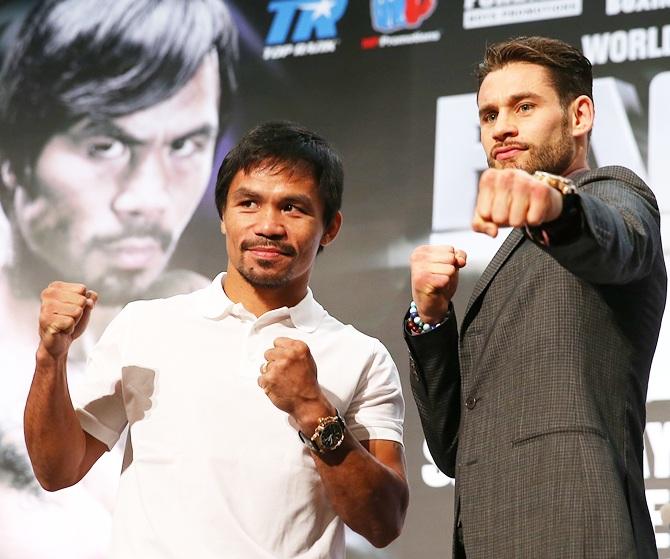 Manny Pacquiao and Chris Algieri pose during a press conference. Photograph: Chris Hyde/Getty Images
Pacquiao (56-5-2, 38 KOs) recognised that Algieri, who holds a Masters degree and is contemplating attending medical school, could see the fight as a potential springboard, in much the same way his own 2008 victory over Oscar De La Hoya helped transform him into a global name.
"I will not let that happen," the 35-year-old Pacquiao said.
"My time is not over yet. I'm not predicting a knockout, but I'm looking for a good fight and looking to prove I can still fight."
That is about as close to 'talking trash' as Pacquiao will allow himself, but his voluble trainer Freddie Roach was far more willing to dismiss Algieri's chances.
"He's in way over his head this time," Roach said.
"Manny's really on top of his game right now and he's looking really good. He can't wait to get in the ring with this guy and show the world he's a better fighter."
Undaunted, Algieri insists that he had the ability to beat Pacquiao.
"We're not worried about what Manny's going to do, we're focused on what I'm going to do.
"And if I fight my fight, I win."
The bravado only elicited a snort of derision from Roach.
"They're trying to make out like Algieri is the next Rocky," he said. "But this isn't a movie."