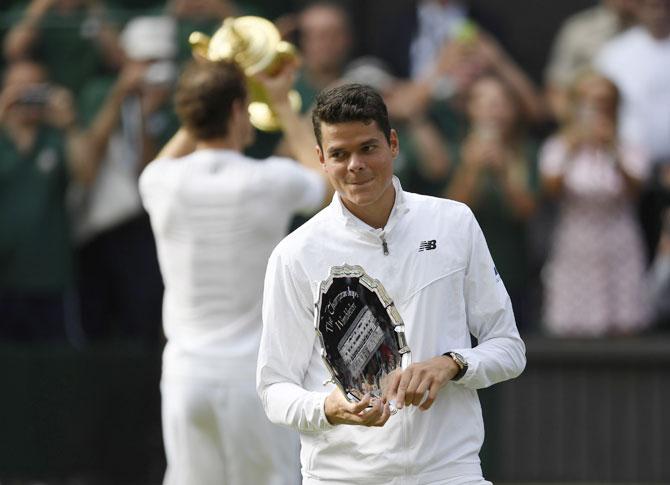 IMAGE: Canada's Milos Raonic with the Wimbledon runner-up trophy. Photograph: Tony O'Brien/Reuters
Canadian Milos Raonic declared that he would stop at nothing to win a major title after admitting his straight sets loss to Andy Murray in Sunday's Wimbledon final would sting.
The 25-year-old had hoped to become his country's first Grand Slam singles champion but despite a battling display in the biggest match of his career so far, he made little impression on sublime Murray losing 6-4, 7-6(3), 7-6(2).
Having previously reached the semi-finals at Wimbledon in 2014 and again at this year's Australian Open, where he pushed Murray to five sets, a first major final appearance represents a significant step for the 6ft 5 ins powerhouse.
His semi-final win over seven-time Wimbledon champion Roger Federer, from two sets to one down, was a milestone success, while in the last 16 he had battled back from two sets down for the first time in his career to beat Belgian David Goffin.
Few doubt Raonic's maturity and work ethic, although there are one or two areas of his game that still need to improve -- namely his return of serve -- as was shown against Murray.
When fellow Canadian Eugenie Bouchard lost her Wimbledon final to Petra Kvitova two years ago it signalled a downward spiral for the player predicted to be the next big thing.
Raonic is unlikely to suffer a similar fate.
"This one will sting a bit," he said before facing the world's media shortly after walking off court.
"I'm going to work on everything. I'm not going to leave any stone unturned. I'm going to try to get myself back in this position, try to be better in this position," he told reporters.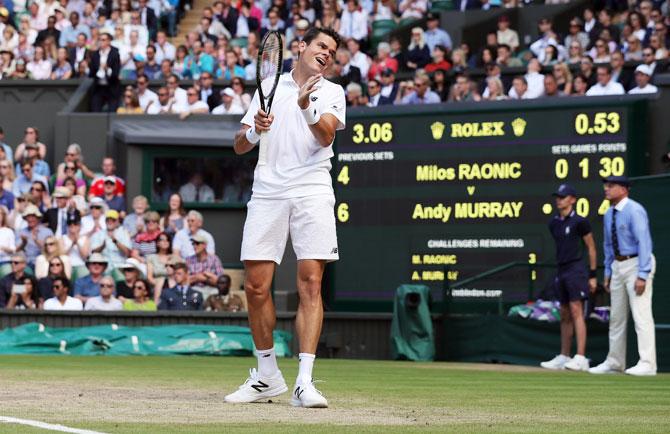 IMAGE: Canada's Milos Raonic reacts after missing a point. Photograph: Andrew Couldridge/Reuters
"I'm going to try to get fitter, stronger. I'm going to try to improve my return game, improve my serve. I can improve there. Improve my efficiency coming forward.
"There's not one thing I'm not going to try to improve."
The methodical Raonic described his fortnight as phenomenal, but was still critical of his inability to compete in the second set tiebreak having doggedly kept himself in the match.
"The first tiebreak, obviously I missed that ball, the short ball, on the first one. Wasn't even close," he said.
"Then I had an overhead that I didn't make the most of on my serve. I'll sort of look back at that with not too much joy."
Raonic's next target will be the Rogers Cup back home in Canada, but he would not say if John McEnroe, who he hired for the grasscourt season, would still be part of his entourage.
Three-times Wimbledon champion McEnroe was commentating on the final for ESPN on Sunday.
World No 7 Raonic said: "We haven't spoken about anything, but I'm sure we're going to have that discussion over the next 24 hours."
With or without McEnroe, Raonic, who also has former world number one Carlos Moya in his camp, is confident he can do for Canadian tennis what Murray has done for Britain.
"I believe I definitely have that ability within myself," he said.
"There's not a shadow of a doubt from myself.
"The question is, am I going to make the most of it when those opportunities arise?"