There are no real secrets to the success of rising tennis star Milos Raonic. The towering Canadian has a booming serve that is one of the most dangerous weapons in the game.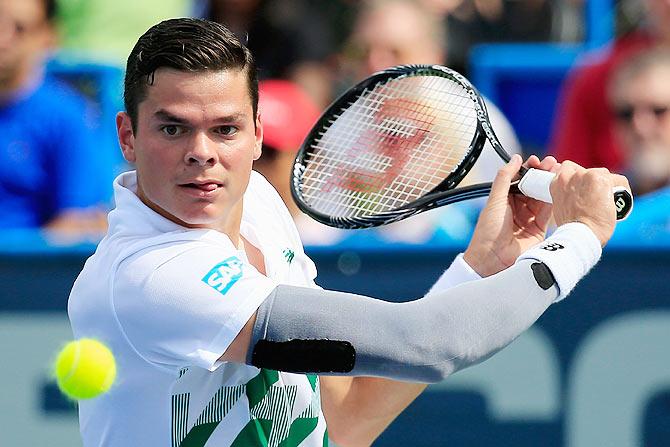 Last year, he served 954 aces, third overall behind Ivo Karlovic and John Isner. After just one match this year, he already has 17, an ominous warning that his delivery is getting even harder to handle.
Less than two months after he limped out of the ATP Finals with a leg injury, Raonic made an eye-popping return at the Brisbane International on Thursday.
The third seed hardly broke sweat on a hot and humid day as he ruthlessly dispatched of Kazakhstan's Mikhail Kukushkin, firing aces seemingly at will past his bewildered opponent.
"I served well," Raonic said, without any hint of understatement as he prepares for this month's Australian Open.
"We finished last year and we definitely thought I could do a lot better with my serve, so we spent a lot of time on it and I'm happy that it's going well."
While still packing plenty of heavy artillery in his game, Raonic spent most of the off-season working on the other parts of his game.
By his own admission, the 24-year-old needs to add more variety and develop a tougher mental approach if he wants to break through for a first grand slam win.
NEW LEVEL
"I feel good," he said.
"I've put a lot of work in technically and on a lot of things, so I feel better as tennis player. I feel much stronger and fitter.
"I also spent a lot of time sort of discussing and consulting with my team about the mental side, what I need to do to make the next step forward, especially in the big events."
Although he had made regular appearances in the third and fourth rounds of the majors between 2011 and 2013, Raonic took things to a new level last year.
He reached the quarter-finals at the French Open, a big achievement because of the slow clay surface, then the semi-finals at Wimbledon, which seems tailor-made for his game.
Currently ranked eighth in the world, Raonic is already lurking as one of the leaders of the next generation.
He has an impressive 10-4 record at the Australian Open in Melbourne and is quietly confident about making a big impression in all of the grand slams this year.
"This is the best pre-season we've had improvement-wise, especially on the physical side of things," he said.
"That's the biggest goal I've set for myself, is to do much better in specifically one major. I've been in a semi-final now, but I think I can do much better."
Image: Milos Raonic of Canada
Photography: Rob Carr/Getty Images