Indian golfing ace Jyoti Randhawa left for England on Thursday to participate in the British Open, which gets underway next week.
The Asia No.1, who will carry the Asian PGA challenge at Royal St George's, set off early to get some practice rounds ahead of the tournament, which will see some of the biggest name including defending champion Ernie Els and Tiger Woods in action.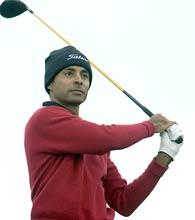 Having learnt lessons from his maiden outing at the British Open at St Andrew's three years ago Randhawa's mindset is simple: "I'm just going to treat it as any other tournament," he said.
"At St Andrew's, I was really excited and got caught up with the hype of qualifying for the British Open and then missed the cut. That is why it will be important for me to simply focus on the job ahead.
"I'm going to treat the Open as another tournament … that's the best way to do it. I must remain calm and patient when the tournament starts. I got excited the last time around and it cost me," added Randhawa.
He plans to head to Royal St George's on Saturday with his cousin-cum-caddie Manveer to walk the 18 holes.
"I'll play practice rounds on Sunday and Monday, take Tuesday off to walk the course again and study its intimate details and then have one more 18-hole round on the eve of the event. Then, I'll be ready to go," said Randhawa.
Last year, he claimed Asia's most revered golfing prize by winning the Asian PGA Tour Order of Merit title in gallant style. He was out of action for six months following a motorbike accident in March but returned stronger and better, thanks to a combination of yoga and steely determination.
Randhawa claimed the Merit title despite not winning but he accumulated 10 top-15 finishes to become India's first Asian number one, a mantle that earned him an invite to the British Open plus playing privileges on the Japan Tour where he has played regularly this year.
His self-belief has also been boosted by a sixth place finish at last October's Dunhill Links Championship, played at St Andrew's, Kingsbarns and Carnoustie -- three of Scotland's top courses.
"The outing at the Dunhill event added to my confidence as it was a big tournament and some of the best names in golf were there. Also the playing conditions that I faced in Scotland will be similar (at Royal St George's) and it should help me," he said.
Randhawa's second appearance in the British Open, where Ernie Els will defend his title, has drawn keen interest from the Indian media.
"I've had a lot of reporters getting in touch and I've spent a bit of time on the phone doing interviews. Some of them were making plans to see me off at the airport at 3 am!
"I'm playing very well now and mentally, I'm believing more in my abilities. I have made some mental errors in Japan this season and I need to control this aspect of my game at the British Open," said Randhawa, a four-time winner on the Asian PGA circuit.
He also feels it is his duty to fly the Asian PGA flag at Royal St George's.
The Indian must also break a jinx where previous Asian number ones have failed to get beyond the second round since 2000.
"I owe a lot of my achievements to the Asian PGA and also the Indian Tour. It has been the stepping stone for me and has helped raise my game up to the world standard," he said.
Cousin Manveer, a former professional golfer, has been on his bag all year in Japan and Randhawa hopes the partnership and comradeship will yield the desired results.
"My dad and wife will not be able to make it to England as originally planned due to various reasons. But it'll be nice to have my cousin on the bag and our partnership has worked out quiet well," said Randhawa.