For all their celebrated Grand Slam past, Nadal and Federer have never clashed in a US Open final, points out Dhruv Munjal.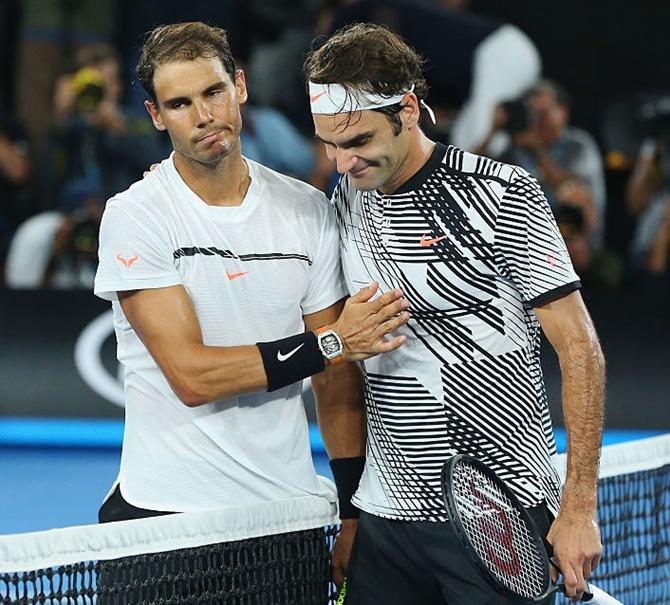 IMAGE: Photograph: Michael Dodge/Getty Images
In one of those strangely uninspiring matches at Montreal three Sundays ago, Roger Federer, for once, was made to look his age by a much younger and sharper Alexander Zverev.
For the 36-year-old Federer, these were the first signs that the rigours of a glorious -- and exacting -- season were finally catching up with him.
Everything is so absurdly timeless about Federer that the average tennis fan's mind sometimes refuses to accept the fact that the laws of fatigue apply to Federer's paranormally hardy body as well.
And, for a man his age, the battle scars of a wondrous season made possible by dazzling stroke play and sublime athleticism were finally going to show.
Just that he would have liked his body to resist any calls for rest until after the US Open. The back injury that troubled Federer during his final against Zverev did not keep him out of Flushing Meadows, but in an almost weird, refreshing change, his all-conquering powers of invincibility seem fallible again, which perhaps explains why the men's draw at the US Open is devoid of any clear favourites.
Bulgaria's Grigor Dimitrov, after winning in Cincinnati two Sundays ago, said the seedings won't matter too much and that 'everybody can beat everybody'.
Dimitrov's reiteration of this old truism seems all the more justifiable when you consider that Rafael Nadal, the top seed, is yet to win a tournament on the hard courts this year.
More worryingly, he hasn't looked like a player capable of mounting any kind of serious challenge on one of his lesser-preferred surfaces.
Nadal, who last week dethroned Andy Murray to go top of the world rankings for the first time in over three years, lost to 18-year-old Denis Shapovalov in the round of 16 at Montreal, before getting blown off court by an imperious Nick Kyrgios in the quarterfinals at Cincinnati -- hardly ideal preparation for a Slam the Spaniard is looking to win for the first time since 2013.
The ascent back to World No 1 may have come as a bit of a surprise for Nadal, but a slump in form post his record-shattering 10th victory at Roland Garros was somewhat expected.
Debilitating tendinitis in the knee has prevented Nadal from winning consistently on hard courts for a number of years now; he hasn't gone past the fourth round in New York the last two times he has played there.
For that to change, the Nadal serve would have to operate on the same level it did when he beat Novak Djokovic in the 2013 final, and the backhand must strive to match the consistency of its counterpart on the other wing.
Obviously, a faster surface won't allow Nadal to run around his backhand and hit missile-like forehands, a habit he has mastered on clay.
Funnily, the chances of a Federer victory will also vastly depend on the same two factors.
At Wimbledon, Federer showcased the brutal efficiency of his serve: Rapid service games seldom gave his opponents time to think. And the backhand -- once a ruinous weakness -- actually worked better than the forehand.
The frequent use of the slice made things all the tougher for the man on the other side of the net.
More than his opponents, however, the New York heat -- particularly during the day matches -- will put the Swiss to test.
Chris Evert said it would be phenomenal if Federer went all the way, considering that he would have to play a lot of his tennis out in the sun.
Yet, in a queer paradox, it seems difficult to look beyond Federer.
Somewhere in the middle of this exhilarating fusion of youth and experience lies a familiar contender: Marin Cilic.
The Croat, who still must be reeling from the tears and blisters of his loss against Federer in the Wimbledon final, was the last man outside the Big Five (counting Wawrinka here) to win the US Open, in 2014 against Ken Nishikori.
Cilic, with a massive serve and heavy artillery from the back of the court, is an irrefutable dark horse if there ever was one.
Amazingly, for all their celebrated Grand Slam past, Nadal and Federer have never clashed in a US Open final.
Draw and form permitting, that would be some conclusion to a bizarre -- yet delightful -- men's Grand Slam season.
But we've been fed enough of the fairytale stuff already this season; the tennis gods may not be so kind this time around.