Nadal wants noise reduced at Arthur Ashe Stadium on Tuesday. Here is what he expects from the crowds watching the marquee matches.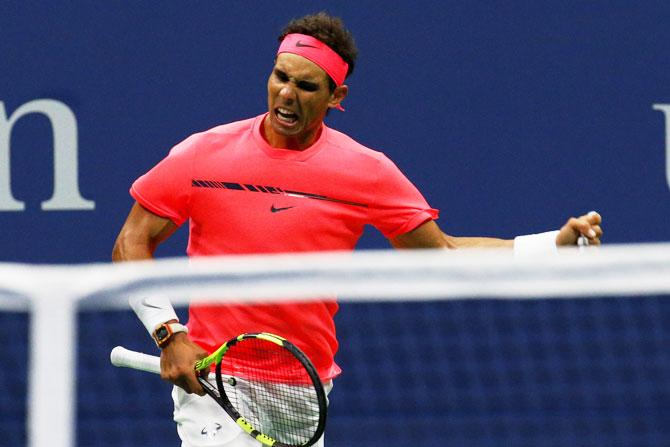 IMAGE: Rafael Nadal celebrates a point against Dusan Lajovic on Tuesday. Photograph: Mike Segar/Reuters
World No 1 Rafael Nadal dismissed Dusan Lajovic in straight sets, to move into the second round of the US Open 2017 on Tuesday.
After struggling in the first set, the ten-time French Open winner comfortably won the second before he rebounded strongly to register a 7-6, 6-2, 6-2 victory over Lajovic in the opening-round encounter, reports Express.co.uk.
Reflecting on his win, Nadal admitted: "When I was down in the first set, I just tried to be there as he was playing well and controlling the points. But the end of the first set was very important. I got the break back and after that, everything changed," Nadal said following the match.
A ruthless Nadal delivered the young Serb another tennis lesson, breaking his opponent at the first opportunity in both the second and third sets to improve his record in first round US Open matches to 13-0.
After overpowering the young Serb, the 15-time grand slam champion Nadal requested the rowdy New Yorkers to be quiet.
With torrential rain lashing the Flushing Meadows site, the roof on the showpiece Arthur Ashe stadium was shut tight, creating a giant echo-chamber for the boisterous crowd of 24,000 beneath.
"Being honest, it (the noise) is a little bit too much," said the 31-year-old Spaniard.
"The energy and support of the crowd is massive. I enjoy it and I have unforgettable memories from this tournament and this court, because the energy is different from in other places.
"But at the same time, under the roof, it's too much noise. I was not able to hear the ball when hitting.
"I understand it's a show, but under the roof we need to be a little bit more strict about the noise. All the noise stays inside, and this is difficult."
Nadal's complaints echoed similar concerns made by Andy Murray last year when the huge $150 million roof over the world's biggest tennis stadium was rolled into action for the first time.
Even the umpire in that match appealed to spectators to cut the volume, a desperate and often futile appeal during the tournament's famed night sessions when the alcohol-fueled atmosphere is not for the meek.
Nadal said the noise on Tuesday meant that he was unable to hear the ball and that his opponent couldn't hear him when he asked for a service game to be delayed.