In its bid to counter European heavyweight nations during the upcoming Champions Trophy hockey tournament, the Indian team management headed by Australian chief coach Michael Nobbs is mulling on roping in an assistant coach from Europe on temporary basis.
"Before the Champions Trophy, we will be bringing in an European as an assistant coach as it will be useful considering we will be pitted against European teams in Champions Trophy," Nobbs said.
"I have not yet recognised the candidate but I have a few European coaches who are my friends and I will consult them on this matter. He will be on a temporary basis and will be brought in closer to the Champions Trophy," he added.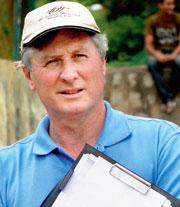 Nobbs, who has taken charge of the Indian team only last month after he was offered a five-year contract, is yet to come to terms with the hockey system in the country.
But the Australian is fully aware of his main job -- making India qualify for next year's London Olympics, which according to him would be a Herculean task.
"It's (qualifying for Olympics) definitely going to be a very difficult job but not impossible. But I wish I had a little more time because it takes a while in reinstituting programs," Nobbs said.
"But I have been given a 5-year contract and I can assure you that at the end of the term India will be back among the podium finishers."
But for Nobbs the utmost priority at present is his first assignment with the Indian team -- the Asian Champions Trophy in Ordos, China from September 3-12.
Asked how he viewed the upcoming tournament in China, which will also have Pakistan, South Korea, China, Japan and Malaysia besides India, Nobbs was realistic in his reply.
"I don't know what to expect yet. It's really a hard one. The tournament will give us an idea where we stand at the moment and what we need to do in future," Nobbs said.
"The idea is to move step by step. We need to take small steps. We don't have to learn new things; it's just that we have to fine-tune certain areas.
"As far as goal is concerned I have not yet set one but I will set one after assessing the performance of the players. It will be my first tournament with the team, so it will be interesting to see where we are," the Australian insisted.
Since assuming his duties, Nobbs' primary concern has been the poor fitness levels of Indian players.
But one month down the line, he is happy to see that exercise physiologist David John's hard work was producing results even though at a snail's pace.
"It's really hard work but the boys are responding well. The fitness of the players are improving slowly and steadily. As far as fitness is concerned, we have set a benchmark and the next 10 days will be very crucial in that aspect," Nobbs insisted.
India will miss the services of injured players like Arjun Halappa and Shivendra Singh in the Asian Champions Trophy and Nobbs said he wants the senior pros completely fit before important tournaments like the Champions Trophy in December and Olympic qualifiers.
"Obviously, we will miss them but we have to give them time and opportunity to regain full fitness. John will be working on their rehabilitation programme," he said.
While Halappa is down with a groin injury, Shivendra is recuperating from a collar bone fracture for which he had to go under the knife.