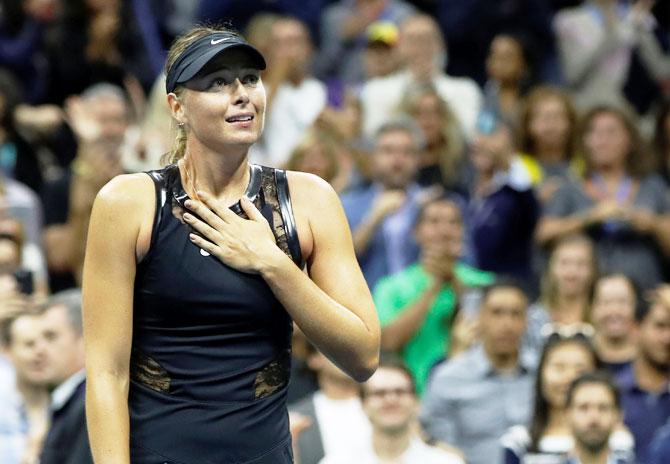 IMAGE: Russia's Maria Sharapova celebrates winning her first round match against Romania's Simona Halep on Day 1 of the 2017 US Open at the USTA Billie Jean King National Tennis Center at the Flushing neighborhood of the Queens borough of New York City on Monday. Photograph: Shannon Stapleton/Reuters
Playing in her first grand slam after a 15-month doping ban and limited to just one hardcourt warmup match, Maria Sharapova conceded she had no right to come away with a first round win over second seed Simona Halep at the US Open on Monday.
However, the 30-year-old Russia belied her own self-doubt with an impressive three-set win over the Romanian to thrust the former world number one back into the spotlight as the toast of the Big Apple.
"Not playing a lot of matches coming into this, it almost seemed like I had no right to win this match today," the 2006 US Open champion told reporters after her 6-4, 4-6, 6-3 victory.
"And I somehow did and I'm proud of that."
It had been three years since Sharapova last appeared at Flushing Meadows and by the end of Monday's three-hour thriller, both the sellout crowd and the five-time grand slam winner were aware of just how much they had missed each other.
When Halep's return sailed long to give Sharapova the victory she dropped to court and covered her eyes while the Arthur Ashe crowd stood and roared.
"When I found out that I received the wild card, I was obviously extremely excited," said Sharapova, who had been denied a similar entry into the French Open and missed Wimbledon due to injury.
"I realised how long it had been since I played at the US Open.
"When me and my coach first scheduled my practice on centre court it got moved because they had some maintenance issues. I was upset.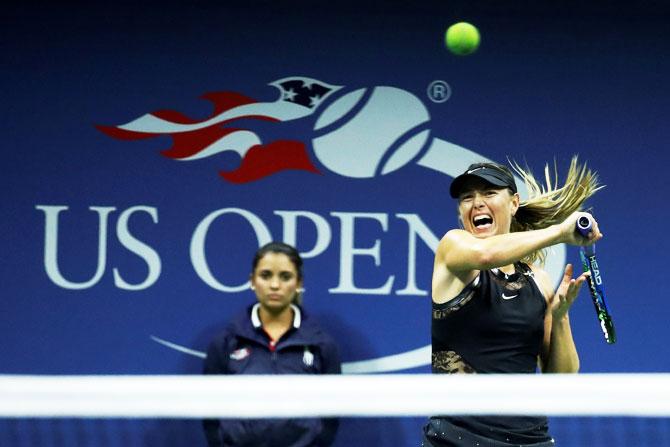 IMAGE: Maria Sharapova in action against Simona Halep. Photograph: Shannon Stapleton/Reuters
"Those little things you kind of take for granted. From the moment that I've been here, I've really understood what this means to me, to be back."
Sharapova stepped out on to the court having won all six previous meetings with Halep, yet despite her statistical domination, victory was far from assured.
She had not played in a grand slam since the 2016 Australian Open, after which she was handed the ban for testing positive for metabolic modulator meldonium.
Her comeback has been slowed by a thigh injury that forced her out of the Italian Open in May and more recently left arm issues that took her out of the second round at Stanford earlier this month, putting her US Open participation in jeopardy.
"A couple weeks ago I did not even know if I'd be able to compete here," said Sharapova, who will next meet Hungarian Timea Babos.
"Looking back at August 12th, it was not a fun day.
"It was not a fun day getting that MRI, getting the result of it, speaking to a doctor, flying to New York, getting another opinion, with the thought that I might miss the US Open.
"Looking back at that and seeing where I am today, it's just pretty amazing that I was able to produce that tennis, because it wasn't there in the days leading up to this tournament."