Three people, including Aam Aadmi Party MLA Somnath Bharti, were detained following the incident.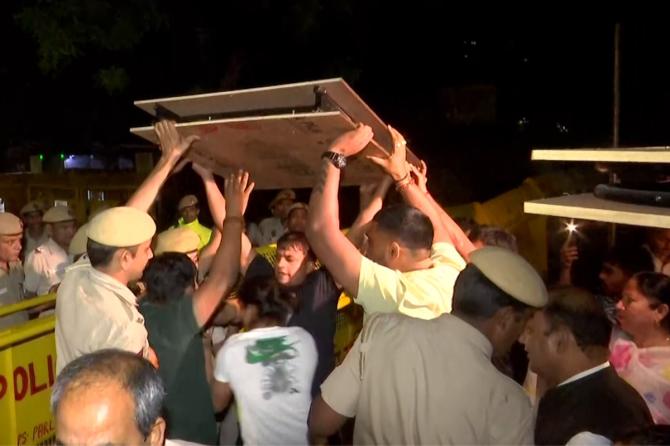 A scuffle allegedly broke out between the wrestlers staging a protest at Jantar Mantar here and some police personnel, leading to head injuries to a couple of protesters.
Three people, including Aam Aadmi Party (AAP) MLA Somnath Bharti, were detained following the incident, police said.
In a video being circulated on social media platforms, some of the protesters can be heard accusing a police personnel of attacking two wrestlers under the influence of alcohol.
The accused policeman is seen sitting in the video, while the protesters allege that his colleagues were mute spectators.
Deputy Commissioner Police (New Delhi) Pranav Tayal said Bharti came to the protest site with folding beds without permission. On being asked about the beds, his supporters became aggressive and tried to get the beds from a truck. Subsequently, a minor altercation took place following which Bharti, along with two others, was detained, the officer added.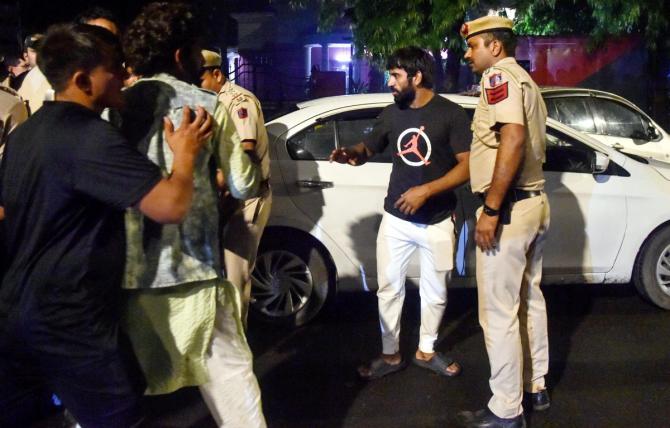 Another senior police officer said, "There were a few men who tried bringing cots to the protest site. When the policemen deployed at the spot asked them about the cots, they got aggressive and the protesters joined them. They wrongfully restrained a policeman and accused him of being drunk, which was not the case. Police personnel are at the site and the situation is now under control. No protester was beaten up."
Former wrestler Rajveer told PTI, "The mattresses got wet due to rain, so we were bringing folding beds for sleeping, but the police did not allow that. Drunk policeman Dharemendra abused Vinesh Phogat and got involved in a scuffle with us."
"They started hitting us. Bajrang Punia's brother-in-law Dushyant and Rahul suffered head injuries. The police did not even let doctors reach the site. Even the women constables were misbehaving with us," he said.
"I was abused and pushed around by policemen. Where are the women police personnel?" asked Phogat.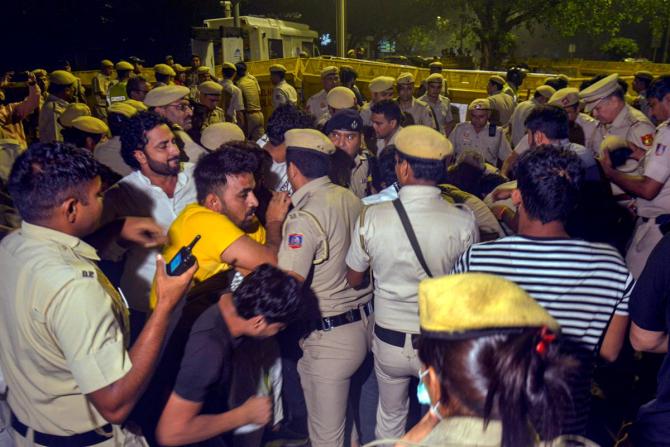 Punia's wife Sangeeta also claimed that she was pushed around by policemen.
Punia has called for farmers and their leaders to assemble at the protest site on Thursday morning.
"Delhi Police ki gundagardi ab nahi chalegi (Delhi Police's high-handedness will not work anymore). We will call farmers to assemble here in numbers. We will not tolerate it anymore. Tractors or trolleys. whatever you get, just come here," he said.
The wrestlers have been staging a sit-in at Jantar Mantar since April 23. They have levelled allegations of sexual harassment against Wrestling Federation of India (WFI) chief Brij Bhushan Sharan Singh, who is also a Bharatiya Janata Party (BJP) MP from Uttar Pradesh.
The protesters have been demanding criminal action against Singh for the alleged sexual harassment and intimidation of seven female wrestlers, one of whom is a minor.
The Delhi Police filed two FIRs against the WFI president on Friday on the allegations of sexual harassment levelled against him by the wrestlers.