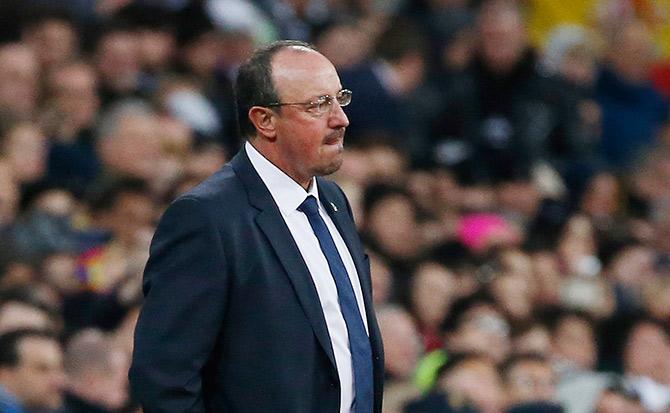 IMAGE: Real Madrid manager Rafael Benitez. Photograph: Sergio Perez Livepic/Action Images via Reuters
It was always going to be a tough task for Rafa Benitez to replace his popular, Champions League winning predecessor Carlo Ancelotti at Real Madrid and Saturday's woeful 4-0 home defeat to Barcelona has turned the pressure up a notch.
Facing widespread criticism for a game plan that seemed to fail calamitously, the Madrid press have not held back in blaming Benitez for a second straight defeat that left them six points adrift of their arch rivals at the top of La Liga.
'Benitez sentenced' ran the headline in Marca on Sunday, with the newspaper claiming it is only a matter of time before the coach is axed.
His future is in the hands of club president Florentino Perez, who has seen numerous managers come and go and whose own role is under the spotlight.
Chants of "Florentino resign" rang out from all corners of the Bernabeu at the end of each half in Saturday's trouncing.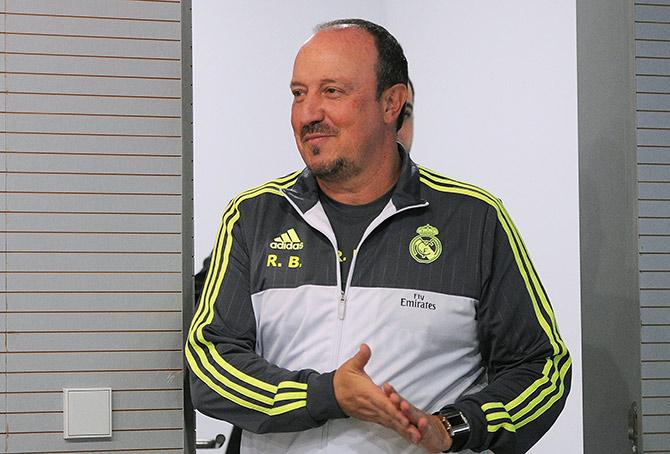 IMAGE: Real Madrid manager Rafa Benitez arrives for a press conference. Photograph: Denis Doyle/Getty Images
It was Perez who had pulled the trigger on Ancelotti at the end of last season, 12 months after the affable Italian had claimed an historic 10th European title for the club.
Benitez arrived at Madrid with the unwanted tag of preferring a more pragmatic and defensive game than his predecessor.
He was, however, widely seen as someone who would be prepared to compromise tactically, in order to keep Perez happy, with the president known to prefer attacking teams packed full of high-profile players.
When Madrid defender Sergio Ramos was asked after the match about Benitez's relationship with the dressing room compared to that of Ancelotti, his response was less than a full endorsement of his current coach.
"It depends on how you value it. When a trainer is there for two or three years like Ancelotti then you have a closer feeling," he told reporters.
But with questions circling about Benitez's future, Ramos denied that change was the answer.
"It is necessary to be more united than ever with the president and the coach," he told reporters.
"When you lose a game against Barcelona the fans are going to be unhappy. They want answers and do it by whistling."