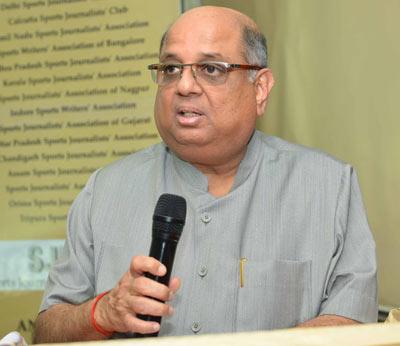 The Bowling Federation of India (BFI) on Saturday joined Hockey India in demanding a special General Body Meeting of the Indian Olympic Association (IOA) to take up a No Confidence Motion against incumbent president Narayanswami Ramachandran.

BFI president Sunaina Kumari and Secretary General D R Saini sent a letter to the IOA stating that it has no confidence on Ramachandran and a Special GBM should be called at the earliest to vote on the issue.

"As per Rule VIII (i) and (ii) of IOA Constitution, we Bowling Federation of India are moving a no confidence motion against Mr N Ramachandran President IOA as we are totally in disagreement with his working and along with it we also feel he is working towards weakening and finishing of the IOA," BFI said in the letter.

"We request you to convene a Special General Meeting (SGM) of the IOA at the earliest to discus on the vote of no confidence against Mr N Ramachandran President," Sunaina and Saini wrote in the letter addressed to IOA president, secretary general and treasurer.

The BFI's letter came just two days after Hockey India president Narinder Batra shot off a similar note to the IOA to move the No Confidence Motion against Ramachandran and to call a Special GBM to vote on the issue.

According to the IOA constitution, a No Confidence Motion against the president, secretary general, treasurer and other executive council members can be passed if two-third majority of the members are present and voting.

The quorum for such a meeting will have to be three-fourths of the total strength of the IOA General Body entitled to vote.

The IOA General Body has 183 votes in total -- three each for NSFs and two each for state Olympic bodies.

The infighting among the top brass of the IOA, which came out of a 14-month suspension only last year, came out in the open just days after International Olympic Committee president Thomas Bach's first visit to the country after taking over as IOC chief in 2013.

In his one-day whirlwind visit on April 27, Bach had called for unity among the IOA members so that they can work together for the betterment of Indian sports and sportspersons. He has also laid to rest the speculation that India may bid for 2024 Olympic Games.

Discontent against Ramachandran had been brewing for quite some time now with many members feeling that the IOA chief was running the show all by himself without consulting other officials.

Ramachandran's move to keep IOA office bearers, including secretary general Rajiv Mehta, in the dark before he visited Bach in Lausanne, Switzerland, along with sports secretary Ajit Sharan also did not go down well with some members.
Image: Indian Olympic Association president Narayanswami Ramachandran.