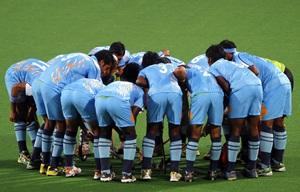 Politicians and businessmen are causing harm by heading sports bodies, said Supreme Court on Thursday, which while expressing concern over the standard of hockey falling to an "abysmal low" in the country.
In stinging remarks on the state of affairs in sporting bodies, the apex court said it is a "sad commentary" that people who are the administrators of the game have nothing to do with sports and they run the bodies at the cost of the game.
"Sports are run by private individual persons. Private individuals are controlling the games in India. Can the game be held hostage by private interest. This is why hockey has come down and the team is struggling to qualify for Olympics where we used to win gold medals," a bench, comprising justices T S Thakur and J Chelameshwar, said.
"These officers run the federations at the cost of the game. They do not have anything to do with the game. It is a sad commentary on sports in the country," it further said.
The court was hearing a plea filed by the Indian Hockey Federation, which is at loggerheads with its rival, Hockey India, seeking stay on the proceeding initiated by the Federation of International Hockey to find out which of them is to be recognised to represent the country at international events.
The bench said it is unfortunate that the government has not been able to control the federations, leading to numerous litigation suits filed by private individual persons for controlling the game in the country, and the "rot" in the federations has led to the present state of affairs.
"Government is unable to control the sport societies and you (bodies) keep fighting. Is there any federation which is not fighting legal battles in courts?" the bench asked, adding, "in no other country such litigations are witnessed for controlling the games".
After briefly hearing the contention of the IHF, the bench questioned who is heading the federation and whether there is any Olympian in it.
"Who are heading the sports federations? They are the businessmen. Is there an Olympian in the society?" the bench asked senior advocate U U Lalit, appearing for the IHF.
"You brought this game to abysmal low that you do not qualify to send your team to international events," the bench said.
Image: The Indian hockey team in a huddle