'I have always believed you need to look after your players first.'
'During the Korea tie, three of the four singles players were lying on the ground.'
'To play Rafa and David Ferrer in middle of the day... they are known marathon men of tennis.'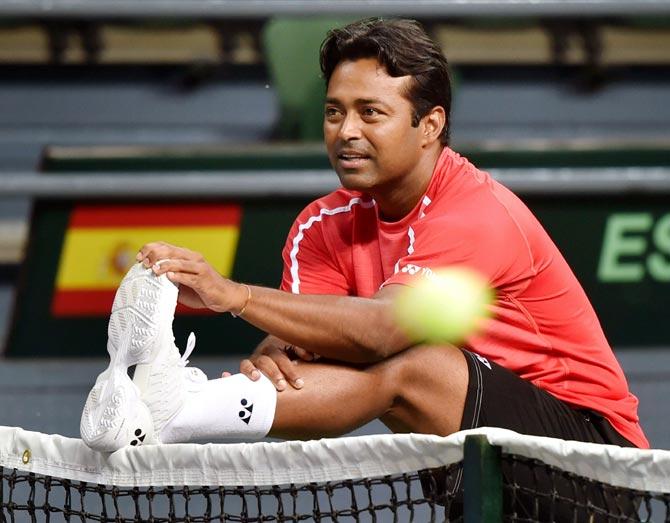 IMAGE: Leander Paes stretches during a training session ahead of the India's Davis Cup World Group play-off tie against Spain in Delhi. Photograph: PTI
India's non-playing captain Anand Amritraj may feel otherwise, but Leander Paes defended the decision to conduct this weekend's Davis Cup tie against Spain under floodlights, saying the home players "struggle in hot and humid conditions".
Amritraj had castigated the Delhi Lawn Tennis Association's decision to host matches in the evening, insisting that India had given up on home advantage by not competing against the superior Spaniards during day time.
Paes argued that it's only a myth that players of the calibre of Rafael Nadal and David Ferrer can be worn down by heat as they are the marathoners of world tennis who can slug it out for hours in tough conditions.
He also cited the example of the match against Korea in Chandigarh, where both Indian and Korean players struggled in torturous conditions.
"It's a very smart (decision) to play in the evening. You always have to look after your own strengths. During the Korea tie, three of the four singles players were lying on the ground. Facts are facts. In the last two months, Saketh has played two five-setters and in both he had cramps," Paes said, after a practice session with the Indian team.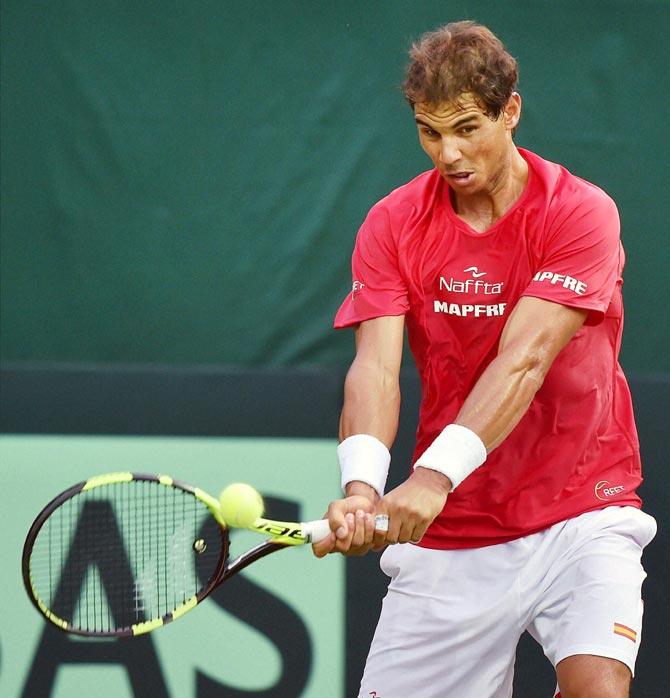 IMAGE: Spain's Rafael Nadal practises ahead of the Davis Cup World Group play-off tie against India in Delhi. Photograph: PTI
The 43-year-old Indian ace said Myneni should be praised for managing to win that second rubber against Yong-Kyu Lim after a bout of severe body cramps.
"He did an amazing job in Chandigarh, to come out of that and win, very proud of the fact. But I have always believed you need to look after your players first. To play Rafa and David Ferrer in middle of the day... they are known marathon men of tennis. The choice of playing under the lights in the evening is a very good choice," he said.
India are playing for a place in the elite World Group for the third consecutive year but, again, they are likely to remain in the Asia/Oceania zone since beating Spain is an uphill task.
Asked if it was disappointing to reach this stage but not go forward, Paes said India should celebrate success at the Asian level which is no mean task.
"It's perspective. You have to be realistic. You have to look at the extended group, whether singles or doubles. In singles we've always had one singles player. On the whole we have improved, we are best in Asia, have put a stamp on that. Korea are a tough bunch, Chinese Taipei. Asia is tough," he said, choosing not to be harsh on the singles players.