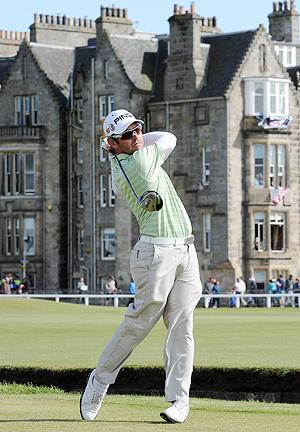 Louis Oosthuizen's fans were out in number around the Old Course at the British Open on Saturday, but no messages of support were more welcome than those of multiple major winners Gary Player and Ernie Els.
The 27-year-old South African takes a four-shot lead into the final round of the year's third major on Sunday, a lead if he manages to keep will see him clinch his first major victory and his country's first since Trevor Immelman at the US Masters in 2008.
Just knowing Player and Els are watching has made a big difference for Oosthuizen.
"I'm probably going to get a ring from him (Player) a bit later. It's always special hearing from him. What he's done for golf in South Africa is just unbelievable," Oosthuizen said of the 74-year-old nine-times major winner.
"Ernie gave me a ring this morning saying 'Just have fun, enjoy it,'" he said of the World No 6, who has three majors to his name.
Oosthuizen was equally full of praise for the support he received around the tricky links layout.
"They were great today. There's a lot of South African fans out there. It should be fun tomorrow."
The South African's performance will have come as welcome relief for his countrymen, reeling after their world champion rugby team suffered a second Tri-Nations defeat this season to New Zealand earlier in the day.
"It wasn't a good start to the day," Oosthuizen said.
However it may just have unleashed the monster in Oosthuizen, nicknamed 'Shrek' by his friends after the green cartoon ogre.