In-form Swiss man in fray to become only the fifth player in the professional era to win the French and Wimbledon back-to-back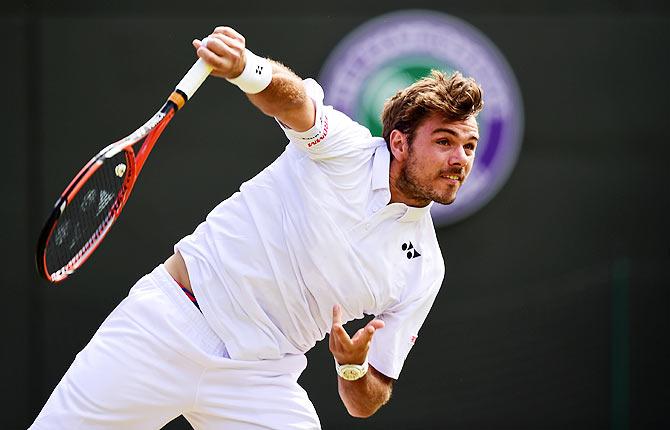 Switzerland's Stanislas Wawrinka serves in his fourth round match against Belgium's David Goffin during the Wimbledon Championships at the All England Lawn Tennis and Croquet Club in London on Monday. Photograph: Shaun Botterill/Getty Images
Stanislas Wawrinka still refuses to talk about himself as a member of tennis's elite but the evidence in favour of that argument is becoming increasingly hard to ignore.
On Monday the barrel-chested Swiss produced calm and authoritative tennis, plus occasional brilliance, to beat dangerous Belgian David Goffin 7-6(3), 7-6(6), 6-4 and reach the Wimbledon quarter-finals without dropping a set.
Frenchman Richard Gasquet is next and, should the form book be adhered to, the 30-year-old fourth seed Wawrinka will reach the Wimbledon semi-finals for the first time in his 42nd consecutive grand slam appearance.
When Wawrinka collected his first grand slam title by beating an injured Rafael Nadal at last year's Australian Open, he admitted it took him time to acclimatise to his new found superstar status, having played second-fiddle to fellow Swiss Roger Federer for his entire career.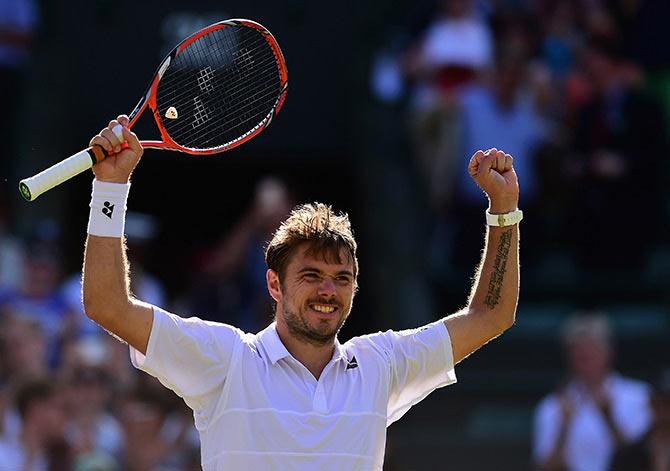 Stanislas Wawrinka celebrates victory against David Goffin. Photograph: Shaun Botterill/Getty Images
Since claiming his second major at the French Open last month when he outplayed Novak Djokovic, however, Wawrinka is finally shedding his cloak of modesty, just as he did his clothes in a shoot for ESPN Magazine's 'The Body Issue'.
Even without playing at his absolute best on Monday against a player on the rise, he never looked ruffled and knew exactly when to press the accelerator -- just as great champions do.
"Yeah, was a tough one. I'm really happy with the victory, especially in three sets," Wawrinka, who is bidding to join Federer and become only the fifth player in the professional era to win the French and Wimbledon back-to-back.
"I wasn't moving great. I was a little bit soft in general. But I'm happy to get through. It's an important victory for me."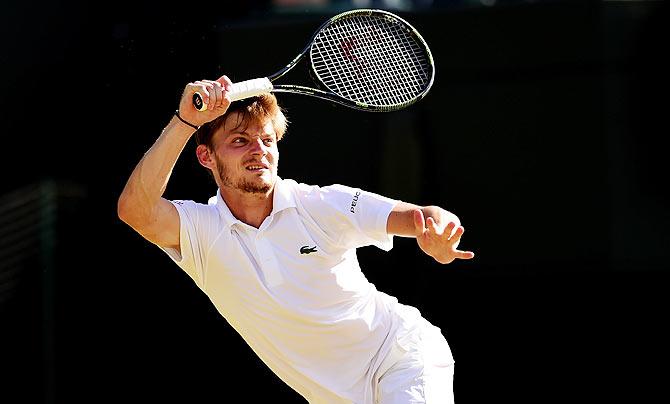 David Goffin returns a shot in his fourth round match against Stanislas Wawrinka. Photograph: Shaun Botterill/Getty Images
Sixteenth seed Goffin, who is still to win a set from Wawrinka in three meetings, forced the Swiss to dig deep.
Goffin had a point to level the match at one set apiece and was a break ahead in the third set before Wawrinka reeled off a catalogue of backhand winners to close out victory.
Leading 5-4 in the third with Goffin serving, Wawrinka fathomed a glorious backhand down the line for nowhere to move 0-30 ahead and, when Goffin double-faulted to offer up match points, Wawrinka ended the contest with a rasping forehand.