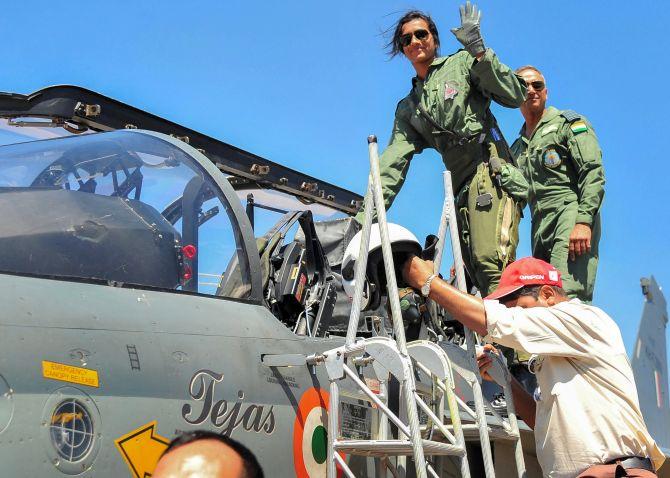 Ace Indian shuttler P V Sindhu became the first woman to do a sortie in the indigenously built Light Combat Aircraft, Tejas, at the Aero India 2019 in Bengaluru, February 23, 2019.
Women's Day was observed on Saturday at the Aero India, showcasing women's achievements in aerospace.
"I am very happy about being the first woman to fly the Tejas. This day is dedicated for women. Hence I will remember this day forever," Sindhu told reporters afer the 40 minute sortie.
Tejas, built by Hindustan Aeronautics Limited, is a single engine multi-role light fighter.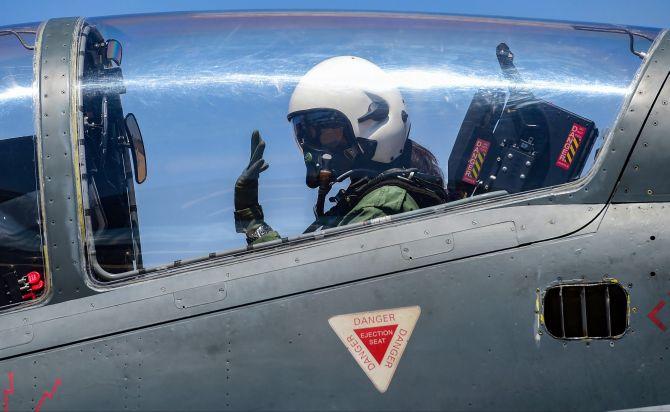 "It was definitely a great experience and a great opportunity. I feel very honoured that Captain Siddharth showed me all the stunts," Sindhu said.
Group Captain Siddharth, who was the main pilot, said Sindhu pulled 5G force.
G-force stands for either the force of gravity on a particular extraterrestrial body or the force of acceleration anywhere.
It is measured in 'g's, where 1 g is equal to the force of gravity at the earth's surface, which is 9.8 metres per second.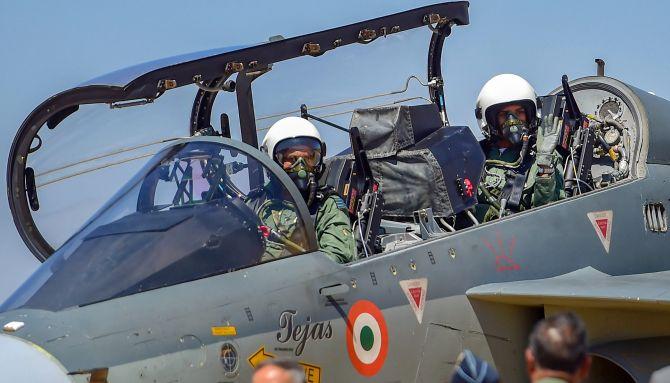 Army chief General Bipin Rawat and Professor K Vijaya Raghavan, principal scientific advisor to the government, also flew sorties on the Tejas.
General Rawat flew the sortie on February 21, a day after the Tejas received the final operational clearance at the air show, signalling it was combat ready.
The initial operational clearance was given in 2013 and the IOC standard aircraft were inducted into the IAF's No 45 squadron in July 2016.
The Tejas will replace the IAF's aging Jaguar and Mig-21 fleet.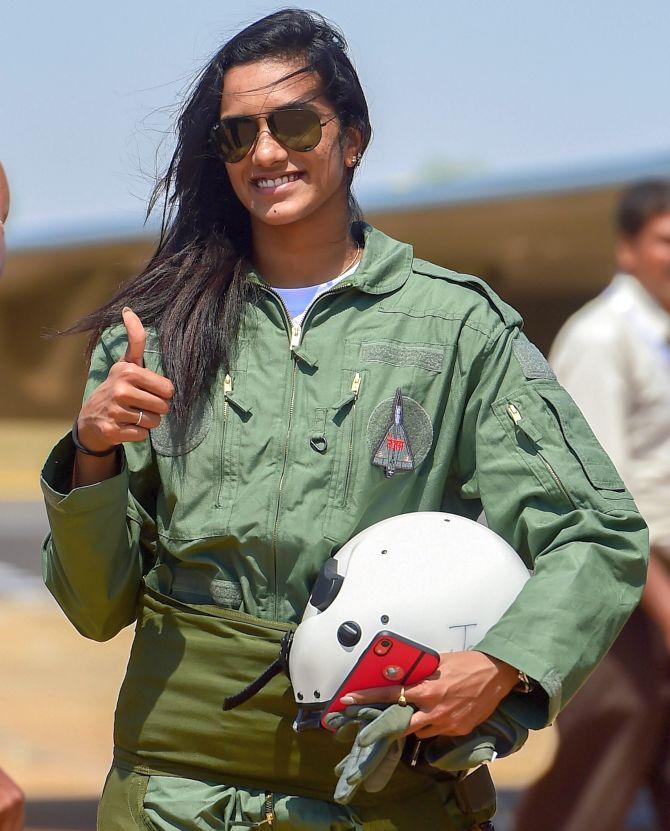 Photographs: Shailendra Bhojak/PTI Photos
'A wow experience. A big thanks to #DRDO and ministry of defence for giving me this opportunity to fly the light combat aircraft Tejas as a co-pilot. Life time experience I must say,' Sindhu noted on Instagram, along with Instapix (including one with her mum P Vijaya), which we post here: