Goalkeeper and captain Gianluigi Buffon announced his retirement as the Azzurris unable to qualify for first time since 1958; Sweden having helped to dispose of Holland in the qualifying group, are on their way to Russia.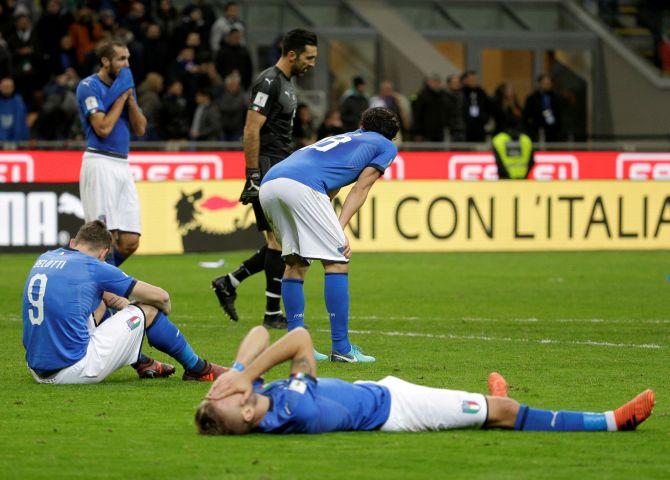 IMAGE: Italian players were dejected and many of them wept on the field as the final whistle blew, marking it the first time since 1958 that they hadn't qualified for the World Cup.
Photograph: Max Rossi/Reuters
Italian football boss Carlo Tavecchio said recently that failure to qualify for the World Cup would be the apocalypse and his worst fears came true on Monday as they missed out on the finals for the first time in 60 years.
A desperate 0-0 draw at home to a defiant, belligerent and technically inferior Sweden ended the four-time world champions' hopes of reaching next year's finals in Russia and with it the international careers of several of Italy's biggest names.
The Swedes, whose starting line-up included only four players based with teams in Europe's so-called big five leagues, will take their place after qualifying for the first time since 2006.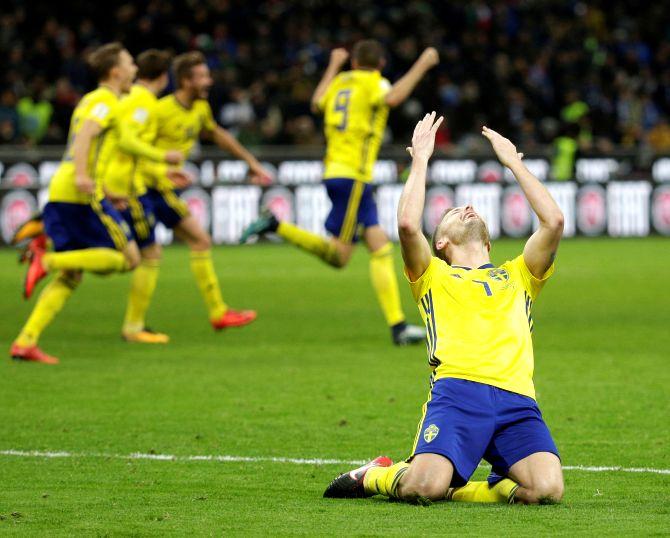 IMAGE: And while it was dejection and sadness for the Italians, the Swedes couldn't help but celebrate their moment in the sun. The Swedes are through to the World Cup after defeating the Azzurris on an 1-0 aggregate. Photograph: Max Rossi/Reuters
Italy's 1-0 aggregate defeat in their European playoff, after Jakob Johansson's deflected strike in Stockholm, is likely to go down alongside elimination by North Korea at the 1966 World Cup as one of their greatest football debacles.
The Italians have only failed to qualify for the tournament once before - missing out on the 1958 finals in Sweden - after not entering the first World Cup in 1930.
The players sank to their knees as the final whistle went, the starkest possible contrast to the Swedish joy, knowing that the match will leave an indelible stain on their careers.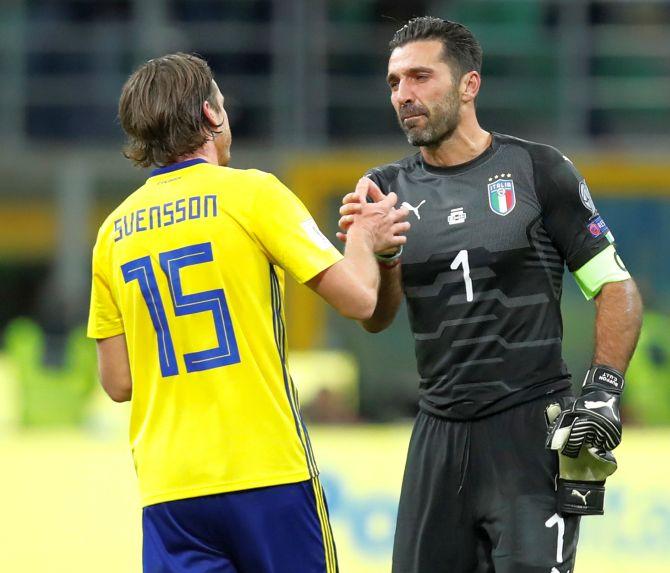 IMAGE: Italian goalkeeper and captain Gianluigi Buffon couldn't hold back his tears after his team failed to qualify. Following the loss, the 39-year-old announced his retirement. Photograph: Alessandro Garofalo/Reuters
It was also the tear-jerking end to the career of their 39-year-old goalkeeper and captain Gianluigi Buffon who made his Italy debut 20 years ago against Russia -- on the last occasion that Italy had to face a playoff for a World Cup place.
"It's upsetting that my last Italy game coincides with our elimination for the World Cup," said Buffon, a World Cup winner in 2006. "That's my only regret, because time goes by and its cruel but that's how it is."
"Sport teaches you to lose and win as a group and share joy and pain. The coach has the same degree of blame as us."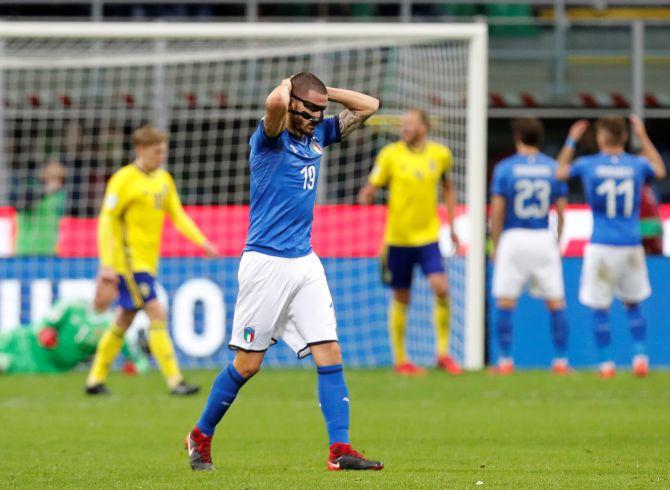 IMAGE: Italy's Leonardo Bonucci looks dejected after his team's loss. Photograph:

Alessandro Garofalo/Reuters
Daniele De Rossi, Italy's fearsome bearded midfielder who was surprisingly left on the bench on Monday, also announced his international retirement at 34 after 117 appearances.
Defenders Giorgio Chiellini and Andrea Barzagli are almost certain to follow suit.
However, Gian Piero Ventura, at 69 the oldest coach Italy has ever had, refused to confirm that he would step down, saying he needed to talk to the federation first.
Poor finishing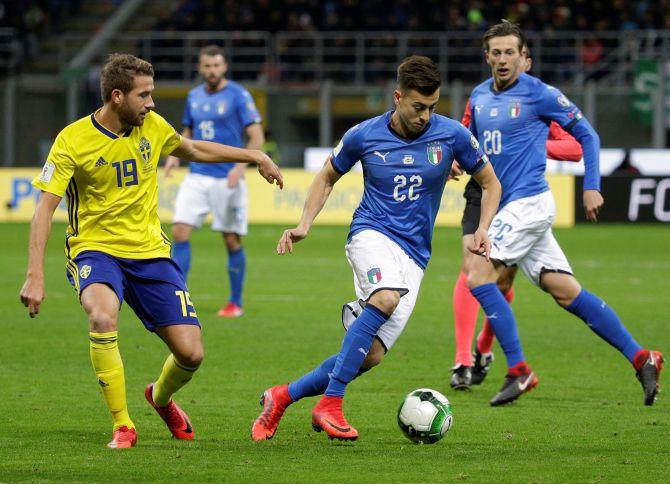 IMAGE: Italy's Stephan El Shaarawy in action with Sweden's Marcus Rohden. Italy took control in the first half but as the game wore on, they looked more rushed and their passing became sloppier. Photograph: Max Rossi/Reuters
After a scrappy opening 20 minutes, Italy took control and pressed forward in waves.
They had penalty appeals turned down and were repeatedly denied by outstanding Sweden goalkeeper Robin Olsen but were also let down by some desperately poor finishing and final passes, possibly born of desperation.
As the game wore on, Italy's moves became more rushed and their passing increasingly sloppy and the clear-cut chances dried up.
There is likely to be some long and deep soul-searching once the dust has settled as Italians wonder how it all came to this.
"I absolutely apologise for the result but not for the effort we put in or our desire to win," said Ventura, whose deadpan style could not be further removed from the high-energy approach of his predecessor Antonio Conte.
His opposite number Jan Andersson admitted his side had to cling on to their first-leg lead.
"We had no weapons left. We just had to sit there and hope that we could hang on," he said. "We couldn't do it in any other way, they are so skilful."