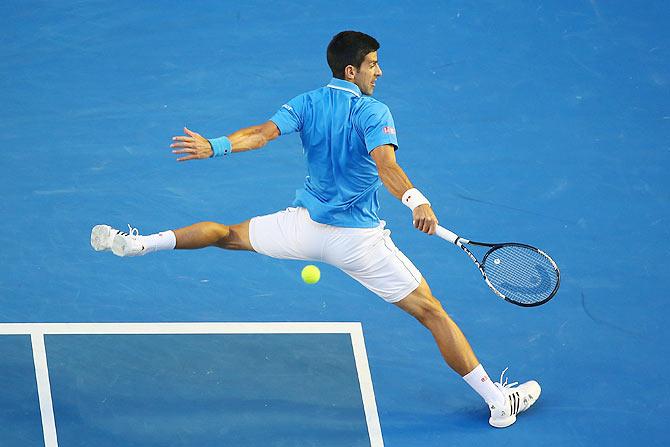 Novak Djokovic of Serbia plays a backhand in his quarter-final match against Milos Raonic of Canada during the 2015 Australian Open at Melbourne Park on Wednesday. Photograph: Quinn Rooney/Getty Images
After booking a much-anticipated semi-final with his Australian Open title usurper Stan Wawrinka on Wednesday, Novak Djokovic wasted little time reminding the Swiss of the heavy burden of being defending champion.
Djokovic's three-year reign at Melbourne Park was ended by the Swiss last January in an epic five-set quarter-final, which followed a year after fending off Wawrinka in another nerve-jangling marathon in the fourth round.
The top-seeded Serb ensured there would be a third instalment of their blockbuster series Down Under by thrashing eighth seed Milos Raonic 7-6(5), 6-4, 6-2 under the lights of Rod Laver Arena after Wawrinka dismantled fifth seed Kei Nishikori in the earlier quarter-final on Wednesday.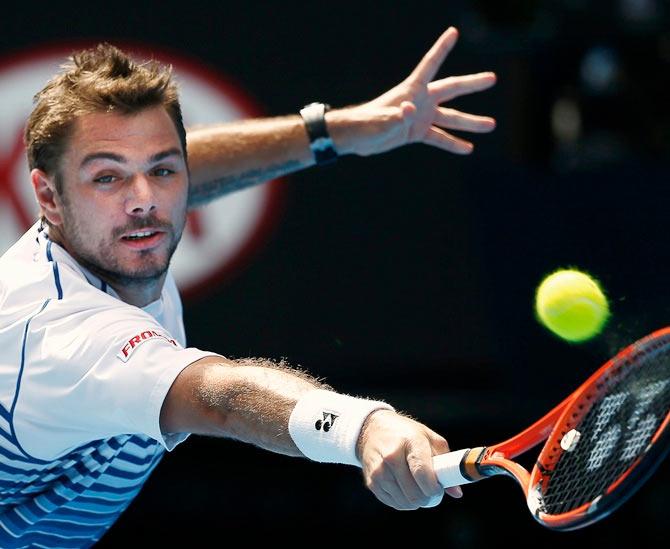 Stanislas Wawrinka of Switzerland stretches to hit a return to Kei Nishikori of Japan. Photograph: Issei Kato/Reuters
Djokovic praised Wawrinka's impressive win over Nishikori, having watched it closely, but was also glowing about his own form ahead of the showdown with the player who ended his run of 14 consecutive grand slam semi-finals in Melbourne last year.
"He played a great match," Djokovic said of Wawrinka's big win.
"Kei has been playing his best tennis in the last 12 months. To be able to win straight sets against him is pretty impressive.
"Being the defending champion, obviously he's got some of the pressure here. He is facing this kind of role for the first time in his life."
Already in scintillating form, Djokovic raised his level again in routing Raonic, who was supposed to offer the first real test for the Serb.
He cancelled out the Canadian's formidable serve with a clinical returning game, breaking him three times while not giving up a single break point from his own racquet.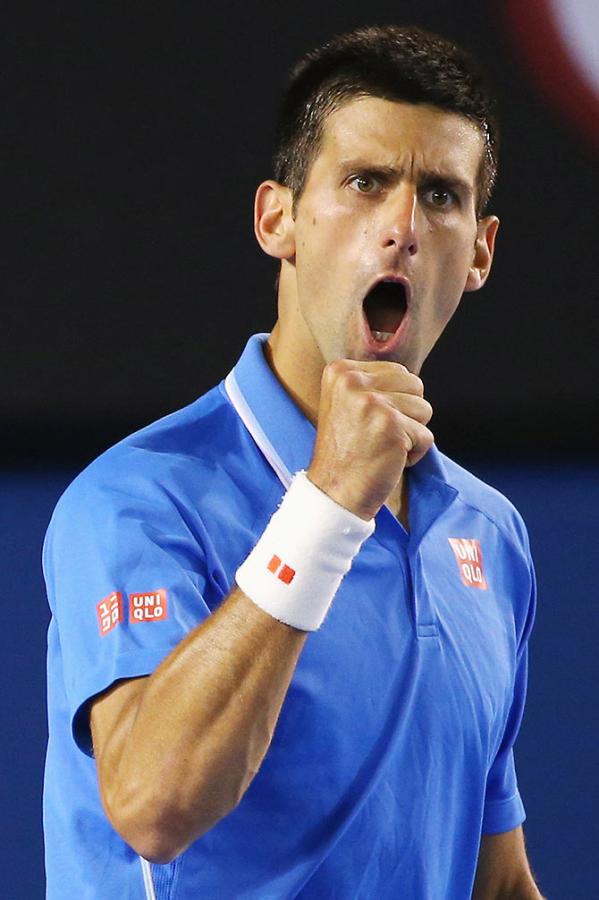 Novak Djokovic celebrates winning a point in his quarter-final against Milos Raonic. Photograph: Quinn Rooney/Getty Images
The four-times champion has not lost a set during the tournament and has only been broken once.
Djokovic, an enthusiastic reviewer of his past matches, said he would go through the video of last year's match but would avoid watching the agonising last point when he hit a most un-Novak-like volley into the tramlines to concede the match.
"Everything else is fine," he said.
"Again, of course you need to do a video analysis.
"You need to get yourself in the right state of mind for the matches like this, because this is now semi-finals of a grand slam and you're playing a top player.
"There is no going back now. It's the time to perform the best you can."