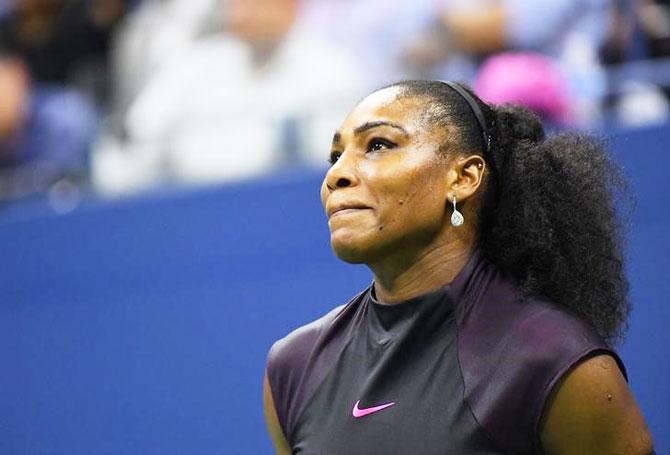 IMAGE: Serena Williams of the USA reacts late in the second set tie break during her semi-final against Karolina Pliskova of the Czech Republic on Friday. Photograph: Robert Deutsch-USA TODAY Sports
Serena Williams hasn't been at her best this year.
She had lost to German Angelique Kerber in the Australian Open final in January this year and followed that up with a series of early round losses, her most recent being a third-round ouster from the Rio Olympics. The record-equalling 22nd Grand Slam title at Wimbledon apart, Serena's dominance looked in danger of waning and the inevitable nigh.
Serena was landed a double blow when she crashed out of the US Open on Thursday after losing in the semi-final to Karolina Pliskova costing her a shot at a 23rd Grand Slam title and resulted in her losing her record 187th straight week at number one.
Pliskova, the 10th-seeded Czech playing in her first Grand Slam semi-final, triumphed 6-2, 7-6 (7/5) and will face Angelique Kerber, the German who beat Williams in the Wimbledon final and who will supplant the American atop the summit when the new world rankings are released on Monday.
A year ago Williams went into the semi-finals on the cusp of a rare calendar-year grand slam but was the victim of one of the biggest upsets in tennis history when Roberta Vinci, a 300-to-1 longshot, prevailed.
This year it was Pliskova, who until this week had never played beyond the third round of a grand slam, delivering the upset as she swept Williams off an Arthur Ashe Stadium court she claims as her own in one hour, 26 minutes.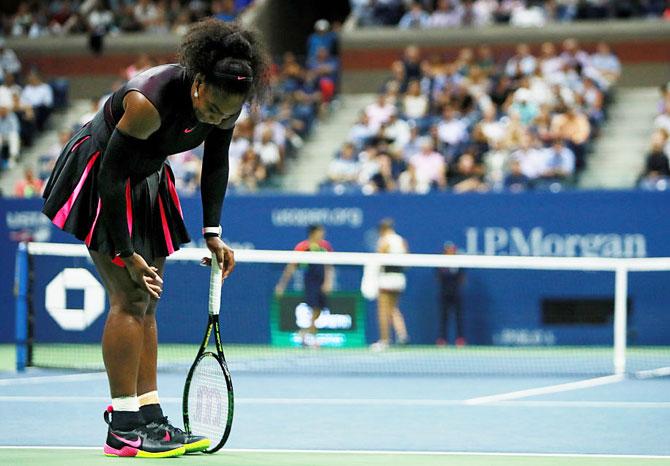 IMAGE: Serena Williams reacts during her match against Karolina Pliskova Photograph: Michael Reaves/Getty Images
History continued to beckon Williams, who would have stood alone as greatest grand slam champion in the professional era if she had claimed a 23rd title and moved past Steffi Graf.
And while there was no title to win on this day Williams stepped onto the court with something to lose.
After 186 consecutive weeks as the world's top-ranked player, Williams, who needed to reach the final to have any chance of retaining top spot, will relinquish the ranking to Germany's Angelique Kerber.
After a punishing three-set quarter-final against Simona Halep on the same court 24 hours early, Williams appeared sluggish against the towering Czech.
But a clearly annoyed Williams refused to use fatigue as an excuse for her loss and instead blamed her sluggishness more on left knee problems that limited her mobility.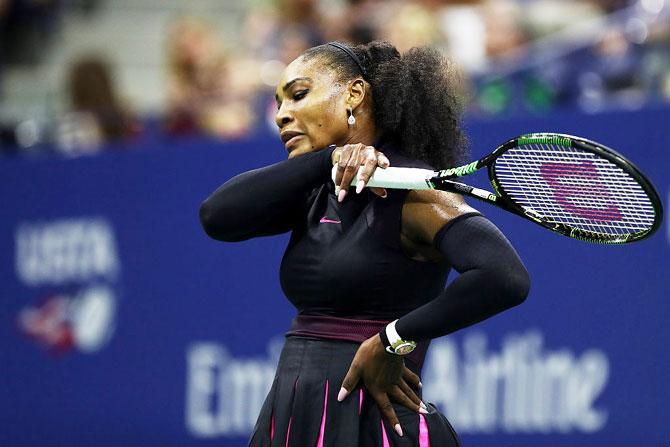 IMAGE: Serena Williams during the US Open semi-final. Photograph: Elsa/Getty Images
"OK, I'm not going to repeat myself. I wasn't tired from yesterday's match," said Williams.
"If I can't turn around after 24 hours and play again then I shouldn't be on tour.
"I have been having some serious left knee problems. I wasn't tired. Fatigue had absolutely nothing to do with it.
"I wasn't able to move the way I wanted to move."
"Karolina played great today. I think if she had played any less then maybe I would have had a chance," said Williams.
"So I think I wasn't at 100 percent, but I also think she played well. She deserved to win today."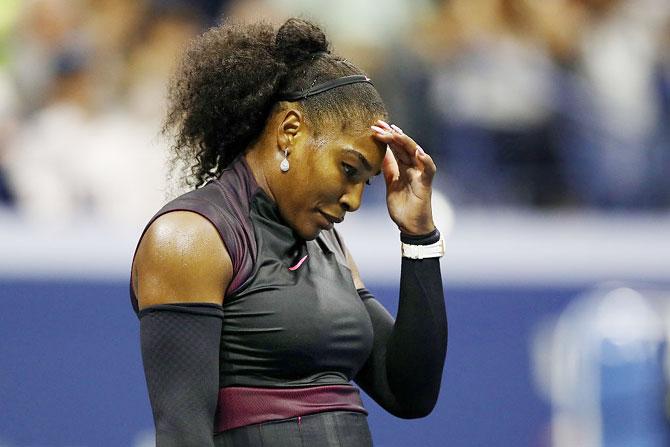 IMAGE: Serena Williams thinks hard during her match against Karolina Pliskova. Photograph: Elsa/Getty Images
While Williams's serve has long been reckoned the most powerful weapon in women's tennis, 11th-ranked Pliskova came into the contest boasting a tour-leading 439 aces.
Williams opened the contest with an ace but in the end it was the American's serve that ultimately let her down as she committed six double faults, including the deciding point in the tiebreak.
Pliskova, who has led the WTA Tour in aces the last two seasons, kept the 34-year-old American under pressure almost from the start and had break chances on all but one of Williams' service games in the first set and converting twice.
Showing the heart of a champion, Williams battled back from a break down to force a tiebreak where she clawed back from 3-0 down to take a 4-3 lead.
But a cool Pliskova would not buckle and earned the victory when Williams double faulted.