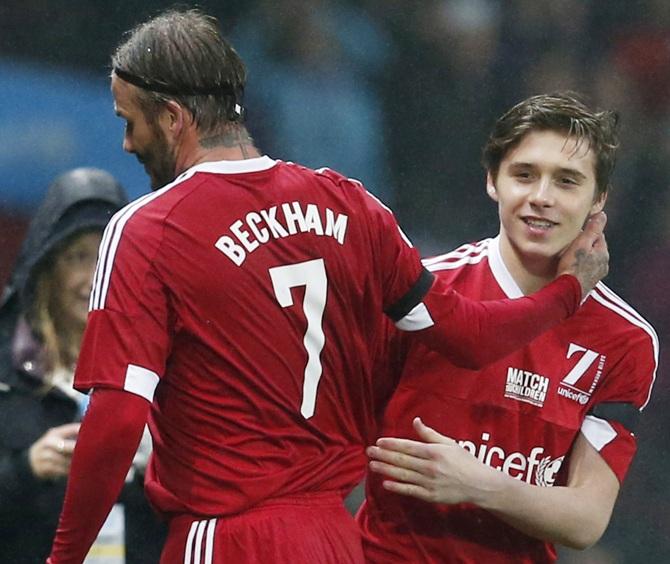 IMAGE: David Beckham is substituted for his son Brooklyn Beckham. Photograph: Phil Noble/Reuters
David Beckham's children have extended their support to their father's UNICEF charity football match.
Beckham and son Brooklyn played together as a Great Britain and Ireland XI side beat a Rest of the World team 3-1.
The 40-year-old former footballer player's kids Harper, Cruz and Romeo were all dressed in red to support their father's jersey and were spotted clicking pictures with him.
The player's oldest son Brooklyn also played during the game that was a face-off between Great Britain and Ireland vs. The Rest of the World.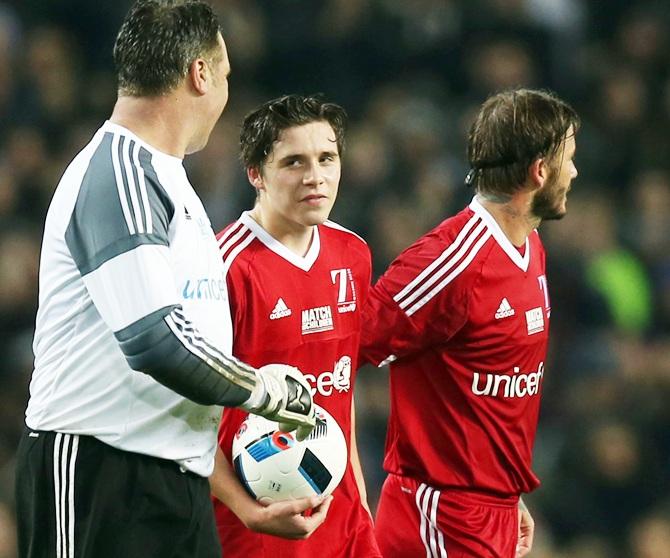 IMAGE: Brooklyn Beckham, centre, and David Beckham with David Seaman, left, after the match. Photograph: Alex Morton /Reuters
Beckham was later replaced by his 16-year-old son towards the end of the match, but came back on because of an injury to Sol Campbell.
"Having Brooklyn out there was special," the proud father said.
Sharing the pictures with his father before the match, the 16-year-old wrote, "Matching outfit matching moonrocks, "Thanks @Sneakerboy @DavidBeckham."
Later, He wrote, "What an amazing experience to play with some of the best players in the world. I will always remember this moment. #MatchforChildren."
Notably, David expressed his gratitude to all those turned up at his match on the social media.
Money raised from ticket sales for the match will be donated to children's charity Unicef.