IMAGE: Tanzania's Alphonce Simbu crosses the finish line to win the Mumbai Marathon.

Tanzania's Alphonce Simbu won the men's elite full marathon event while Kenya's Bornes Kitur bagged the women's title at the Standard Chartered Mumbai Marathon in Mumbai, on Sunday.

Simbu clocked two hours, nine minutes and 32 seconds to clinch the gold medal followed by Kenya's Joshua Kirkorir, who took the second spot with a time of 2:09:50 in a tough competition.

Kirkorir's compatriot Eliud Barbgetuny came third as he completed the distance in 2:10:39.

Till 30 kms, the race was neck to neck between the three top finishers. However, in the last stages, Simbu surged ahead and eventually won the race.

In the women's category, Kenya's Bornes Kitur won in the elite category with a time of 02:29:02. Ethiopia's Chaltu Tafa came second as she clocked 2:33:03 while her compatriot Tigist Girma bagged the bronze medal. Girma clocked 02:33:19.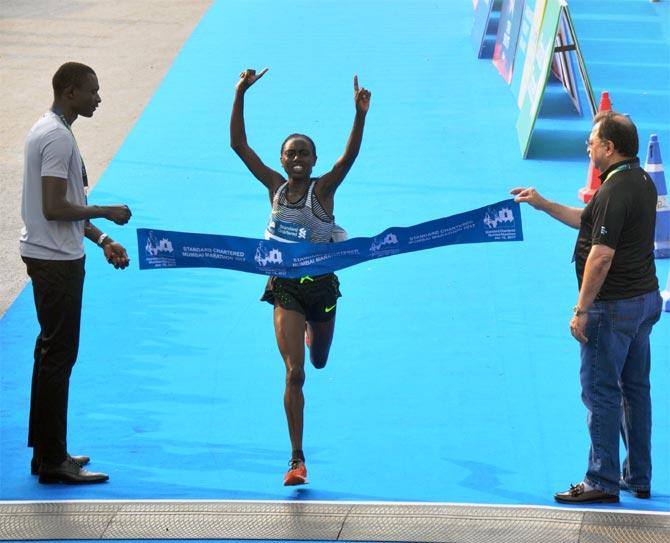 IMAGE: Bornes Kitur of Kenya wins the women's title at the Mumbai Marathon
Again in the women's section, the top three runners were fighting hard and at 21 km mark, all of them recorded a timing of 1:14:03. Kitur eventually moved ahead of the other two to become victorious at the end.

Simbu, who was participating in a full marathon after the Rio Olympics, said he trained in the hills in Tanzania for the marathon, which made him "perfect" for the race.

Among the Indians, Olympian Kheta Ram, who was eyeing to better his personal best of 2:15:26 he clocked at Rio last year, came first in 2:19:51.

Bahadur Singh came second with a time of 2:19:57 while Sanjith Luwang of Manipur was third in 2:21:19. Elam Singh, also of Army, was the fourth in 2:21:27 while Rahul Kumar Pal was fifth with a time of 2:21:43 was.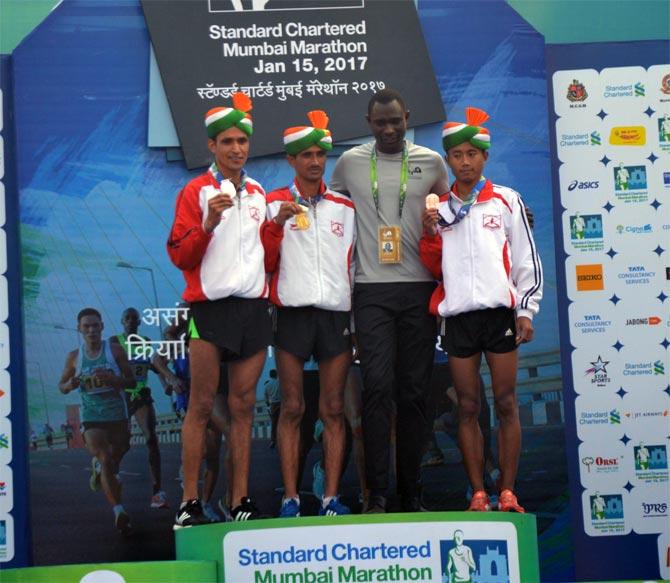 IMAGE: Kheta Ram (centre), Bahadur Singh (left) and Sanjith Luwang on the podium with Olympic defending champion and world record holder David Rudisha after taking the three spots among the Indians at the Mumbai Marathon. Photograph: Sahil Salvi
Among Indian women, Maharashtra's Jyoti Gawte finished at first place with a timing of 02:50:53 while Shyamli Singh from West Bengal was second way behind as she recorded a timing of 3:08:41.

Jigmet Dolma from Leh-Ladakh, who was running the Mumbai Marathon for the first time, clocked 3:14:38 to finish third.

Kheta Ram said "his timing was not so good", while Bahadur Singh opined that good practice helped him.

"I tried it (but could not come first). In 2014, I stood 3rd in the Mumbai Marathon with a time of 2:22:43," Bahadur, who clocked his personal best, said.

Meanwhile, Tamil Nadu's G Lakshmanan clocked 1:05:05 to win the men's half marathon (21.097 km) race. The second and the third spots went to Sachin Patil (1:06:22) and Deepak Kumbhar (1:06:28). Both hail from Maharashtra's Kolhapur district. Deepak was the defending champion but had to settle for a third position this year.

In the women's category, it was Maharashtra's Monika Athare who clocked a time of 1:19:13 to win the race. While Minakshi Patil from Kolhapur stood second in 1:20:53, Uttar Pradesh's Anuradha Singh won the bronze medal as she completed the distance in a time of 1:25:20.

Results:

(Men's Elite)

Alphonce Simbu (Tanzania) 02:09:32; Joshua Kirkorir (Kenya) 02:09:50; Eluid Barngetuny (Kenya) 02:10:39

(Women's Elite)

Bornes Kitur (Kenya) 02:29:02; Chalu Tafa (Ethiopia) 02:33:03; Tigist Girma (Ethiopia) 02:33:19

(Men's Half Marathon)

G Lakshmanan 01:05:05; Sachin Patil 01:06:22; Deepak Kumbhar 01:06:28

(Women's Half Marathon)

Monika Athare 01:19:13; Minakshi Patil 01:20:53; Anuradha Singh 01:25:20.