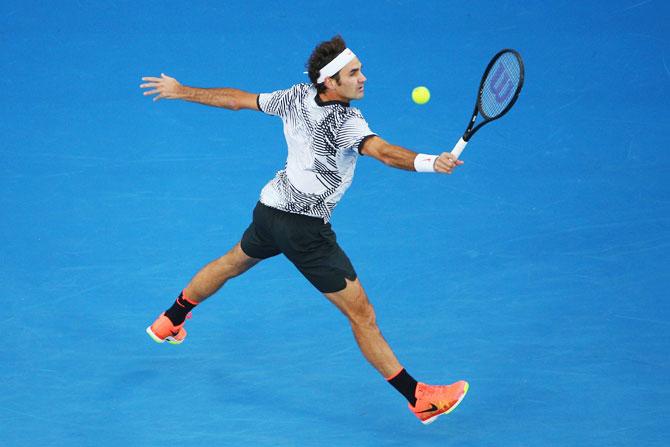 IMAGE: Switzerland's Roger Federer plays a backhand return in his Australian Open quarter-final against Germany's Mischa Zverev on Tuesday. Photograph: Michael Dodge/Getty Images
Four-times champion Roger Federer took apart Mischa Zverev 6-1, 7-5, 6-2 with a clinical display of all-court tennis to reach his 13th Australian Open semi-final in 92 minutes on Tuesday.
Chasing an 18th grand slam title, and first since 2012, the 35-year-old Federer neutered his left-handed German opponent's serve-volley game to set up a last-four meeting with fellow Swiss Stan Wawrinka.
Looking in form as imperious as in his heyday of a decade ago despite missing the back end of last season after knee surgery, Federer is now one match away from a potential final against his old rival Rafael Nadal.
Wawrinka, the 2014 champion, will want to have a say about that as will Nadal's quarter-final opponent, Milos Raonic.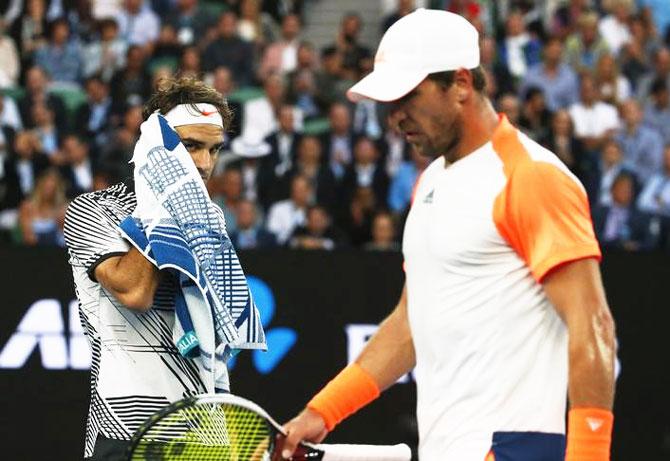 IMAGE: Germany's Mischa Zverev walks past Switzerland's Roger Federer during their Men's singles quarter-final match. Photograph: Edgar Su/Reuters
But with both Williams sisters also still standing in the women's draw, it would be easy to imagine it was 2007 not 2017 at Melbourne Park.
Zverev's serve-and-volley game is a throwback to an even earlier era and the world number 50 contributed fully to an entertaining, if short, contest with his fine volleying and net play.
The unorthodox game helped the left-hander beat world number one Murray on Sunday, one of two stunning upsets along with the early exit of Novak Djokovic that have opened up the draw for Federer and Nadal.
Against Federer, though, it took Zverev 15 minutes to hold serve and get on the scoreboard and by that stage he was already 5-0 down in the opening set.
The Swiss needed just four more minutes to wrap up the set with a leaping backhand at the net but Zverev gradually found his touch and broke for 3-1 in the second set.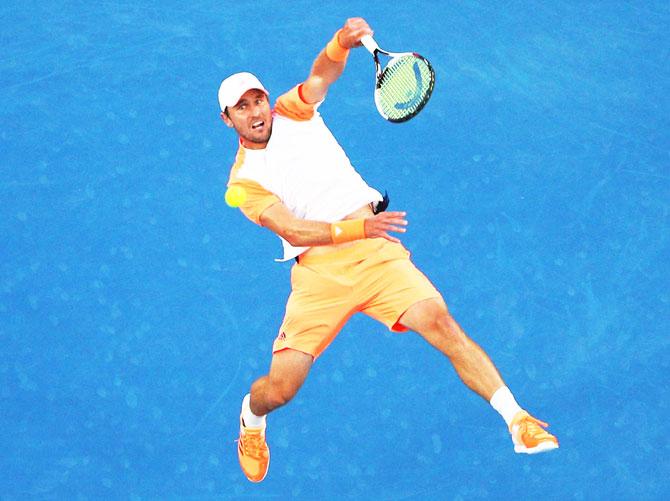 IMAGE: Mischa Zverev smashes a lob during his quarter-final against Roger Federer. Photograph: Michael Dodge/Getty Images
Federer broke straight back but Zverev, who admitted after beating Murray that he had no Plan B, continued to charge to the net to greater and greater effect.
The Swiss bided his time, though, and couple of brilliant backhand passes gave him another break before he served out the set with less than an hour on the clock.
A third set riddled with deft shot-making went with serve until another Federer backhand gave him a break for 5-2 and a rasping crosscourt winner, his 65th of the match, sent him into a 41st grand slam semi-final.
"I never thought I would get this far and here I am, still standing," Federer said.
"A semi-final against Stan, it couldn't be cooler."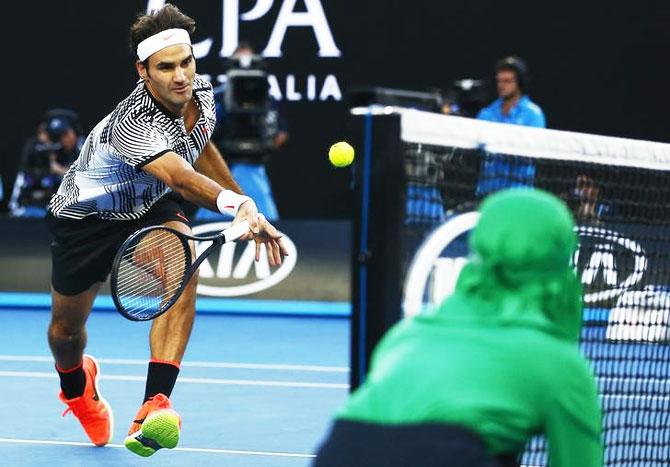 IMAGE: Roger Federer hits a shot during his quarter-final match against Germany's Mischa Zverev. Photograph: Thomas Peter/Reuters
Federer has been such an extraordinary player that he has all but lost the ability to shock with his feats on court.
Andy Roddick, who was inducted into the tennis Hall of Fame on Tuesday and lost a Melbourne semi-final to Federer a decade ago, offered some welcome perspective.
"Everyone here is going to talk about it in every story they write for the rest of this tournament, and I still don't know if that's enough," the American told reporters.
"It's pretty amazing."