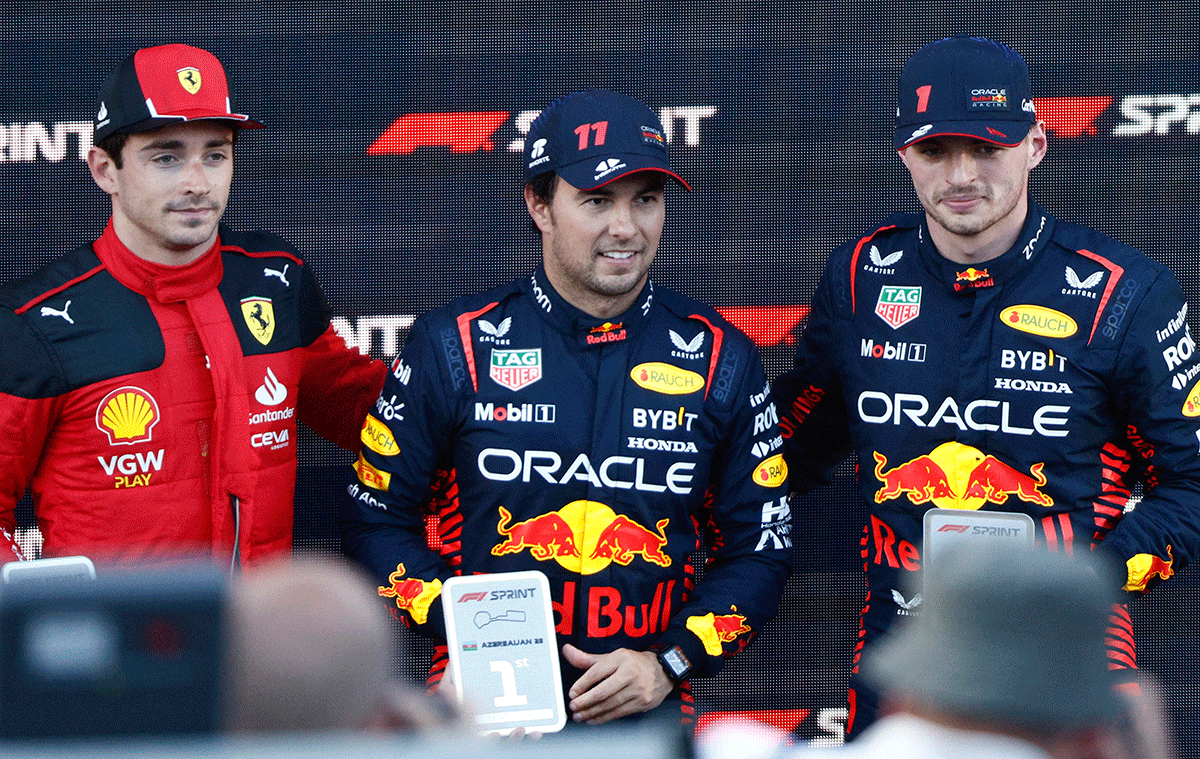 Red Bull's Mexican Sergio Perez overtook Ferrari's Charles Leclerc to win Formula One's first sprint of the season in Azerbaijan on Saturday while angry team mate Max Verstappen finished third.
Leclerc, who started on pole position and finished second, was the first driver other than Perez to beat double world champion Verstappen on track this season.
The Dutch driver and Mercedes' George Russell made contact on the opening lap in a wheel-to-wheel battle for third, with the impact punching a hole in the Red Bull's sidepod.
Verstappen was aggrieved at Russell keeping the place and, although the Dutch driver took it back after a safety car period, mouthed an obscenity at his rival when they spoke afterwards.
"His beautiful way of explaining 'Ah mate, you know locked up, ah look at the onboard'. It doesn't make sense," said Verstappen after Russell explained he had no grip.
Perez kept out of trouble, slotting into second place behind Leclerc at the start and then taking the lead on lap eight with the benefit of drag reduction (DRS) before pulling away.
Although the sprint was not the main event, the Mexican became the first F1 driver to win more than once around the Baku street circuit.
Russell finished fourth with Carlos Sainz fifth for Ferrari, and Fernando Alonso sixth for Aston Martin.
Seven times world champion Lewis Hamilton was seventh for Mercedes and Lance Stroll collected the final point for Aston Martin.
A virtual safety car was triggered early on when Yuki Tsunoda hit the wall and his AlphaTauri shed a rear tyre that rolled away down the track while the Japanese continued on a damaged rim.
Tsunoda pitted for a new wheel and nose and went back out, with obvious suspension damage soon becoming apparent, and the safety car was then deployed to allow marshals to clear the debris.
Verstappen passed Russell cleanly at the re-start, Red Bull pointedly noting over the radio that he had done so without making contact, and Sainz passed Hamilton for fifth with Alonso following on.
Williams' rookie Logan Sargeant did not take part in the race after crashing heavily in qualifying, his car too damaged to fix in time.
The 17 lap, 100km, sprint stood alone from Sunday's main race after the sport approved the change earlier in the week.
Leclerc will again start on pole for the grand prix, the fourth of the campaign.