IMAGE: Real Madrid's coach Zinedine Zidane celebrates at Cibeles square after winning the UEFA Champions League. Photographs: Susana Vera/Reuters.
Real Madrid president Florentino Perez has praised Zinedine Zidane for changing the "recent history" of the club as a player and a coach.
Promoted from his position as head coach of the club's reserve team to be Rafa Benitez's replacement in January, three-times world player of the year Zidane steered Real to a runners-up finish in La Liga and to their 11th European Cup.
"The key element is Zidane," Perez told Marca on Tuesday.
"He has changed the recent history of Real Madrid. Since 2001 he has created a way to understand football that has helped us win these European Cups."
Zidane was signed as a player in Perez's first term as president and his spectacular volley in the final in Glasgow in 2002 gave Real their ninth European title.
The Frenchman was an assistant to head coach Carlo Ancelotti when Real beat Atletico in Lisbon in the 2014 final.
"Zidane symbolises the values of Real Madrid like respect, humbleness and talent," Perez said.
"When I spoke to him back in January he told me he was ready to work and that he knew Real Madrid and its changing room very well. He said to me: 'Don't worry president, we will win something. I'm certain'."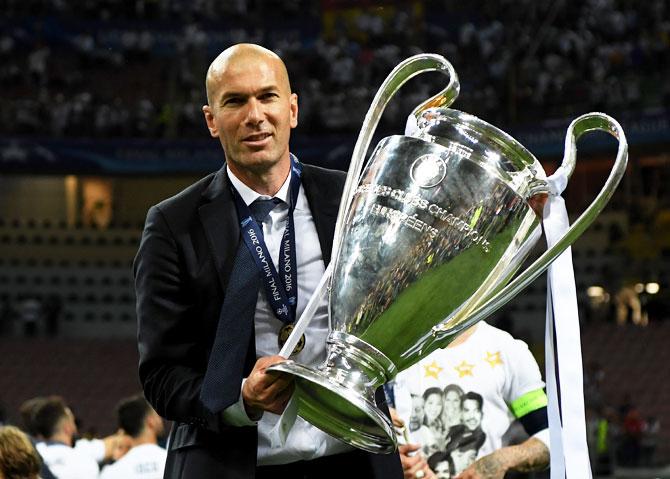 IMAGE: Real Madrid head coach Zinedine Zidane with the Champions League trophy after their win at the San Siro in Milan on Saturday. Photograph: Matthias Hangst/Getty Images.
Unlike Benitez, who replaced the popular Ancelotti last year, Zidane has found synergy with his players and brought the Real fans closer to the team.
"The union that exists is tremendous," Perez said. "Harmony exists. It's the merit of Zidane who has been capable of uniting them.
Real have won four more European Cups than any other club.
"It's not normal to win 11 European Cups but it's true that it's a competition in which Real Madrid feels comfortable," Perez said.
"We carry it in our DNA. Complacency is not among the virtues of Real Madrid and now we are thinking of the 12th," he added.
"We have a great and passionate fans but also very demanding. The players feel that demand and are motivated."