Australia's Sally Pearson laid down a marker ahead of the London Olympics by winning the 100m hurdles at the Melbourne Track Classic in a scorching 12.49 seconds in drizzly rain on Saturday.
The world champion, a strong contender for gold in London, charged out of the blocks and streaked away from the field to cross more than seven-tenths of a second in front of American Yvette Lewis at Lakeside stadium.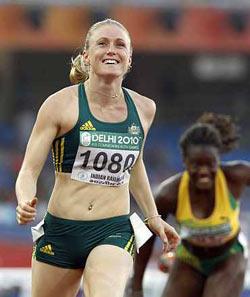 "Holy crap!" the blonde 25-year-old shrieked to a clutch of reporters, after celebrating victory by skipping and jumping along the track in front of roaring fans in the stands.
"It's just really fantastic and really exciting but at the same time I've got to keep grounded, I've got to focus on the London Olympics. That's still a fair way away and there's a lot more training to go.
"I'm in good shape and I'm loving it and I'm just going to look after myself, that's all I can do.
"(My rivals) will probably be worried, but at the same time, there's nothing I can do about that."
Pearson's time on a damp, spongy track that had absorbed a whole day's rain improved on her 12.66 at Sydney last week and shows ominous form five months and three days before the 100m hurdles heats kick off on August 6 in London.
It was also the Beijing Olympic silver medallist's fourth fastest time, only bettered by her semi-final and final runs at the Daegu world championships and at a Diamond League meeting in Birmingham last year.
Although appearing flawless in its execution, her 22nd victory in her last 23 races in the event took her by surprise.
"I thought I was going really badly actually. I got halfway through the race and I thought, 'no, no, no, everything's completely off at the moment'.
"I came back and it was so much better than I thought it was going to be."
Pearson, whose 12.28 time to win gold in South Korea remains the fourth fastest on record, will continue her Olympic preparations at the world indoor championships in Turkey next week.