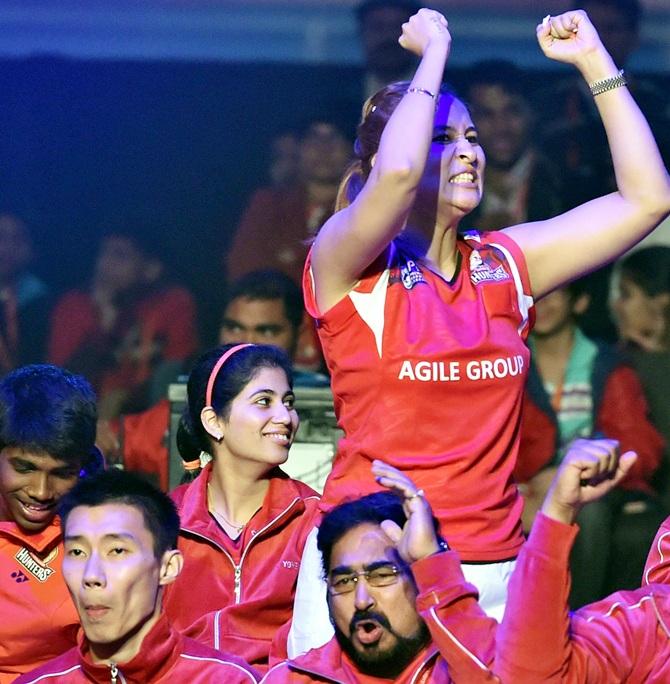 IMAGE: Hyderabad Hunters's Jwala Gutta and Lee Chong Wei cheer during the PBL women's singles match against Delhi Acers. Photograph: PTI
Two-time Olympic silver medalist Lee Chong Wei suffered his second successive loss in a crucial Trump match at the Premier Badminton League (PBL) as Delhi Acers notched up a thrilling 4-1 win over Hyderabad Hunters at the Siri Fort Stadium in New Delhi on Thursday.
Women's singles player Supanida K of Thailand, mixed doubles pair of Jwala Gutta and Markis Kido won their respective match but Parupalli Kashyap lost his men's singles match as Hyderabad Hunters lead 2-1 after three matches of the five-match tie.
Commonwealth Games champion Kashyap locked horns against Delhi Commonwealth Games silver medallist Rajiv Ouseph but the Indian, who is recovering from a torn calf muscle injury, suffered a 9-15, 10-15 loss to The England shuttler as the Acers drew level at 1-1.
"I am delighted with this win as we all know how good Kashyap is. Our team lost the first match and with one more loss it would have been really tough for us. I am happy this win allowed us to level the scores," Rajiv said.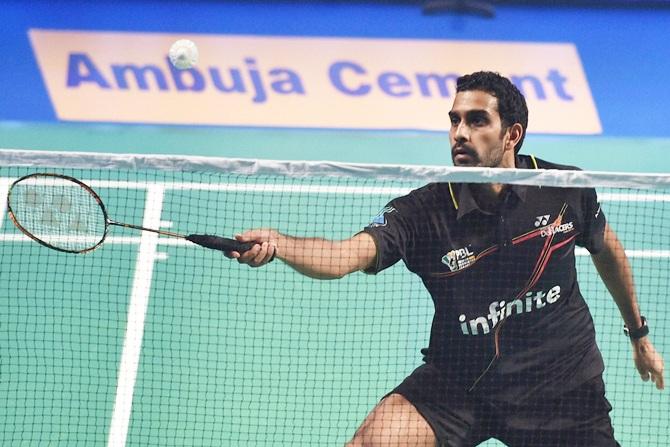 IMAGE: Delhi Acers's Rajiv Ouseph plays against Hyedrabad Hunters's P Kashyap. Photograph: PTI
Two-time silver medallist Lee Chong Wei then took the court in their Trump match hoping to seal the tie in their favour but Tommy dished out a superb game of badminton to not only beat the Malaysian but also hand Delhi a 2-1 lead with their trump match still to go.
Sugiarto said, "It was an incredible game. I lost the first set and I think that proved to be a boon. This motivated me to up my game and go for the kill. I won on his trump match and which means we have bounced back into the Tie. I think we will take the tie from here if all goes in our favour."
Malaysian Men's doubles pair of Koo Keat Kien and Tan Boon Heong then eked out a thrilling win in their trump match to guide Delhi to their first win in the tournament.