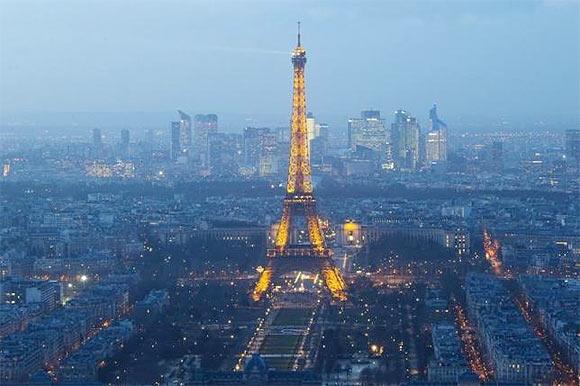 A view shows the illuminated Eiffel Tower and La Defense business district (background) in Paris. Photograph: Gonzalo Fuentes/Reuters
Paris is set to go ahead with a bid to host the 2024 Summer Olympic Games, the French capital's deputy mayor in charge of sports told Reuters.
The Paris City Council will vote on Monday to decide whether to make a bid for the 2024 Games -- 100 years after Paris last staged the Summer Olympics.
"A good job was made by the sporting world in explaining why and how (to bid)... so we are going towards this vote with optimism," Jean-Francois Martins told Reuters in his Paris City Hall office.
Paris mayor Anne Hidalgo had suggested last year that she was not in favour of a bid because of "financial and budgetary" issues but she has since then changed her mind.
"The mayor is convinced. We had budgetary, ethical, ecologic demands," Martins said. "But it shows we are not ecstatic. We are ambitious, passionate, but reasonable."
Paris would be up against the German city of Hamburg, Rome and Boston, who appear to be the favourites as the United States have not hosted the Summer Games since Atlanta in 1996.
Paris, however, would only bid for 2024, not 2024 and 2028 should it fail for the former.
"Clearly it would be for 2024 only," said Martins, who believes the French capital is tailor-made for the Games -- which under new International Olympic Committee's rules need to be more reasonable.
Paris has a tennis arena in Roland Garros and an athletics stadium at the Stade de France so its most pressing need would be a swimming pool.
According to Martins, it would make Paris a sustainable applicant.
"We will not create a white elephant. It would be a reasonable bid," he said, adding that the city could use the Grand Palais, an exhibition hall that was used to host the 2010 fencing world championships, and other existing arenas.
"We can also build temporary facilities just like London did," he added.
Paris was left traumatised in 2005 when it was pipped by London to stage the 2012 Games after considering its bid to be the strong favourite.
"It was painful for all the Parisians, for all those who love sport," Martins said.
It was later explained that the French failed in their lobbying work to convince the IOC members to vote for Paris.
City officials have already talked to about 40 companies which would back the bid and they are willing to fight again.
"They don't want to relive that (failure), they want to go to win it and give themselves to achieve that," said Martins.
"The main thing we've learnt from 2005 is that the sporting movement must carry the bid," Martins added.
The French bid would be carried by Bernard Lapasset, the head of the French Committee for International Sport, and IOC member Tony Estanguet -- a three-times Olympic canoeing gold medallist.
The deadline for candidacies is in September with the International Olympic Committee announcing the winner in 2017. Rio de Janeiro will host the 2016 summer Olympics and Tokyo is staging the 2020 Games.